We all know about the importance of getting regular hair cuts and reducing the amount of heat we put on our hair, but there is so much more that goes into having gorgeous locks.
While some people are just born with naturally stunning hair, the truth is anyone can have silky smooth hair if they want. But, it does take time and requires following a few simple hair secrets.

From using the right shampoo and conditioner to making sure you're eating the right foods, here are five hair secrets you need to know about:
Brush Your Hair Before You Shower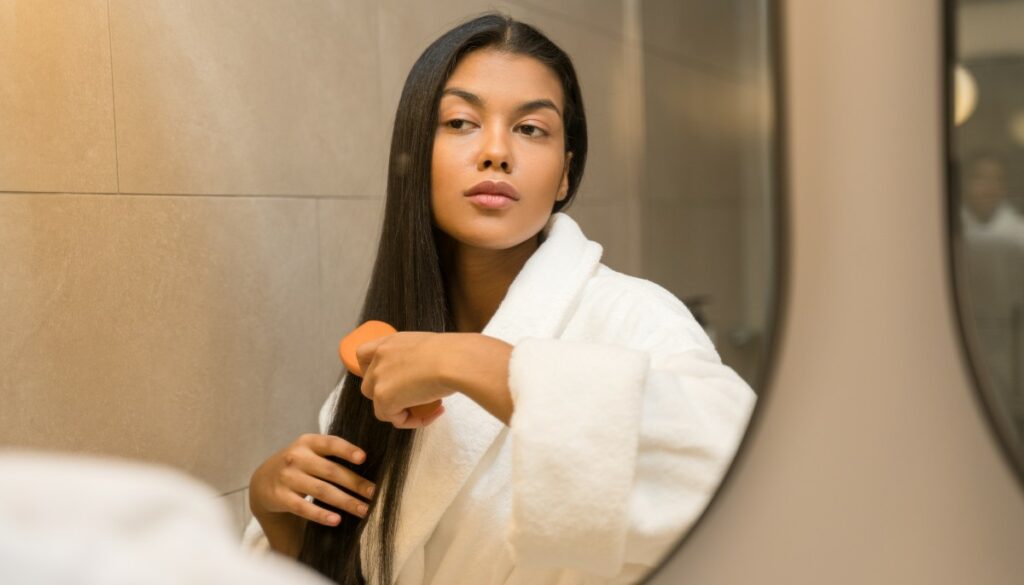 There's a solid chance you brush your hair after you get out of the shower, but did you know you're supposed to brush your hair before you get in the shower too? If you struggle with tangles — or have a lot of hair to deal with — you should start brushing before and after ASAP.
This will help to prevent breakage and keep your hair strong. Hair is more vulnerable when it is wet, so you're more likely to have serious breakage when you brush out of the shower. Getting rid of your tangles and knots beforehand will keep your hair on your scalp (rather than the bathroom floor).
Condition Properly
You don't need a huge glob of conditioner to get your hair silky and smooth, especially if you don't have extremely long hair. A little goes a long way!
Just use about a quarter-size amount and work it through your hair, focusing mostly on the bottom half. If you struggle with oily hair, make sure to not put conditioner near your roots, as it will cause your hair to look even more oily.
It's also important to choose the right conditioner (and shampoo, for that matter), for your hair type. If you have thin hair, you should not be using shampoo made for people with curly hair, and vice versa.
Eat the Right Foods
Having beautiful hair isn't just contingent on using the right products. In fact, it's almost more important to focus on what you're putting in your body rather than what you're putting on your hair.

Hair is made up of mostly protein, so if you want beautiful hair you need to make sure you're eating enough protein. If you're a vegetarian or don't eat very much meat, make sure you're eating things like eggs, beans, or lentils.

It's also important to make sure you're eating foods rich in vitamin C and E (like fruits and vegetables), as well as food high in healthy fats (such as avocados). You can also take vitamins like fish oil, vitamin D, vitamin A, or even collagen.
Switch Out Your Pillowcase
Do you sleep with a cotton pillowcase? If the answer is yes, it may be time to switch it out for a silk pillowcase instead. Silk pillowcases will protect your hair and prevent unnecessary breakage while you sleep.

And, if you really want to protect your hair while you sleep, consider wearing a headscarf or putting your hair in a loose bun. This will also prevent breakage and give your hair some nice volume when you wake up in the morning.
Use Scrunchies Instead of Hair Ties
Speaking of putting your hair in a bun overnight, if you're really worried about breakage, please stop using those hair ties that rip out a chunk of hair every time you take them out. Instead, start using scrunchies. They're gentler and also won't leave weird kinks in your hair.