This week, we heard the news that Sex and the City will be getting the revival treatment on HBO Max.
Titled "And Just Like That…", the series will feature 10 half-hour episodes that follow along as Carrie Bradshaw (Sarah Jessica Parker), Charlotte York (Kirstin Davis), and Miranda Hobbes (Cynthia Nixon) continue to live their lives in New York City — but this time, in their 50s.
During its groundbreaking original run (from 1998-2004), and two subsequent movies (which some have chosen to forget ever happened) SATC gave us beautiful storylines of strong female friendships dripping with no-holds-barred frankness regarding sex and romantic relationships. But its real legacy has always been the fashion.
So while we're fantasizing about the epic sartorial choices iconic costume designer Patricia Field will make for the series (after all, the movies seriously upped the ante), let's take a look back at some of the series' most memorable fashion moments.
That Tutu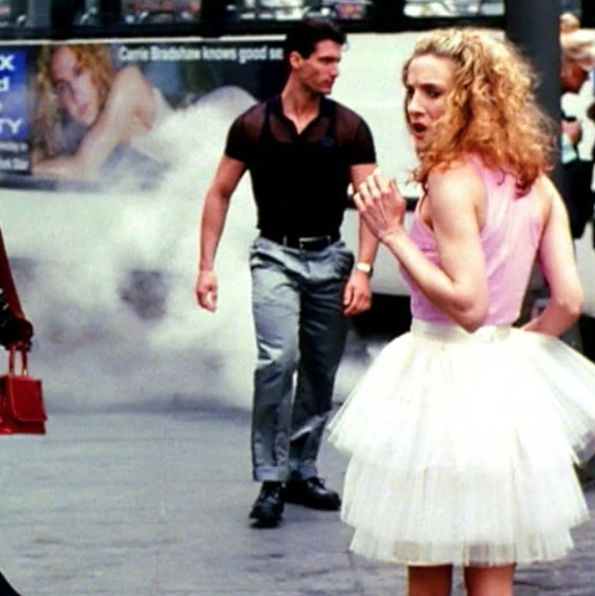 Our first and second choice are both featured in SATC's title sequence, so they technically got more screen time than anything else in the series. The tutu in particular seemed to show off Carrie's playful and whimsical attitude towards NYC, which she once referred to as "her boyfriend" during the series.
Of course, being covered in muddy water by a passing bus represented how the city honestly couldn't have cared less.
The Naked Dress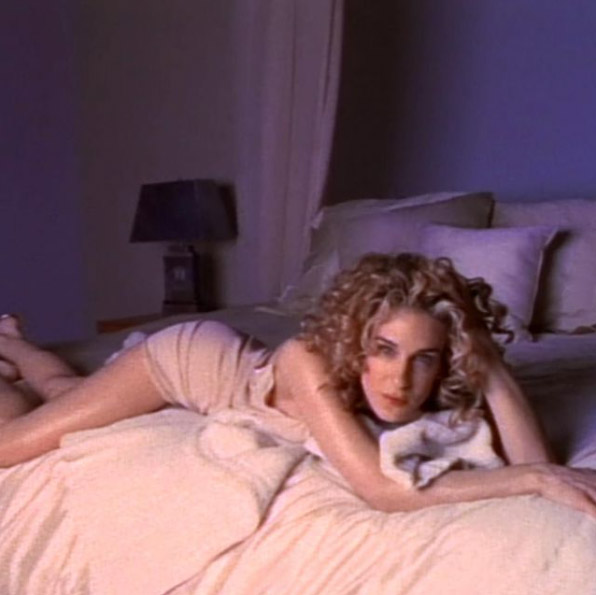 This flesh-colored, teeny tiny, oh-so-late-90s slip dress was something Carrie wore for a photo shoot promoting her newspaper column in season one. She was subsequently mortified when she gathered with her girlfriends on a street corner with champagne in hand, ready to toast the photo on the side of a NYC bus, and discovered pornographic graffiti drawn all around it.
The Newsprint Dress (and Monogrammed Necklace)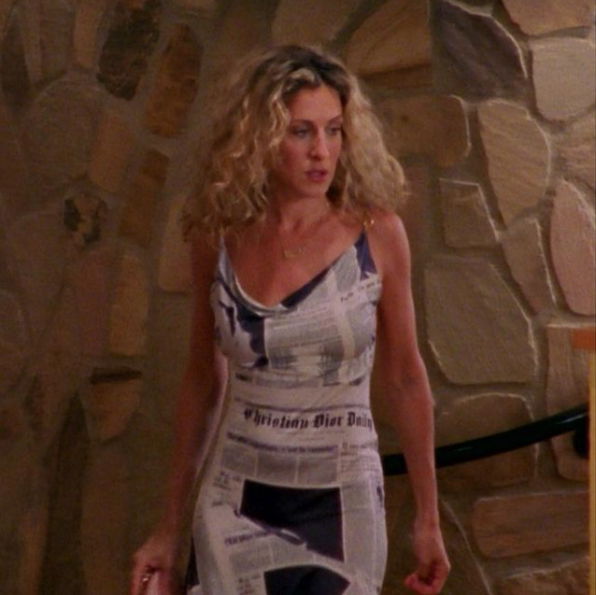 This John Galliano for Christian Dior newsprint dress is an absolute stunner, and one that's become synonymous with Carrie's character. Unfortunately, it also appeared during one of her cringiest moments – well, cringiest story arcs, actually – when she very publicly tries to apologize to Mr. Big's wife after she'd been caught cheating with him.
If you look close, you can see her famous gold "Carrie" monogrammed necklace.
The Shoes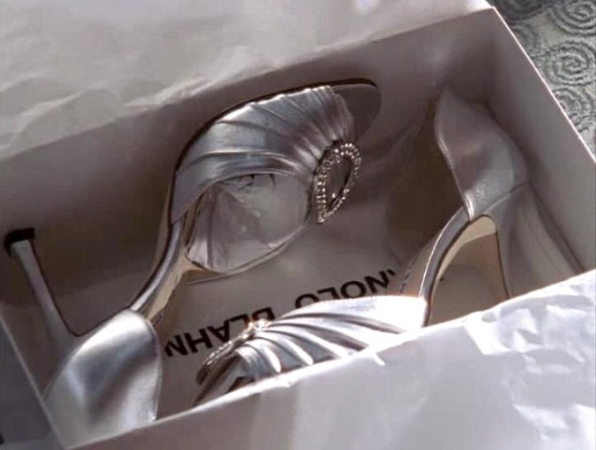 Oh, the shoes. SATC might not have put Monolo Blahnik on the map, but it certainly put the name into the vocabulary of the general public (i.e. those who couldn't afford $500 strappy sandals back in the late 90s.)
All of the ladies wore insanely high heels, but Carrie was regularly shown running through the streets of New York in them like it was the easiest thing in the world. One has to wonder how their ankles and lower backs are holding up these days.
The Vogue Days
Carrie was certainly known for her creative ensembles, regularly employing power clashing and accessorizing with wacky head gear, massive flower pins, and mismatched shoes. But in the latter part of the series, when she was working with Vogue, and then later dating the artist Aleksandr Petrovsky, her look became much more classic and toned down.
Case in point, this gorgeously tailored Vivienne Westwood pinstriped skirt suit. Of course she couldn't class it up too much. The Carrie necklace is there to keep it feeling like her.
Cozy Chic
In the films, Carrie's a bit older (and flush with cash thanks to her several book deals and her relationship with Big), and her fashion choices reflect that. This is hilariously shown in something that should be laughable but is actually one of my favorite looks from the first movie.
Carrie's all tucked into bed on New Year's Eve, not caring about celebrating at all, when she gets a call from a distressed Miranda and rushes over to be with her friend before the ball drops. She can't be bothered to change out of her PJs, but still throws on the full-length fur coat she's had since season one and accessorizes to the hilt.
Ridiculous? Yes. Fabulous? Absolutely. But what can I say? I used to consider Miss Hannigan from Annie to be the height of glamor and sophistication.
Miranda's Power Suits
Carrie might have been the main focus for her off-the-wall fashion choices, but the other players brought some serious looks throughout the series as well.
Miranda was generally portrayed as the most serious of the four, and her wardrobe reflected that. But she still turned out some amazing power suits from time to time.
Charlotte's Preppy Princess
Charlotte York (eventually Goldenblatt) was as WASPy as they come, and then later converted to Judaism for her husband. Her wardrobe was very Park Avenue Princess. Preppy, conservative, tailored, and very girly with a touch of understated glamor.
Samantha's Bold Statements
Fans are still trying to figure out what to make of the news that Kim Cattrall's Samantha won't be included in the rival. There have been rumors of bad blood between Cattrall and Parker for years, if not decades, but we don't want that to ruin the amazing friendship that Carrie and Samantha have shared since the 90s.
And we can also never forget Samantha's sartorial sense, which was very look at me, I'm a powerful woman in a man's world and I'm not going anywhere. Samantha's unapologetic sex-positive persona was criticized in the early days of the show yet inspiring to the women (and men) who watched it, and her wardrobe reflected it. Bold colors, skin-tight silhouettes, plunging necklines, and some seriously fierce looks.
Want to dress like the 90s? Who doesn't. We've listed out the top 90s style icons from television, and how to replicate their looks in a modern way. Yes, of course, the SATC ladies made the cut!