Have you ever wanted to dress like your favorite characters from movies and TV? I don't mean a Halloween costume—I'm talking about adopting these looks to work in your everyday wardrobe. Ready to get inspired? Grab some popcorn and enjoy!
Cher Horowitz in 'Clueless'
Cher Horowitz is the ultimate fashionista. If you grew up on this movie like I did, then you'll know that Alaïa is a totally important designer. However, Cher's most memorable looks from the movie are her schoolgirl-inspired coordinated outfits. You can pull off a similar look with a pleated plaid skirt and a cropped cardigan that matches the main color of the plaid. Layer a white t-shirt or a white button-down under the cardigan. A matching plaid blazer is optional.
While Cher liked to wear minis with thigh-high white stockings, you officially have my permission to wear longer skirts if you're more comfortable. However, a chunky-soled shoe is a must for that 90s vibe. If you're lucky enough to have a high-end thrift store in your area—my go-to is the one run by the local Junior League—you may be able to find cute plaid or Chanel-style boucle skirt suits for next to nothing.
Moira Rose from 'Schitt's Creek'
The characters of Schitt's Creek wear outfits that we mere mortals can never dare to try in real life. Moira Rose (Catherine O'Hara) based her flamboyant outfits on Daphne Guinness, a real person known for her bold hairstyle and penchant for experimental fashion.
To recreate a more wearable version of her look, start with a statement piece. For Moira, that usually means a chunky necklace, an outrageous hat, or a bold shoe. Moira wears almost exclusively black and white; while you don't need to copy that, think about picking a limited color palette to become your signature look. Moira tended to be covered up from head to toe, layering massive necklaces over turtlenecks or white dress shirts under black dresses.
Mia Wallace in 'Pulp Fiction'
Speaking of stark, two-toned wardrobes, let's talk about Mia Wallace in Pulp Fiction. Her outfit in this scene is deceptively simple—but that also makes it fairly easy to adapt to a modern wardrobe.
The outfit starts with a white button-down shirt—but not just any shirt. It needs to be perfectly fitted, and that's something only a tailor can help you with. The shirt also has French cuffs, which allow for gold cufflinks. Those match her gold flats, which peek out below slim-fit black pants. You might be tempted to go with a blood-red lip and nail polish, but you'll note that Mia is actually wearing a sheer, brick-red lip. You could get a similar effect from Clinique's legendary Black Honey Almost Lipstick.
Foxy Brown in 'Foxy Brown'
Director Quentin Tarantino was heavily influenced by Pam Grier's Foxy Brown—so much so that he made a movie called Jackie Brown starring Grier in 1997. However, we're looking at the OG babe today.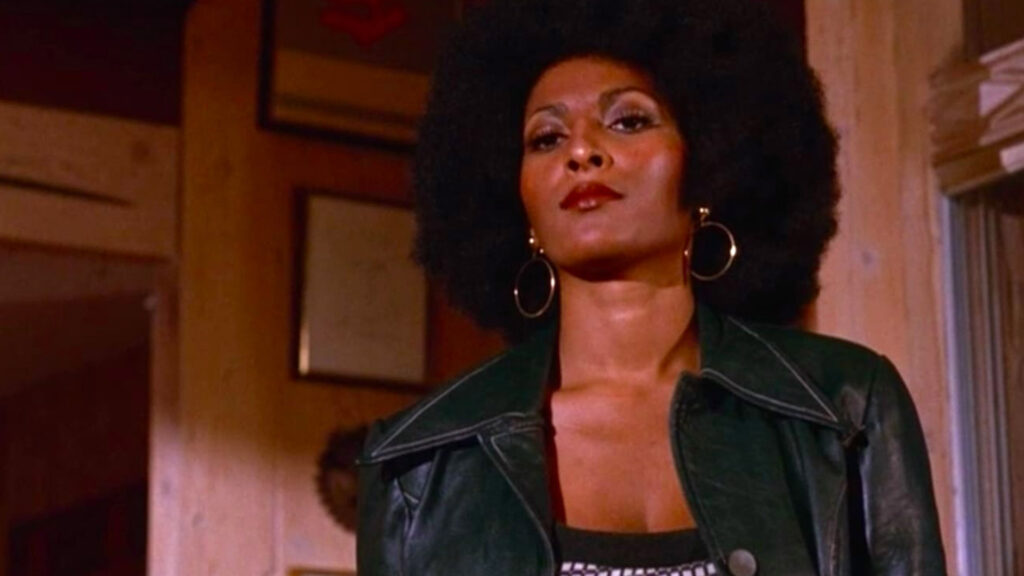 Foxy Brown's wardrobe is anchored by her gold hoop earrings, so your first challenge will be to find the perfect pair of hoops to flatter your face shape and hairstyle. Although she wears lots of different outfits throughout the movie, her most famous involves a slim-fitting leather jacket with wide lapels. Layer a patterned knit top under it and go for a pair of trendy-again bellbottoms rather than skinny jeans. Try wearing Chelsea boots or platform sandals to complete the look.
Read More: Every Woman Needs These 15 Wardrobe Staples
Lara Jean in 'To All the Boys I've Loved Before'
Lara Jean's sweetly preppy wardrobe in To All the Boys I've Loved Before is totally obtainable in real life. Sadly, Noah Centineo is less obtainable. It's a little bit of a modern-day Cher Horowitz vibe, anchored by her signature pink. Personally, I love her look with the fuchsia coat over a grey sweater and white shirt with a Peter Pan collar.
However, her blush-pink bomber with the black collar and cuffs is so cute that I wouldn't blame you for wearing it all the time. She wears it over a coordinating pink slip-dress. For everyday wear, a simple heart locket, a fitted t-shirt or turtleneck, and an A-line denim skirt will make you feel just like Lara Jean. If you're not a skirt person, the outfits could also work with jeans.
Marty McFly in 'Back to the Future'
Marty McFly: fashion icon? This one is a little tougher to pull off without looking overly costumey, but I have faith in you. What I really love about Marty's style is that it's surprisingly gender-neutral. Anyone could pull off this layered look.
What you'll need: relaxed fit jeans (or mom jeans, if that's your vibe) and white sneakers. Move on to a fitted patterned button-down over a bright t-shirt. Marty layers a denim trucker jacket and a puffy vest. You might want to pick one or the other unless you're feeling really into casual cosplay that day. Bonus points if you pick up a vintage jacket from a thrift store!
Jo March in 'Little Women'
Here's another gender-neutral fashion plate for your consideration. In the Greta Gerwig Little Women, Jo March (Saoirse Ronan) gradually adopts a menswear-inspired look, often swapping clothes with her BFF Laurie.
To adapt this look for modern life, start with a tweed blazer or linen jacket in a neutral color. Add a button-down shirt and—here's the important part—a fitted vest. I lived through the 90s when vests were all the rage, and I predict that they're going to come back in a big way. I had a floral tapestry vest that I really wish I'd kept. Anyway, you can either wear a long skirt or baggy trousers with this look. As for footwear, I like either Oxfords with a low heel or classic Converse sneakers to update the outfit. Will you be bold enough to wear an ascot-style scarf to complete the outfit?
Buffy Summers from 'Buffy the Vampire Slayer'
Buffy wears a lot of iconic looks throughout the series. In the early seasons, she dresses a lot like Cher Horowitz or Britney Spears in her "…Baby One More Time" era. The contrast between her superpowered strength and her girly-girl appearance was the point of her costume design. After she started wearing Angel's oversized black leather jacket, her fashion became a little edgier.
Personally, I love the season four fashions, which featured a lot of cute little dresses, halter tops, and capri pants. She also started wearing collarless leather jackets or a moto-style jacket over a bright-colored hoodie. The point is to pair sweet, feminine clothes with an unexpectedly tough accessory. And, of course, always wear outfits you can move in.
Samantha Stephens in 'Bewitched'
While Buffy's BFF Willow's witchy fashions aren't really my cup of tea, I think that Samantha Stephen's wardrobe from Bewitched has potential. While Endora's costumes are a little much for everyday wear, Samantha's tailored 1960s fashions have a timelessness that could work in any era.
Aside from the occasional foray into the swinging psychedelic 60s, Samantha tended to wear simple, dark colors and sleek silhouettes. You can find plenty of vintage pencil skirts and belted dresses, or you can get funky modern reproductions at sites like ModCloth. However, some of my favorite looks are her more casual "housework" styles. Pair an oversized collared shirt (with the sleeves rolled up) with capris and ballet flats or classic Keds.
Lady Mary in 'Downton Abbey'
The decadent fashions of Downton Abbey aren't easy for everyone to pull off. Lady Mary's flapper frocks aren't easy for curvier folks to pull off. But don't let that dissuade you. You can find elements of the 20s and 30s that work for you without worrying too much about historical accuracy.
I think cloche hats are pretty much universally flattering, and they've never totally gone out of style. Paired with a long, boxy blazer or coat with wide lapels, and suddenly you've got a vintage-inspired look that defies any particular era. Flowing knee-length skirts and romantic blouses with wide shawl collars can evoke the Edwardian influence on 20s fashion—and satisfy your cottagecore dreams. The t-strap pump is a must.
Holly Golightly in 'Breakfast at Tiffany's'
What, you thought I'd somehow get through this list without talking about Audrey Hepburn in Breakfast at Tiffany's? That was obviously never going to happen. Hepburn was a style icon every moment of her life, but her little black dress in the opening scene of this movie is unforgettable.
To achieve this timeless look—without looking like you're going to a Halloween party—you need a black dress that fits like a glove. The silhouette is up to you, so try on a couple of different options with different lengths and necklines. I'm a fit-and-flare girl myself, but it's taken a while to figure out what works best on my body type. An elegant yet simple updo and a pair of oversized sunglasses will make you feel like a movie star. Holly wears blocky black pumps here, so consider skipping the sky-high stilettos. Add a statement necklace and you're ready to be the belle of the ball.