When I have a bad hair day (or realize I haven't washed my hair in close to a week), I immediately grab a hat and hide my gross locks under the comfort of a baseball cap. While this look has evolved over the years — and has even become stylish thanks to the kids on TikTok — it's not necessarily the most glamorous style.
Enter the headscarf, an accessory I've seen worn by women for years but never believed I could pull off. That is, of course, until I noticed the look making a comeback on social media.
Some of the chicest women in history have rocked the headscarf — from Audrey Hepburn to Jackie Kennedy to even Rihanna — so it's time we all get on board with the look for the summer.
Whether you're having a bad hair day or you just want to look incredibly chic (and pretend you're on a boat in Italy), here are a few easy ways to style a headscarf.
The Old Hollywood Look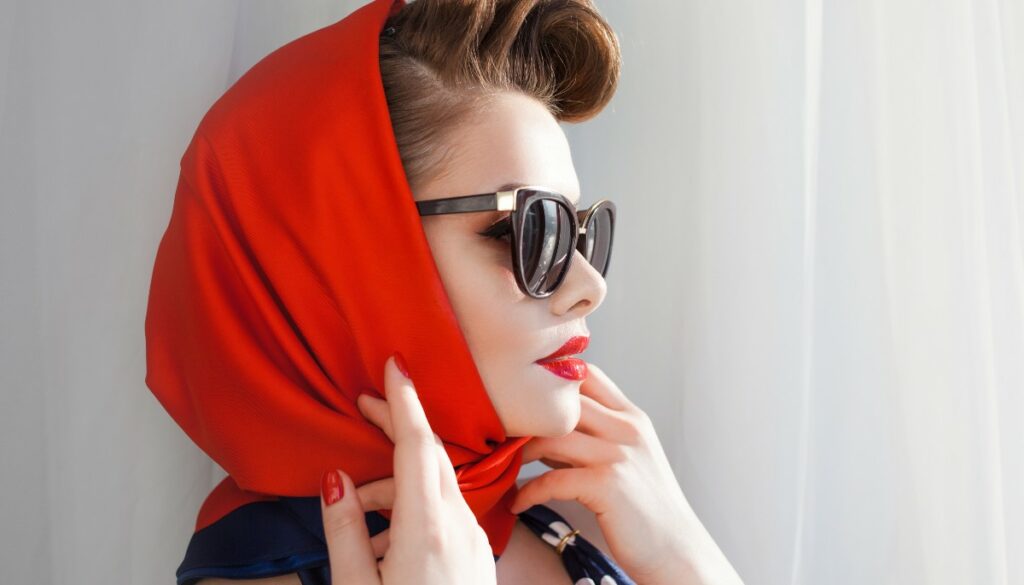 Beloved by some of the most glamorous movie stars in the world, such as Audrey Hepburn, Grace Kelly, and Elizabeth Taylor, this is the ultimate Old Hollywood style. While most people go with this option when they're driving in a convertible or jetting off on a boat, it's also excellent if you're trying to conceal your identity or want people to think you're starring in a movie. You know, normal people stuff!
The Classic Ponytail
If you're looking to class up your basic ponytail, simply tie your headscarf around it. This is a great option if you want to wear your hair up but also want to look fashion-forward. Bonus points if your headscarf print is extra crazy.
The '90s Bandana
I'm pretty sure I used to rock this hairstyle when I was nine years old, but there's no denying it still works. Plus, I don't know if you've heard, but the '90s and early '00s are coming back in a big way. The bandana look is super easy to achieve — just fold your square scarf diagonally and tie the two ends under your hair. You'll look like you belong in a '90s teen show in no time!
'70s Vibes
If the '90s bandana look isn't nostalgic enough for you, this bandana cap look is straight out of the '70s. It also keeps your hair in place and prevents any flyaways from getting into your eyes — a great option if you're on vacation or in an area with a lot of wind. Instead of tying the two ends under your hair, simply tie them on top of your hair and tuck in any extra fabric.
Updated Headband
The headband look has been popular for years, thanks in large part to fictional characters like Blair Waldorf on Gossip Girl, but it can also be achieved with a headscarf. Simply fold the headscarf until it looks like a headband (you can make it as thick or as thin as you'd like), and wrap it around your head. If you have bangs, keep your bangs in front of the headscarf for a more fashionable look. Or, if you want all your hair out of your face, you can do that too!