Temperatures are dropping and the wind is picking up, which means it's scarf season! You can wear a scarf absolutely anywhere. Bundle up in a super-warm scarf for your commute. Wear one all day in your drafty office. Find a stylish scarf and take some cute pictures at a pumpkin patch. Pick out a scarf that screams "me!" and wear it in your holiday card photos.
There are so many scarves out there made of different materials, and there are so many different styles (we're looking at you, infinity scarves!) to add more visual interest. Some scarves are really just shawls, which we also love. 
There's no doubt in my mind: you just can't go wrong with a scarf. It'll keep you warm and add some texture to your outfit. What's not to love? Take a look at these scarf styles. Who knows? You might just find your next favorite. 
Plaid Wool Scarf
Plaid scarves were all the rage a few years ago. Level up your style and find a plaid scarf that's made of wool that you love. They look great with a tan jacket, but really, as long as it doesn't clash, plaid will go with anything. This one from L.L. Bean will look great and the high-quality material will keep you warm for years to come. 
Fair Isle Infinity Scarf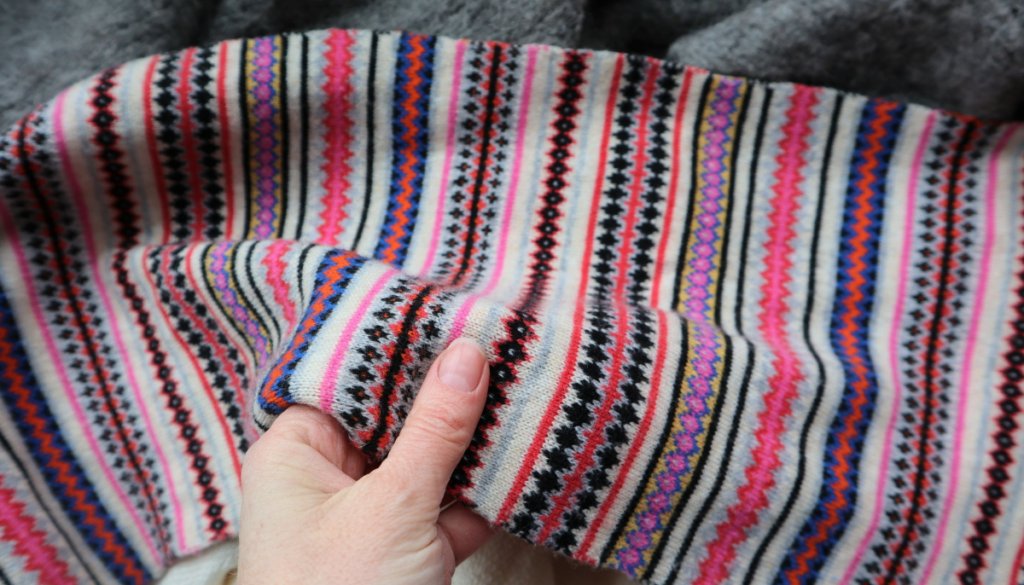 Fair Isle is an island in northern Scotland (talk about cold weather!). There are a lot of different patterns that claim to be "Fair Isle," and they all have the common thread of an intricate, woven style. What makes something a Fair Isle sweater, for instance, is really up for debate now. One thing for certain: Fair Isle scarves just look warm.This Fair Isle scarf from Kohl's sports a cute maroon and mustard yellow combination for a fall color scheme. It's also lined with faux-fir for extra coziness!
Fringed Scarf
Sometimes you want to make a statement, and maybe that statement is that you're not afraid to play with texture. A fringed scarf shows you can do just that. Some people might not like the look of long tassels, but if you do, then go for it! Bold stripes contrast well with tassels, and this version from Anthropologie looks stunning with a green coat. Be careful if you have cats, though – they'll definitely want to play with the tassels!
Knit Scarf
You really can't get much cozier than a knit scarf, especially a chunky knit scarf. There are thousands of knit scarves out there to choose from, so take the time to think about what color would go best with your coats and your outfits. You can wear a chunky knit scarf all day in a drafty office, or just during your commute. They're so versatile and they can be so cozy. Of course, the more you spend the cozier it will be. This infinity version from an Etsy shop promises to be both cute and soft.
Blanket Scarf
Speaking of soft, blanket scarves are some of the softest on the market. They're huge, so just be aware of that fact if you're planning to wear one with a certain outfit or to a special occasion. On the warmth scale, they're absolutely at the top. It'll keep you warm in the coldest temperatures! This one from Shiraleah, sold at Target, is a neutral dream that would look stunning with just about any outfit.
It's a Question of Material
If you prefer substance over style, then you probably care more about the material of your scarf than the print. You'll find scarves made of satin, velvet, silk, pashmina wool, cashmere, fleece, cotton, chiffon, linen, jersey, polyester, viscose, and blends of these materials.
With so many options, it's a good idea to try it on before you buy. Yes, that means actually going to the store. Trying it on will give you a much better sense of the material that's going to be really close to your face! When you buy online you don't really know what it feels like. Some wool scarves are soft and some are itchy, for example. Of course, you can always buy online and return, but that can be expensive and isn't the best for the environment.
Whether you like shopping in big box stores or small boutiques, you're almost guaranteed to find a scarf at your favorite shop. Make sure you take a look at the tag to see the materials that the scarf is made of before you make your purchase. Then, enjoy being cozy and finding creative ways to wear your new scarf!