There's nothing I love more than a little extra sparkle. It's flashy, it's dramatic, and above all, it's so glamorous.
Of course, you can use glitter or metallic fabrics — but nothing shines quite like a good rhinestone.
When celebs need to ooze glitz and glamour on stage, they're clearly reaching for the rhinestones. Nothing shines under stage lights quite like it. But where are they getting all that glitz?
The Disco Daddy and His Blinged Out Costumes
Apparently, they call up a designer named The Disco Daddy.
Okay, his real name is Vincent Michael Braccia. But "The Disco Daddy" is clearly the perfect alter-ego for a crystal-obsessed artist who creates '70s-esque designs completely covered in colorful stones.
And although you might not be familiar with his name, I'm pretty sure you've seen some of his ultra flashy work.
His designs are begging for the spotlight, and celebs seem to agree. He's created glam ensembles for the likes of Lizzo and Doja Cat to take the stage, fabulous drag queens including Violet Chachki and Aquaria, and even influencers like Nikita Dragun.
Earlier this year, Disco Daddy made a custom Swarovski bodysuit for Lizzo's Grammy performance. Calling it one of his "biggest accomplishments," he did her costume, her boots, and even all the dancers' costumes.
His Love of Flashy Costumes Comes From the Dance World
Before launching his label in 2017, Braccia was a professional dancer. The dance world is certainly full of bling, and Braccia's love of flashy design goes all the way back to when he was a kid, studying ballet and classical dance.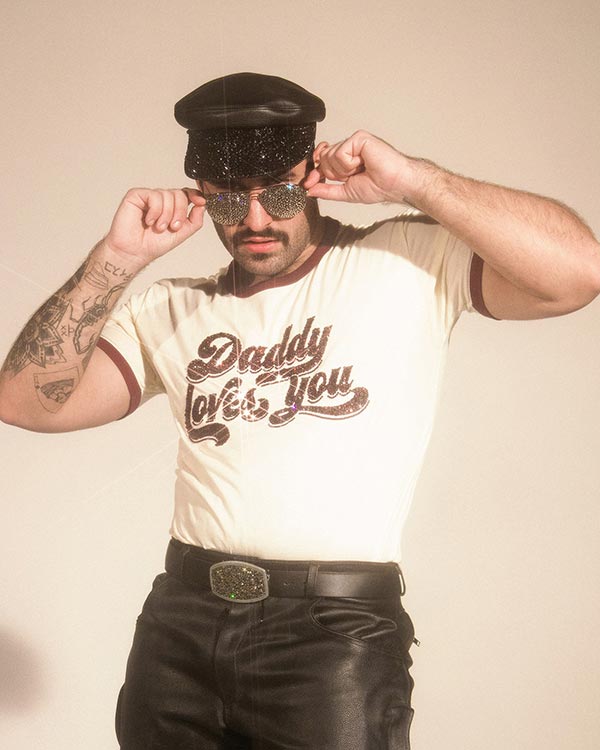 "When I was young, I was fortunate to go to a studio that had custom beaded and sequined costumes. It was my favorite part of going, even though I couldn't wear it — the girls had all the gorgeous costumes," Braccia said during an interview with Vogue. "As a little gay boy in Staten Island, I was like, 'Oh, hell no.' I started going to Michaels and buying packs of rhinestones, and gluing them to my costume."
It didn't stop there. "In high school, I would rhinestone girls' graduation caps for money, and I would do cheerleading uniforms," he recalled.
But it was after Braccia moved to L.A. to pursue dance that his crystal work also gained an audience, especially among drag queens. He met his friend, drag superstar Violet Chachki, on tour as a dancer. They often collaborate on Chachki's vampy, Old Hollywood-inspired outfits.
Braccia Launched His Own Capsule
In general, he's been doing mostly custom work up until now. But this fall, Braccia decided to branch out and do something for himself. He released a new campaign showcasing seven original designs, and enlisted the help of friends like Chachki to model his one-off pieces.
"I wanted to show what I can do, instead of what people want me to do," he said.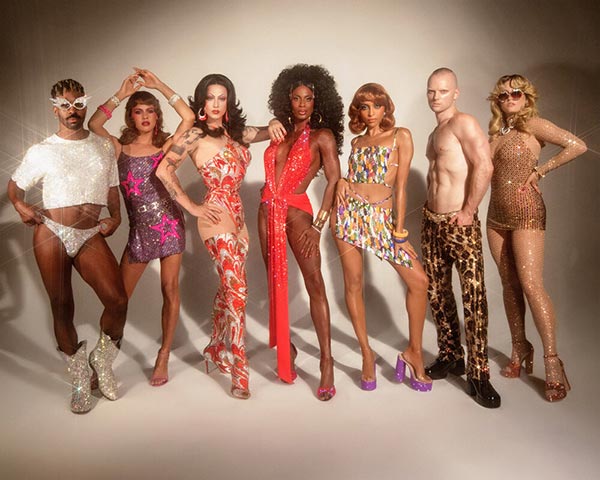 If you haven't gathered, The Disco Daddy has a thing for, well, disco. He's even got a tattoo of Donna Summer. As expected, his capsule definitely takes plenty of cues from disco's glory days and the infamous Studio 54.
"I wanted to do a modern take on Studio 54," he told Vogue. "Disco is the intersection of nightlife, queer culture, sexual liberation, and glamour — all things that were lacking this year."
There's something very special about the way his garments are constructed, too. He says that instead of simply using rhinestones as embellishments, he wants to use them in a way that they become their own textile.
"I like creating something with the intention of it being fully rhinestones, like a glass piece of art on your body," he said.
The key, here, is that Braccia is gluing each rhinestone by hand. It's painstaking and time-consuming, but he says it's worth it.
"Most people will just put a whole bunch of glue and rhinestones down, but it makes the fabric stiff," he said. "It looks better when it moves. I want people to dance in it, have fun, and not be restricted."
You can take a peek at The Disco Daddy's ultra glam collection at thediscodaddy.com or check out @thediscodaddy on Instagram.