Whether you're a high schooler going through your first ever heartbreak, a 30-something-year-old dealing with a divorce, or a superstar celebrity with millions of dollars, the procedure after a breakup is the same. Step one, get a dramatic haircut.
Ana Debuts New Look
In fact, Ana de Armas — who recently split from boyfriend Ben Affleck — showed off her sleek new bob and bangs in a video shared earlier this week honoring her friend, Claudia Muma.
In the video, which was shared on Sunday, January 17, the Knives Out star looked sophisticated and stylish with her new look, complete with a white top and winged eyeliner. 
The debut of the 32-year-old's new 'do comes shortly after it was announced she and Affleck decided to part ways after almost a year of dating.
Breaking Up is Hard to Do
The actors actually met on the set of their upcoming thriller, Deep Water, which filmed in New Orleans in late 2019.
They then went public with their relationship shortly before the coronavirus sent shockwaves throughout the world. In fact, they were spotted in March 2020 when they were on a trip to Cuba, where de Armas is from.

"Ben is no longer dating Ana. She broke it off. Their relationship was complicated. Ana doesn't want to be Los Angeles based and Ben obviously has to since his kids live in Los Angeles," a source told People.
"This is something that was mutual and something that is completely amicable. They are in different points in their lives; there is deep love and respect there. Ben continues to want to work on himself. He has three jobs lined up and he's a solid father at home. They are both happy with where they are in their lives."

Some started to speculate they had split after de Armas returned to Cuba in the New Year without the Argo director.

While no breakup that occurs during a global pandemic should come as a shock (turns out being locked inside with another person is hard!), de Armas and Affleck did seem to be in love before they split.

The pair were constantly seen going on quarantine walks together throughout the spring and summer, with de Armas even spending time with Affleck's three children.
Why Are Breakup Haircuts a "Thing?"
As it turns out, there's actual science behind why women — and sometimes men — decide to get dramatic haircuts following a breakup. Besides wanting to try something new, a post-breakup haircut actually may be a coping mechanism.

"When you feel poorly, it is natural to make changes to your external body in the hopes that it will make you feel better internally as well," relationship and sex educator Dr. Laura Berman told InStyle.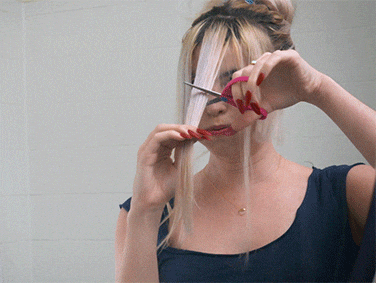 "There is something about a drastic cut that can feel cathartic after a break-up, like you are cutting off the dead weight and becoming lighter and freer."
Though some people end up regretting their post-split chop or decision to get breakup bangs, de Armas shouldn't regret a thing. Now the only question is, will Affleck show off a new look? Only time will tell!