Spring cleaning is a time-honored tradition, but it's time you started summer cleaning, too! While clearing out the cobwebs in spring is an important transition from winter, that doesn't mean you should neglect your living space during the sultry summer months. Here's everything you need to know about summer cleaning.
Spruce Up Your Outdoor Spaces
Ah, the great outdoors! Make your outdoor spaces even greater by getting them ready for summer. Prep outdoor furniture by cleaning it and washing any cushions. Check to make sure nothing needs repairs—trust me, you don't want to find out that your Adirondack chair is broken after you sit down!
If you have a grill, now's the time to deep clean it before barbecue season. Instead of using a wire brush, which can potentially leave dangerous broken bristles behind, opt for a scraper to clean your grill grates. Ensure that there's no buildup anywhere in the grill and check the metal for any spots that have been weakened by rust.
Take a walk around your property and make sure there aren't any places where standing water has collected. As the temperature heats up, those could become breeding grounds for mosquitoes—and nobody wants that. Take action to combat undesirable weeds, such as poison ivy and poison oak. Keeping your lawn trimmed can help prevent other critters, such as snakes, from hanging out on your property.
Finally, either make plans to clean up your gutters yourself or hire somebody to take care of them. Consider setting up a rain barrel, if they're able to be used in your area, in order to take advantage of it for watering your garden.
Prepare for Heavy Foot Traffic
During the summer months, we tend to come and go more often—especially if there are kids or pets in the house. Running in and out of the house, often with muddy shoes or grass stains, is a recipe for a messy disaster! Replace the mats in front of frequently used exterior doors with heavy-duty ones, such as this Astroturf scraper. Coir doormats, which are made of coconut husk fibers, might look cute, but they tend to both shed and hold onto water.
If you're not usually a "shoes off" house, you might consider adopting the rule just for the summer. Put a tray or shoe rack by the main entrance to your house and get everyone in the habit of shucking their dirty shoes before tracking the outdoors through your house.
No matter how vigilant you are, increased traffic means dirtier floors. Consider increasing how frequently you sweep, vacuum, and mop floors to keep up with the traffic.
Plan a Window Strategy
Summer means longer days and more sunshine. That's why I like to do an annual "wash all the windows" weekend every summer. If you aren't able to clean exterior windows yourself, hire someone to take care of it for you. Interior windows are best cleaned with a squeegee, but you can also use microfiber cloths.
It's also a good time to check to see how tight the seals are around your windows. You don't want to pay to air condition the whole neighborhood, do you? Here's a handy guide to checking the seals on different types of windows. If there's a gap that lets in hot air, you'll need to replace the seal or weatherstripping.
Finally, think about installing some heat-blocking curtains or thermal shades on windows that get the most sun. That'll help keep cooling costs down during the hottest months and protect your upholstery from fading.
Read More: What Fun Summer Activity Should You Participate in Based on Your Sign?
Prevent Mold and Mildew
You've heard the saying, "It's not the heat, it's the humidity," right? Well, both are a problem in the summer. Increased temps and higher humidity create the perfect conditions for mold and mildew to flourish. Investing in a dehumidifier can help combat the nastiness before it starts.
Always run an exhaust fan when you shower to prevent excess moisture from building up in the bathroom. It's also a good idea to leave the bathroom door open so that any trapped water vapor can escape and evaporate more quickly.
After you wash your clothes, leave the washer door open for an hour or two. Consider switching to line-drying your clothes in the summer to minimize the amount of hot, moist air in your home. (Yes, I hate the worst "moist," too. Sorry!)
Replace Your Air Filter
You should change your HVAC's air filter every three months. However, chances are good that you don't remember exactly when you changed it last. Take the guesswork out of this essential household task by changing the filter on the first day of each season. Here's a handy reminder for the rest of the solstices and equinoxes this year:
Summer – June 21
Fall – September 22
Winter – December 21
It's also a good idea to replace the batteries in your home's smoke detectors on the first day of summer and the first day of winter each year. That'll keep you on track for the recommended biannual schedule recommended by most home safety companies.
Scrub Trash Cans
Be honest: How often do you scrub your trash cans? It's so important to keep outdoor and indoor garbage cans clean during the summer. Otherwise… well, let's just say that the results aren't pretty. This excellent guide to cleaning garbage cans will walk you through every step of the process and make it as painless as possible.
The secret ingredients to a disinfecting yet environmentally friendly cleaning solution are dish soap and white vinegar. Don't forget to stock up on rubber gloves for dealing with these extra-dirty tasks!
Tackle the Garage
Spring cleaning tends to focus on airing out the main living spaces in your home. But summer is the perfect time to deep clean your garage!
Garages tend to be catch-all spaces for random stuff. They can also get so cluttered that your car no longer fits inside. (Ask me how I know!) On a clear, sunny day, plan to drag any and all clutter into the driveway. Be ruthless about what you keep and haul everything else off immediately. Donate everything that's still useable and take the rest to the dump.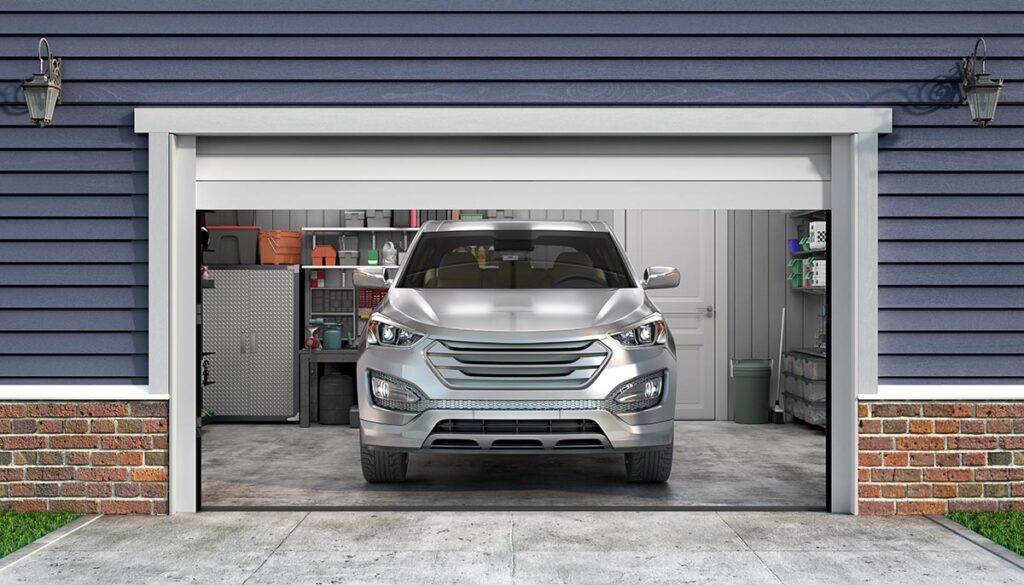 Don't spend too long thinking about what to keep and what to toss. If you're struggling with pack rat tendencies, I recommend Dana White's Decluttering at the Speed of Life.
Once your garage is free of clutter, sweep out all the dirt, dust, dead leaves, and cobwebs that may have collected in there. Organize any items that need to be stored in the garage, such as seasonal décor or camping equipment. Just keep in mind that your garage isn't supposed to be a storage unit—it's supposed to be the place that keeps your car safe from the elements.
Read More: Summer Makeup Products That Won't Melt Off Your Face
Be Vigilant About Your Kitchen
I don't know about you, but I hate it when ants invade my kitchen. I live in a 100-year-old house, and it seems like no matter what I do, I can't block every single possible pathway for the occasional ant to get inside. Luckily, I can keep on top of kitchen spills to ensure that there aren't any tempting sources of food for these little bugs.
In addition to staying on top of spills, I also make sure to seal all of my pantry staples in plastic or glass containers. Not only will that keep out any curious critters looking for a free snack, but it also keeps my food fresh for longer. Win-win! I'm also careful to sweep up any pet food that my furry friends spill since that can also attract summer bugs.
There's one more area of the kitchen that needs special attention in summer: the sink. I like to drop a wedge of lemon into the garbage disposal about once a week to keep it smelling fresh. You can also use a foaming sink cleaner to ensure that everything is squeaky clean.
Power Wash Everything
Finally, let's talk about one of the great joys of life. If you've never tried using concentrated jets of water to clean things, then you are missing out! You can buy a pressure washer for around $150, or you can rent one from Home Depot or Lowe's for about $40.
How much power is too much? The amount of psi you'll need depends on what you're cleaning. It takes about 3000 psi to pressure wash a driveway, while you shouldn't use more than about 500 psi to clean your deck. Vinyl siding falls in the middle at about 1500 psi.
There's a little bit of a learning curve, but once you've mastered the art of the pressure washer, you'll be able to blast grime from pretty much any outdoor surface. It's truly so satisfying. In fact, there's a whole bunch of YouTubers dedicated to sharing videos of power washing! I'll leave you with this video for inspiration: