Every single crafter and DIY enthusiast knows this feeling. It's the moment when you realize that your "fun" and "money-saving" project has turned into an expensive, stressful nightmare. Now imagine that feeling multiplied by ten because the project is your own wedding.
While there are some wedding DIYs that promise to be thrifty and painless, proceed with caution. And never, ever try some of these at home!
DIY It: Invitations
While professionally printed invitations and handwritten calligraphy are both beautiful and traditional, they aren't essential. If you want to save some money and time, consider doing save-the-dates and invitations yourself. While you could buy notecards or print invitations from your computer, a professionally designed and printed template might be the best option.
Minted offers a ton of invitation options from graphic designers with a wide variety of customizations. A hundred invitations plus the optional save-the-date and reception cards will run you about $550 on Minted. According to brides.com, a hundred custom letterpress invitations would cost a minimum of $1200.
The truth is that most people will not spend much thought on your wedding invitations. Other than being functional—giving your guests the information they need and the ability to RSVP—your invitations don't need to be perfect. Unless you and your future spouse are just really into stationery.
Hire a Pro: Dress Alterations
Unless you are a professional seamstress, don't try to tweak your wedding dress. Professional alterations are essential to ensure that your dress (or tux) fits like a dream. Depending on the extent of the alterations needed, you could be looking at anywhere from $100 to $1000. That's a lot of cash, but attempting the DIY route could cost you even more if you end up damaging your gown.
Talented tailors can work wonders, so be sure to get recommendations from friends and family—or the boutique where you bought your dress. Build this cost into your dress budget for the beginning rather than thinking of it as a separate charge. Whatever you do, don't leave things until the last minute and hope that a safety pin or two will save the day!
DIY It: Simple Decor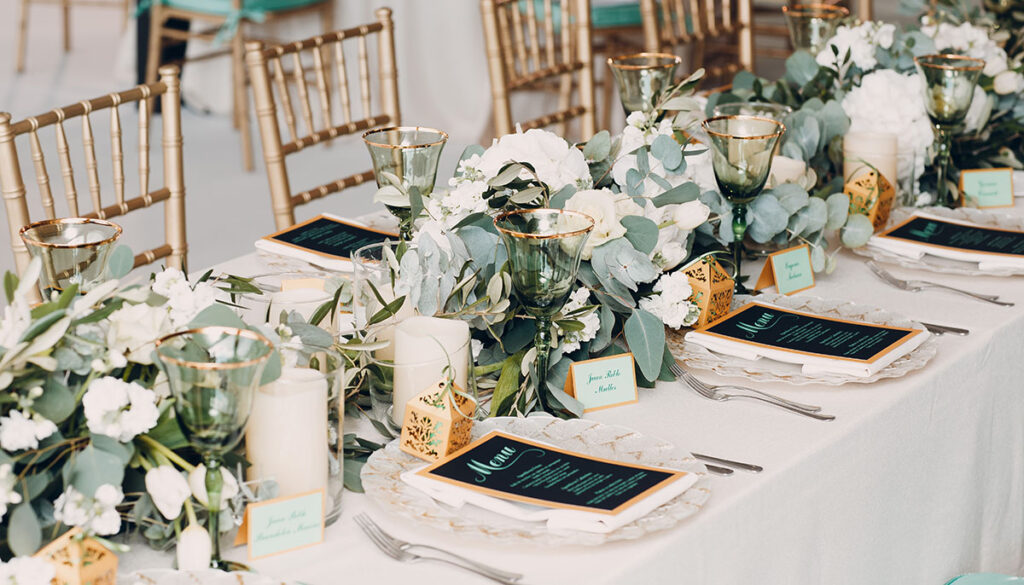 Should you DIY your wedding décor? You'll find strong opinions on both sides of the debate. If you see something on Pinterest and try to recreate it, you might be able to pull it off—or you might end up with an epic fail. That tablescape in the picture above? Probably not a DIY project. Generally speaking, only take on wedding craft projects that use crafting techniques you've already tried before. Calculate the time and cost you think it'll take… then double that estimate.
That having been said, making some simple DIY decorations like the ideas in this article from The Knot could be a fun group project for you and your wedding party. Don't take on too much, however, and give yourself plenty of lead time. Nobody wants to see the bride running around the venue with a hot glue gun twenty minutes before the wedding.
Read More: Don't Want a Big Wedding? 6 Unique Places to Elope in the United States
Hire a Pro: Catering & Cake
No matter how much you like to cook or bake, please don't try to DIY the catering at your own wedding. You will spend the days and hours leading up to the big day focused on nothing but the catering. Even if everything goes off perfectly, the stress just isn't worth it. Depending on how much food and equipment you need to buy, you might not even save that much money.
As a follow-up, please don't ask any of your loved ones to take on this task, either. The only exception would be if they owned and operated a professional catering company or bakery. Even then, offer to pay the market rate and give them the standard amount of lead time. Lowballing or running to them at the last minute are both bridezilla behaviors.
DIY It: Reception Playlist
Band, DJ, or playlist? Everybody feels differently about the best way to provide music during the reception. Wedding DJs have a reputation for cheese, and bands can either be entertaining or embarrassing. You might think that queuing up a Spotify playlist of your favorite songs is the best—and cheapest—option, and you might just be right.
If you decide to DIY the music at your reception, make sure that the speakers you've picked out have enough power to be heard over a crowded dance floor. Also, download the playlist so that it can function offline. As Murphy's Law reminds us, anything that can go wrong will—and that includes reliable Wi-Fi.
Finally, designate a member of your wedding party to play backup DJ and handle any tech mishaps during the reception. You won't have the time or energy to do it yourself at that point.
Read More: How to Make Your Wedding Dress as Unique as You Are
Hire a Pro: Photography
Sure, everybody has a high-powered digital camera in their pockets these days. But that doesn't mean everyone is now a photographer. Your wedding photography and videography is one area where you should never, ever skimp. Hire a professional whose aesthetic and process match your vision. And for the love of all that is holy (matrimony), pay their rates without haggling and feed them during the reception, okay?!
Ahem. Anyway, Pixels and Paint Photography has a rundown of the biggest wedding photo regrets. As they explain, "There are a couple elements of a professional that separate us from the hobbyists, such as professional liability insurance, backup cameras and gear, lighting knowledge, and coordination & communication skills."
As with catering, please don't ask your professional photographer friend to shoot your wedding as a favor or for a "friends and family" discount. You get what you pay for, after all.
DIY It: Favors & Welcome Bags
Here's a DIY that won't drive you batty or break the bank. Probably. Favors are a small way to give thanks to your guests. And nothing says "thank you" like treats to enjoy after the wedding. Cookies, truffles, candies, mixed nuts… consider including something tasty in your favors. Very few guests will treasure a shot glass with your new monogram on it, but they'll enjoy the hot cocoa or tea you sent home with them. Check out these great ideas for edible wedding favors!
If you want to go a step beyond favors, consider wedding welcome bags. These are ideal for destination weddings or outdoor nuptials, as well as weddings with a lot of out-of-town guests. Think about local treats and snacks, beverages, and information about the town and the ceremony—all tucked into a custom tote bag. For an outdoor wedding, you might also include bug spray, sunscreen, folding fans, and ponchos. The Knot has even more inspiration for wedding bags.
Hire a Pro: Flowers
Unless you're planning to have the most basic possible flowers—we're talking "pick up a couple bouquets from Trader Joe's before the ceremony"—then spring for a professional florist. They'll be able to source the blooms you've been dreaming about, treat them with the appropriate care, and ensure that everything arrives fresh as the proverbial daisy.
A good florist can help you design your bouquet, centerpieces, venue décor, boutonnieres, and more. They can help you understand the language and aesthetics of flowers and even work with you to go green with local, in-season flowers.
Brides.com advises setting a generous budget for flowers:
Most couples spend between eight and 10 percent of their overall budget on flowers (covering personal flowers, ceremony décor, and reception arrangements), so if you have a big vision but a smaller budget, talk to your florist about flowers that can give you the look you want without breaking the bank.
Their money-saving tips definitely don't include DIYing your flowers. Instead, look for ways to double-up on the arrangements by using them during the ceremony and reception. For example, the bridesmaids' bouquets can become table centerpieces in a snap.
It Depends: Hair and Makeup
Should you hire a professional stylist for your hair and makeup? If so, do you also hire folks to help your wedding party primp? Will they only work prior to the ceremony, or will you want a touch-up before the reception? What about the rehearsal dinner? And the first-look photoshoot?!
No one can tell you how to spend your wedding budget. If you don't feel confident about your ability to do your hair and makeup—or if you simply want to feel pampered on the big day—then budget for a hair and makeup artist. You might also consider extending that courtesy to your bridesmaids. However, if you prefer to do your own styling, there's nothing wrong with that.
Leading up to your wedding, you'll probably hear a lot of opinions. Most of those opinions will be unsolicited. If you wear glasses, for example, you'll probably hear people telling you to wear contacts during the ceremony. Do you have short hair? Get extensions! If you have curly hair, then straighten it—but if you have straight hair, then curl it.
Ultimately, the most important thing on your wedding day is that you feel happy, relaxed, and confident. If you're not used to wearing a full face of makeup, then don't feel pressured to get shellacked. And if you typically rock a red lip and cat-eye liner, don't let anyone tell you to "tone it down," either!
Read More: Wedding Registry Items You'll Actually Use