Living in a rental comes with a few restrictions in the design department. Just a few…
Sure, it's your place of residence, but you can't exactly rip out all that ugly, dated tile in the bathroom – at least, not without permission, which most landlords are pretty unlikely to grant! Unfortunately, unless you own the place (or have a really relaxed landlord!), permanent changes are usually off the table.
While homeowners are free to do all the drastic changes they want to, renters aren't allowed to take too many liberties or make big changes. That means no crazy paint colors, no replacing dated kitchen cabinets, and certainly no new flooring. Do something too drastic and permanent, and you definitely won't get that security deposit back when you leave. You might even end up owing more than the deposit you paid!
But if the thought of four blank white walls is boring you to death, don't fret. There are plenty of creative ways to make your rental feel more like your home, without risking your security deposit. You don't just have to deal with a boring space.
Many of these home decor ideas won't even break the bank. So, not only are you not losing that security deposit, you also won't have to spend all of your hard-earned cash creating the stylish space of your dreams.
So, let's jump in and look at some easy ways to upgrade your rental, without upsetting a landlord or losing a deposit in the end.
Ditch the Cheap Blinds
Window treatments can really influence a space, but rentals are usually equipped with just cheap mini blinds. They do the trick, but they definitely aren't stylish or sophisticated, to say the least.
There are plenty of other choices that will look much better, while still providing privacy. Choose from bamboo shades, roller shades, sliding panels, plantation shutters, or wooden Venetian blinds. Store the mini blinds in a safe spot so you can return the windows to their original state.
Even if you have to leave up the cheap blinds, drapes layered on top will still take your window treatments to the next level. They will offer the opportunity to layer more color and pattern into your rooms. When you move, you can easily take these down and move them to your next place.
Load Up On Hanging Strips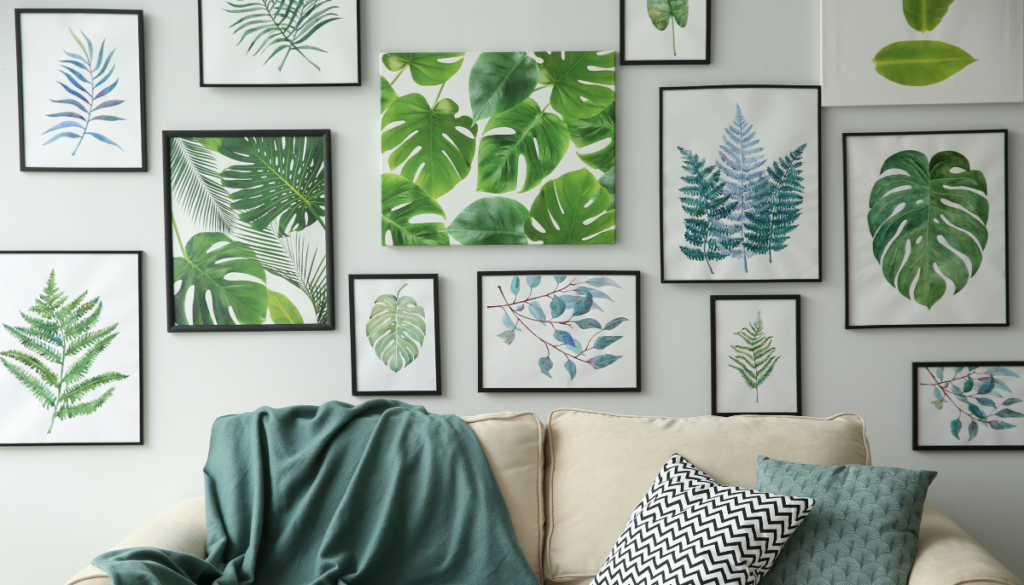 Gone are the days of needing to put holes in the walls just to hang up some art. That's great news for those of us living in rentals. Many landlords aren't keen on tenants putting a bunch of holes all over the place. I've patched plenty of nail holes in my day!
As long as you follow the directions – I'm looking at you, people who don't actually clean the wall first! – these products can easily hold all kinds of decorative items. The obvious choice here is framed photos, but they will hold more than that, so get creative! Use them to hang paintings, hats, tapestries, or anything else you can think of to really make the space feel like home. You can make an entire gallery wall without a single hole.
Related: Here is How to Create a Fabulous Gallery Wall
A Fresh Coat of Paint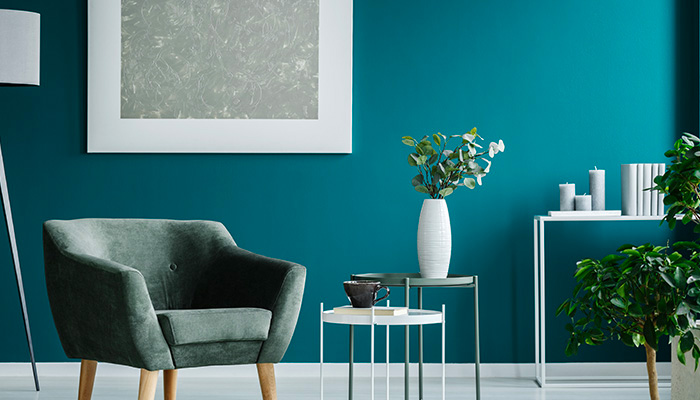 While some landlords don't allow renters to paint the walls, many are okay with it. At least, as long as you paint them back when you move out. Definitely check with your landlord or management company first before breaking out the paint cans!
If your landlord gives you the go-ahead, it's time to get painting! Nothing refreshes a space quite like a new wall color. Painting is one of the easiest and most affordable changes you can make that will affect an entire room. For maximum impact, focus on high-traffic areas, such as the living room or bathroom. But paint really isn't that expensive, so why not just paint everything? Just remember, you will almost certainly have to paint everything back to neutral when you leave.
Removable Wallpaper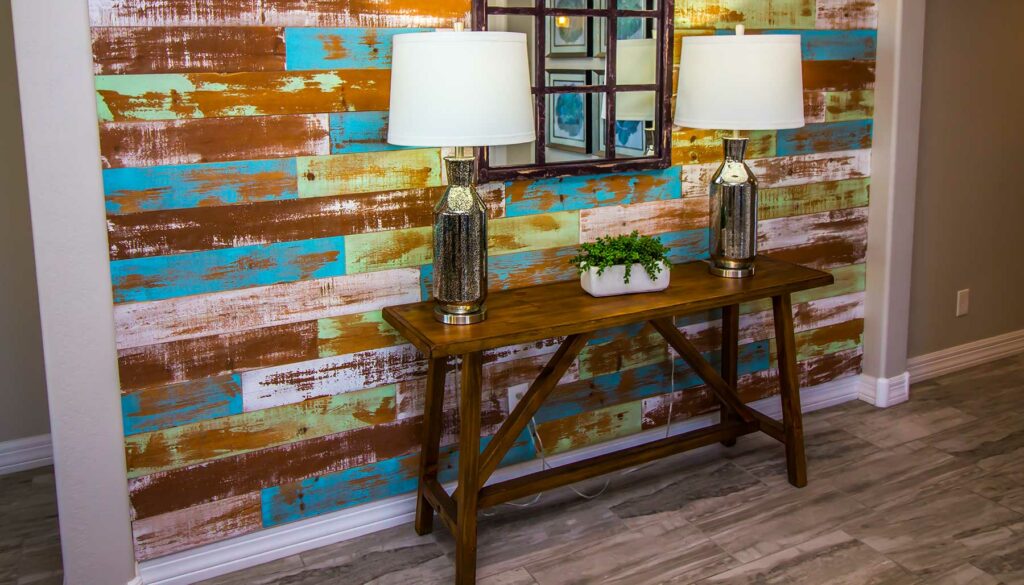 Wallpaper is back in style, and it's more fresh and modern than ever. You can find a variety of prints and colors to match just about anyone's taste and decor style these days. Traditional wallpaper is a no-go in a rented apartment or house, but removable wallpaper is all the rage. As it keeps gaining popularity, more styles are available and many options are really affordable.
You can wallpaper an entire room, or use a bold print for an accent wall. It will add a big pop of color while also showcasing your personal style. Of course, the best part is that it's entirely temporary. It can be removed without the use of any special tools, or even water. Make sure you follow the instructions, including washing the wall and giving it time to dry completely before applying wallpaper. It will ensure the wallpaper sticks properly, and that it's a simple removal when you're ready to take it down.
As an added bonus, you can definitely get creative with removable wallpaper. Just because it has the word "wall" in it doesn't mean its only use is for walls. You can also use removable wallpaper on doors, the inside of cabinets, stair risers (the vertical boards on a staircase), on dresser drawers, and more.
Swap Out Knobs and Pulls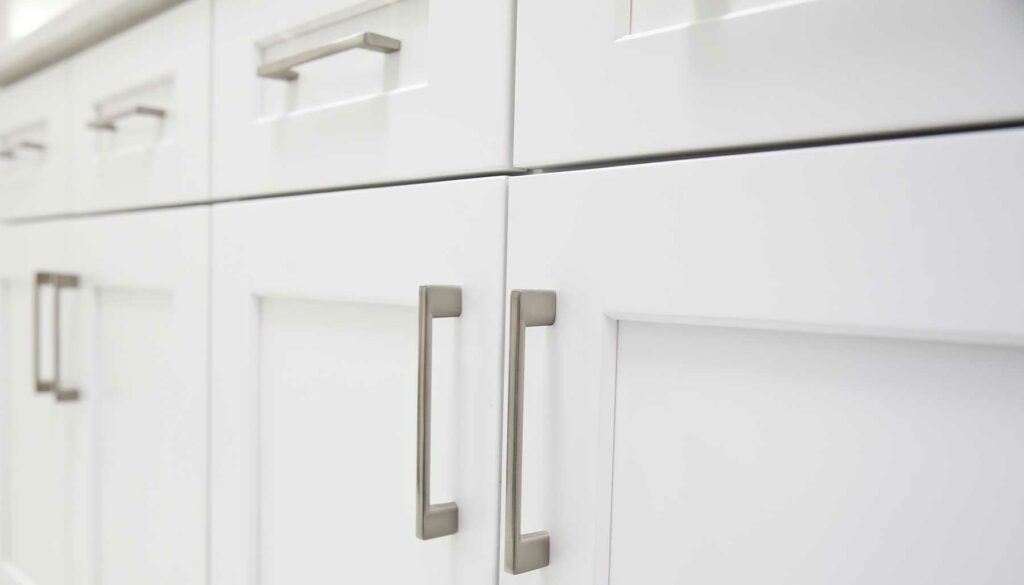 Think of the knobs and pulls as accessories. The color and style of them can definitely change the overall aesthetics of the cabinets or drawers. Landlords aren't usually concerned about what style they are. They are usually just concerned that they are there, they are inexpensive, and they function. That means that rentals often end up with whatever pulls and knobs were cheap, not what looks stylish. Every time I have moved, this is one of the first things I swap out!
This can be in the kitchen, of course, but don't forget about the bathroom, too. You can find a wide range of options in chrome, brass, glass, or porcelain. When replacing pulls, measure the distance between the screws to ensure you buy the right size. And when you install the new hardware, just stash the originals in the back of the drawers or all together in a container. When you move, just reinstall them.
Swap Out Light Fixtures, Too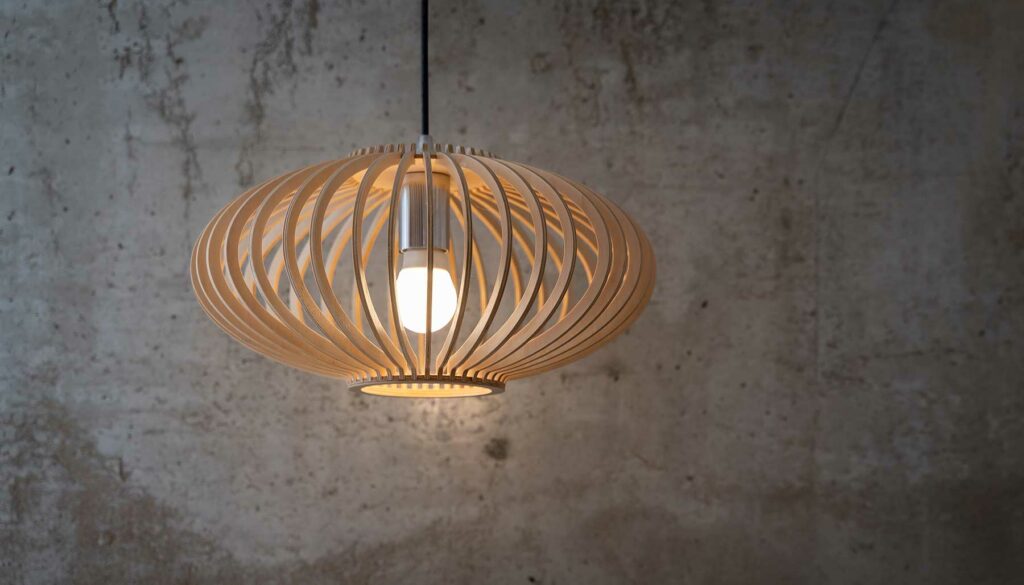 Similar to knobs and pulls, the light fixtures are kind of like accessories for your space. But in rentals, landlords usually buy whatever is functional and cheap, not what looks stylish. Your rental probably has dated fixtures or lights that clash with your personal style. It can definitely have an impact on your living space.
You can find inexpensive light fixtures at home improvement stores and big box stores, online, and even at thrift stores. After you swap them out, make sure to store the original ones safely. You don't want them to wind up damaged, because you'll have to put them back up when you move.
Related: How I Furnished My Entire Home From Thrift Stores and Estate Sales
Using a Room Divider
Obviously, it is not an option to change the basic structure of your rental. You can't add walls to create a separate space for a home office or a kids play area. No matter how good of an idea it might be, especially in a studio apartment, I guarantee your landlord will give you a big ol' "NO."
That's where room dividers come in! They are an easy way to separate a room into different spaces, without doing anything permanent or damaging. Free-standing screens don't even attach to anything at all.
You can also find some room dividers that hang from the ceiling, in case you happen to have dogs or kids that threaten to knock over the free-standing kind. I have also seen ceiling rails used with curtains or panels. These can be pulled out when you want the division or tucked away to the side when you want it open again. With these options, though, you have to be willing to patch the holes when you move out.
Upgrade Your Kitchen Backsplash
Sometimes rentals have outdated or ugly backsplashes, and sometimes they don't have one at all. And I'm not saying that every kitchen has to have one, but it is a great way to dress up the space and make it look better. Of course, you can't just install a backsplash in a rental.
If you're lucky enough to have a rental that either doesn't have one or has a smooth one (as in, no grouted tile), you can fake a backsplash with contact paper, or even 3D wallpaper tiles. Contact paper is extremely affordable, and comes on a roll like removable wallpaper. Which by the way, you can also use that wallpaper for this application, too. But 3D wallpaper tiles are a really neat way to add unique interest to the space. And much like these other options, they just peel and stick – making for easy installation, and easy removal.