How often do you eat sweet potatoes? If your answer is "Only on Thanksgiving," that needs to change! There are so many reasons to eat this delicious root vegetable. I know that I would eat them every day if I could. Sweet potatoes are full of beneficial vitamins and minerals, including fiber, potassium, copper, vitamin C, beta-carotene, and Manganese.
You can do much more with a sweet potato than just bake it in the oven. Take a look at these four recipes and see if any sound good to you!
Spinach Sweet Potato Quiche
If you're looking for a way to add a little variety to your breakfast options, look no further than this recipe. It only takes 35 minutes total to make 8 servings. The main ingredients are, of course, sweet potato, spinach, eggs, and goat cheese (but you can use feta cheese instead). You can find all the details here!
Simple Baked Sweet Potatoes
Would you rather keep it simple? You can't go wrong with a plain old baked sweet potato. All you need to do is preheat your oven to 425 degrees, wash your sweet potatoes, line your baking sheet with foil, poke holes in the potatoes to make sure they won't burst, and bake them for 45 to 50 minutes.
You can dress up your baked sweet potatoes any way you want – with butter, cinnamon, honey, nutmeg, or another spice that you like. Or you can simply salt and pepper them if that's more your style!
Black Bean Sweet Potato Quesadilla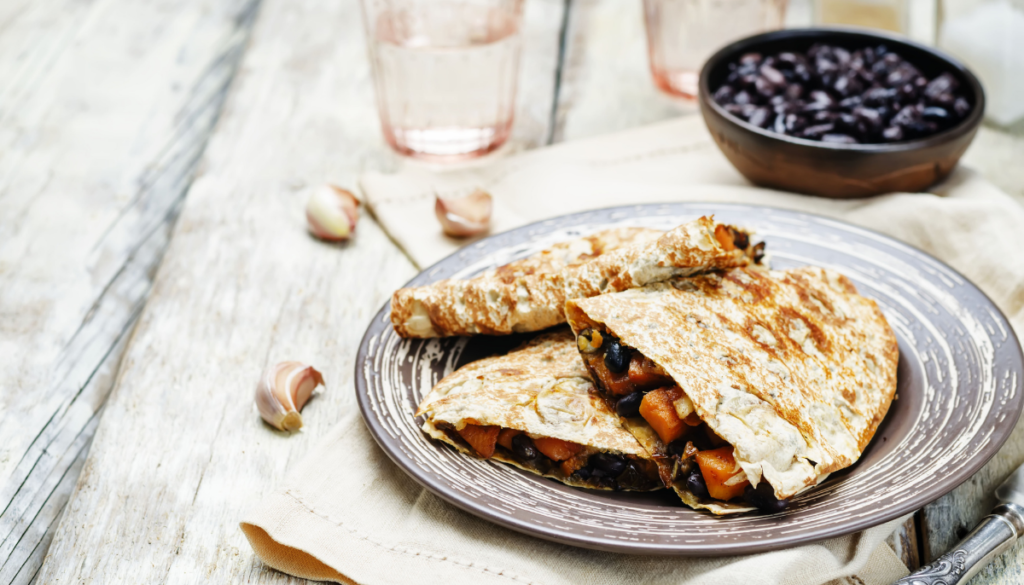 True sweet potato fans will venture out on a limb and try all sorts of recipes that feature the vegetable, including black bean sweet potato quesadillas. It's easy to make, healthy to eat, vegetarian, and gluten-free! Plus there's a ton of flavor.
You'll need about 25 minutes total to prepare and cook these quesadillas. Take 1 1/2 cups of sweet potato, cut into small pieces, and 1 and ½ cups of cooked and drained black beans (canned are fine!). Fry up the sweet potato with avocado oil (you can experiment with other oils as well) and then add in your black beans and spices (you can use chili powder, cumin, and salt). Warm up your tortillas and fill them with your mixture, and add cheese if that sounds good to you! For all the details, look here.
Marshmallow-Topped Sweet Potato Casserole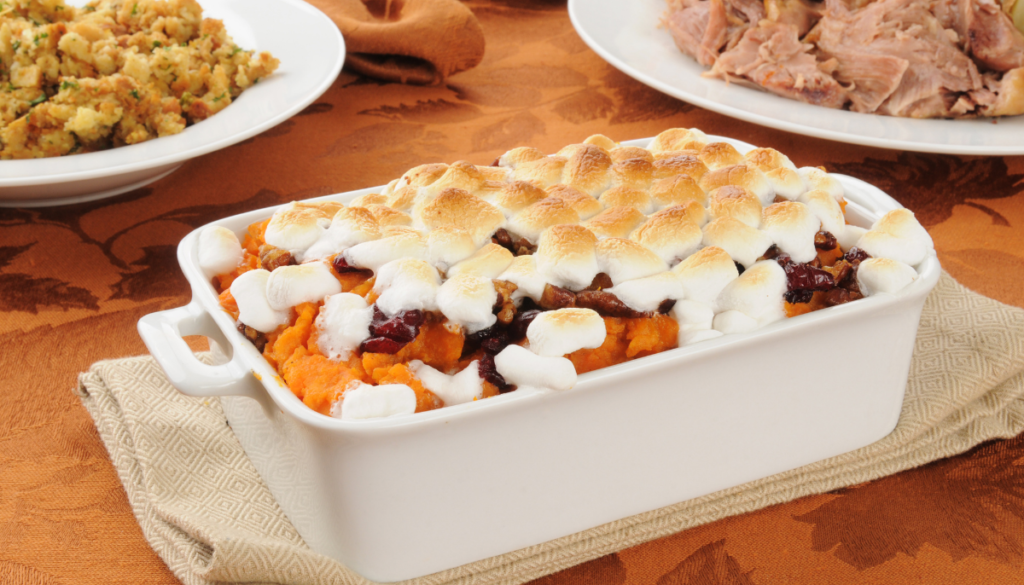 Here's my personal favorite. While you can't tout the health benefits of anything that contains marshmallows, sometimes it's okay to indulge in a delicious comfort dish like this casserole.
To make a marshmallow-topped sweet potato casserole, you'll need five sliced sweet potatoes, ¼ cup of reduced-fat margarine (or you can use butter if you're okay with higher calories – look for a recipe that lists the exact amount), ½ cup of packed brown sugar, 3 tablespoons of orange juice, 1 pinch of ground cinnamon, and a 10.5-ounce package of miniature marshmallows.
Preheat your oven to 350 degrees. While the oven is preheating, take out a saucepan and place your sliced sweet potatoes in the pan. Then, cover the sweet potatoes with water. Bring them to a boil and cook them until they're tender (about 15 minutes). Then you should remove them from the heat. Drain out any liquid and mash your softened sweet potatoes.
Then, blend in the margarine, brown sugar, orange juice, and cinnamon with the sweet potatoes. It's easiest if you use an electric blender, but if you don't have one, you can also blend it by hand. 
Spread the mixture into a 9-by-13-inch pan and then top it with your miniature marshmallows. Bake for 25 to 30 minutes, or until the marshmallows are puffed and golden brown.
Sweet potato casserole requires a bit of effort, but the result is an amazing dish. Again, because of the sugar content, you won't want to make this recipe all the time – but definitely bring it out for special occasions!
There are so many incredible sweet potato recipes out there. You can make them in the Instant Pot. You can fry them up as tater tots. Add chunks of sweet potatoes to salads, mix them with salmon to make poppers, add them to chili – the list goes on and on, and this doesn't even include dessert ideas! You can make sweet potato peanut butter balls (they end up looking kind of like cake pops), sweet potato chickpea blondies, sweet potato banana bread, and even sweet potato cookies. Personally, I really want to try this recipe for baked apple sweet potato oatmeal.
Don't confine your love of sweet potatoes to Thanksgiving. Explore the many sweet potato recipes that are out there to add variety to your meals – and all the health benefits of this delicious root vegetable.