We always associate flowers blooming and all their colors with spring, but there are so many pretty plants that bloom during other times of the year! There's no reason why your yard can't be filled with color in the fall.
For instance, there are plenty of flower options to introduce pops of color in the fall. And as the days start getting shorter, those bright bursts are just what I need. It's just a little extra cheer every time I step out of the door! Some of these flowers are pretty unique, and they vary in height, adding plenty of interest to the landscape.
So if you're ready to bring a little extra color to your landscape in the fall, I have plenty of easy-to-care-for plants that will bloom in mid-summer and beyond. These plants will keep your yard blooming with color into the fall.
Related: If You're Battling Unwanted Weeds in the Garden, You Can Get Rid of Them Naturally With Supplies You Already Have
Chrysanthemum
Chrysanthemums are basically synonymous with fall colors. They come in yellow, orange, white, red, purple, and even multicolors. And while most people buy these pretty flowers already blooming in pots so they can put them on the front porch, these fall beauties can actually go into the ground. For the most successful transplant, look for mums that aren't in full bloom yet. This will help them struggle less when you put them in the ground and ensure you get all the blooms in your landscape.
Depending on where you live, they might even come back year after year. With a few careful steps, you can help them make it through the winter. They need well-draining soil that won't collect water (that could freeze in the winter), and it's best to keep them sheltered from harsh winter winds. For more about helping your plants survive the cold, check out these tips on winterizing mums.
Helenium
Helenium, sometimes called sneezeweed, are native to the Americas. That makes them a relatively easy native perennial that will come back year after year. And don't be fooled by the name, because it does not cause hay fever. It just happens to bloom at the same time as ragweed.
Late-blooming, helenium will bring plenty of color to your yard for the fall. You'll find these flowers come in all kinds of pretty colors, such as yellow, orange, red, and bicolored petals. Their gorgeous, showy flowers will add plenty of brightness when the sun starts setting sooner.
Related: These Hacks for Gardening on a Budget Will Help You Save Money
Goldenrod
I love the interesting look of goldenrod, a perennial wildflower that features clusters of tiny yellow blooms. It was once mostly regarded as a weed, but gardeners are starting to take notice. That's thanks in part to newer cultivars that produce more flowers, are less aggressive, or are more compact. They will bloom from summer to fall, but removing the spent flower clusters will help extend the plant's blooming.
In addition to being pretty in your yard, goldenrod is also pretty attractive to pollinators like bees and butterflies. If you're in eastern North America, this is a native plant for your pollinators!
Oriental Lily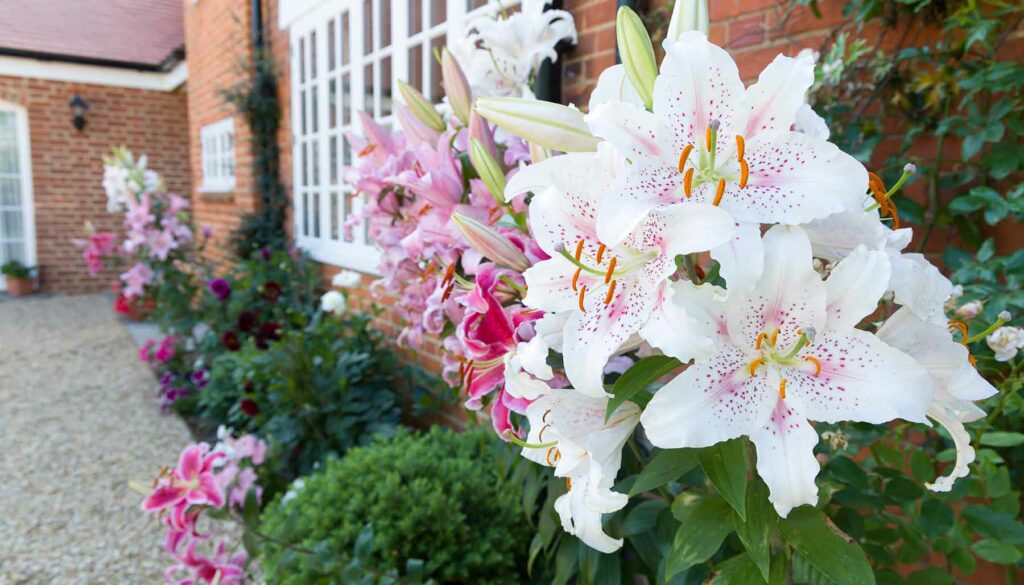 There is nothing subtle about these flowers! Prized for their beautiful star-shaped blooms and fragrance, Oriental lilies will add bursts of color and aroma as they bloom from mid-summer to fall. These flowers will also add plenty of interest and height to your landscaping, as their stalks grow four to six feet tall.
The flowers come in a variety of colors, such as pink, red, rose, cream, white, yellow, and orange. Many varieties also have interesting features, such as stripes or spots. It's worth noting that they will need a year or two to get established enough to produce those impressive flower clumps, but they are worth the wait.
Red Salvia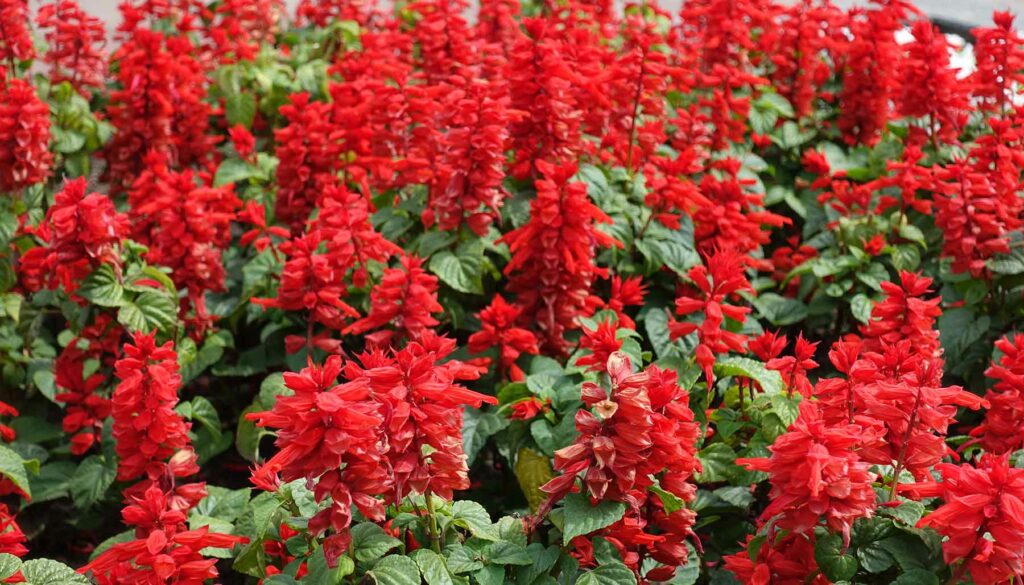 Sometimes called scarlet sage, red salvia brings bright color and vertical accent to your garden. These tall, stunning flowers add a nice ruby color, which is perfect for late summer and early fall. Red salvia needs full sun or partial shade, with well-drained soil.
Unfortunately, red salvia is treated as an annual in most places, because they only overwinter in warm climates. They are native to Brazil. While it's still around, though, you can get it to produce continuous blooms with a few snips. By cutting faded and spent blooms, it will keep giving you blooms into the fall.
Related: Gardening 101: The Basics of Pruning Your Plants to Keep Your Plants Happy and Healthy
Aster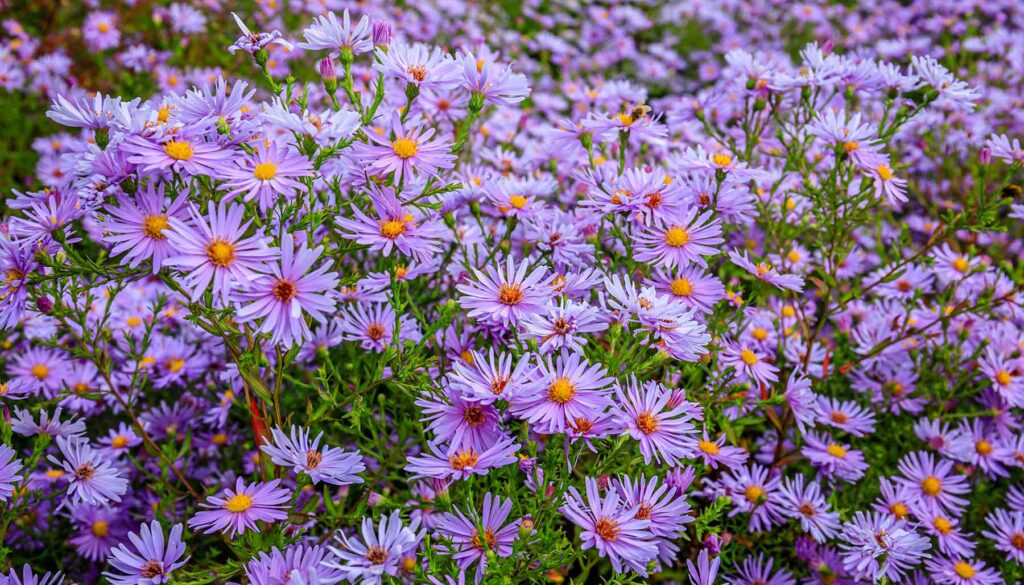 These adorable flowers are often sold as a seasonal potted flower that many people toss at the end of the season. However, asters are actually perennials that will keep coming back year after year in your yard. They do best in well-draining soil and require plenty of space to allow room for the roots to expand. Some varieties do well in partial shade, but most asters need full sun to produce all those pretty blooms.
When the days start getting shorter in the fall, this is when asters love to bloom. They feature white, purple, pink, or blue daisy-like flowers in dense mounds. Depending on the variety, they can be one to four feet tall.
Sedum
I have a lot of sedum in my yard for two reasons: it is a wonderful ground cover that doesn't mind lots of sun, and it's the kind of plant I can ignore! That's because sedum is basically indestructible. They are super drought-tolerant, and basically like to be ignored.
Commonly known as stonecrops, these perennial plants have thick succulent leaves and fleshy stems. When they bloom, you'll find clusters of star-shaped flowers, which attract bees, butterflies, and other pollinators. There is plenty of variety, too. There are actually hundreds of species, with a wide variety of sizes, shapes, and colors.
Related: Check Out These Chill YouTube Channels When You Just Need a Break
Cockscomb
Celosia argentea, or cockscomb, features unique feathery-looking flower heads. The red variety of these flowers is reminiscent of the comb on a rooster's head, which is where this flower gets its name. While the red is the most common, it also comes in other colors, like yellow, pink, orange, and white.
They usually bloom from mid-summer through fall until the first frost, so it will add plenty of color to your landscaping in the fall. Cockscomb also grows anywhere from a few inches to a few feet tall, so it's kind of a surprise to see what happens! Full sun locations will allow cockscomb to grow taller.
Nippon Daisy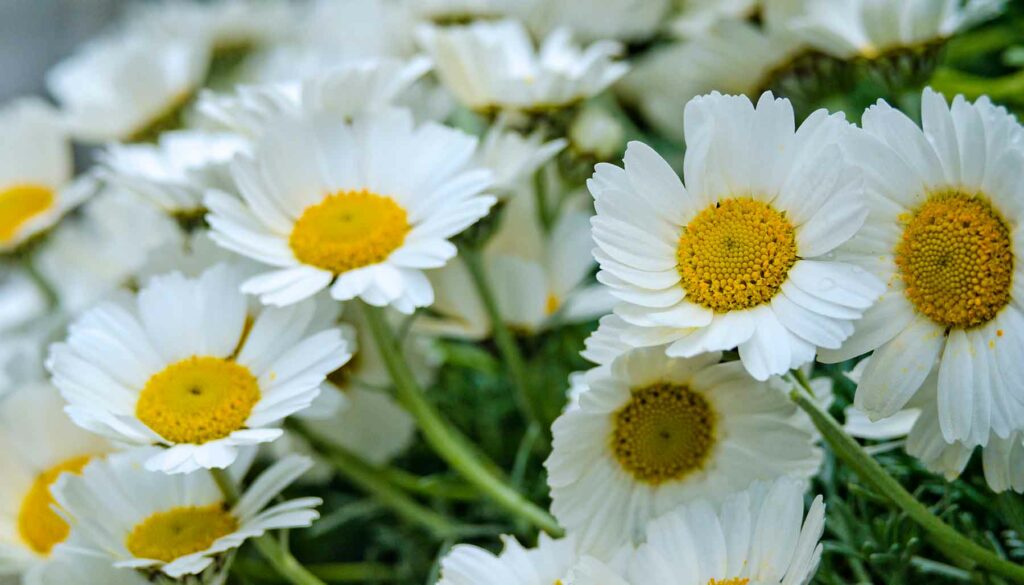 I love daisies because they are always so cheery. There's something so wonderful about their bright yellow centers and white petals. And while they are definitely spring flowers, you can still get that same dose of cheer at the end of the season with the nippon daisy. Also called the Montauk daisy, this perennial flower doesn't start to bloom until late summer. They will continue until frost.
Nippon daisy plants are pretty easy to grow in sunny locations with well-draining soil. They really only need water during long stretches without rain, and they prefer a little afternoon shade in hot climates. Otherwise, they are ready to bloom all the way up until a hard freeze! It can grow as tall as three feet tall, and cut flowers are long-lasting, too.
Russian Sage
Russian sage is a really interesting plant to add to your yard. It's a woody flowering perennial that belongs to the mint family – and it is also fragrant, as you can expect! When rubbed or crushed, it's got a smell that's often described as sage-like mixed with lavender.
This woody plant blooms in late summer, with tall, wispy wands of bright lavender-blue flowers. It also features a grey-green, almost silvery foliage. In order to get all those beautiful blooms, Russian sage needs plenty of sun. It can tolerate a little bit of shade, but it really needs plenty of sun to get all those pretty flowers.
Sunflower
Sunflowers – my favorite flower in the whole world! – are the big, bold, bright blooms you need for late summer and early fall. These massive flowers can reach several feet tall, with blooms as big as 6 inches wide. They typically start blooming in mid-summer and continue into early fall, but different varieties may bloom at different times.
Although these are typically yellow with brown centers, there are different sunflower varieties that feature petals in shades of red, brown, purple, orange, and more. Some even feature more than one color.
As you can gather by their name, these flowers love full sun. In fact, the flower heads turn toward the sun each day. And although these are annuals, they do produce tons of sunflower seeds that you can collect and plant again next year. That is if you can beat the birds to them!