Updated on July 29, 2021
If your kitchen is a cluttered mess, join the club. It's often the most used room in the house and it houses so much important stuff, so it seems like it's never organized. What are you supposed to do with all those things, anyway?
Look, I used to just throw stuff wherever it would fit. I have three kids — I don't have time to do anything else. But I started realizing that I was wasting more time trying to find what I needed, or creating an unnecessary mess when I accidentally knocked something over. I began to understand that taking the extra time to organize would actually save me time in the long run.
So, join me in the organized kitchen club. Those wild cabinets and overstuffed fridges don't stand a chance. We're taming the Tupperware and stashing the spices, y'all! Here are some of my favorite kitchen organization products.
Fridge Starter Kit From the Container Store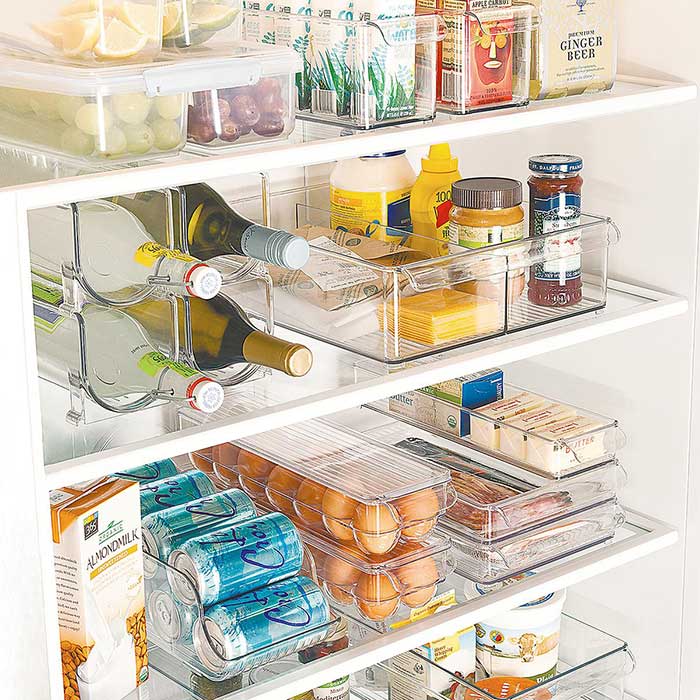 This is for anyone who doesn't know where to start when trying to tackle the fridge. Trust me — I get it. There are leftover containers, drinks, produce, and condiment bottles stuffed wherever they can fit. So, where do you even begin?
The Container Store (the epicenter for organization) knows it can be hard getting started, so they've put together a few different collections to help you tame your cold foods. Here's one of their kits that I really love.
The Not-So-Lazy Susan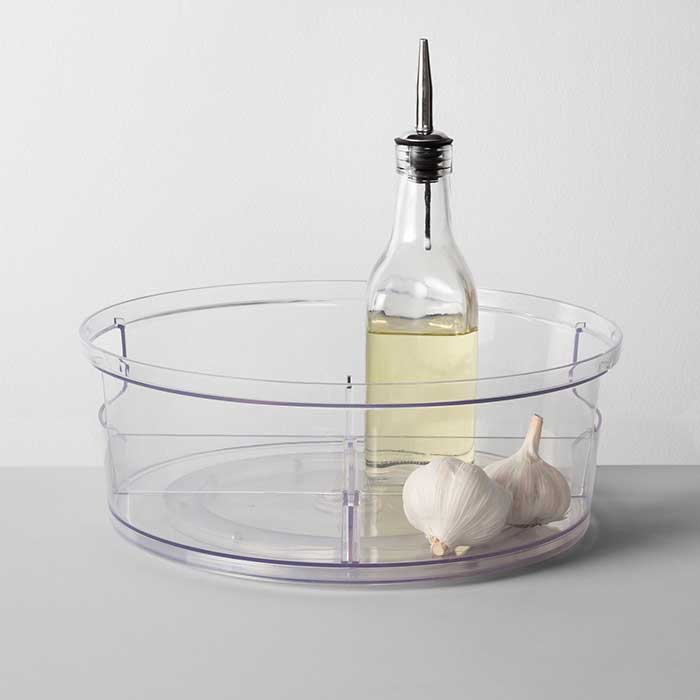 Despite the name, a lazy Susan can put in a ton of work. These turntables were originally used for condiments in the middle of the dining table, but put them in your kitchen and see how useful they are!
I currently have two inside my cabinets: one to house hot sauce bottles and other small condiment bottles, and one that holds medical stuff like the thermometer, allergy medicine, cough drops, and more. It prevents me from having to reach over stuff trying to get that one bottle in the back and subsequently knocking everything all over the place.
These are also useful in other spots, like under the sink, in the pantry, or in the fridge.
Spice Drawers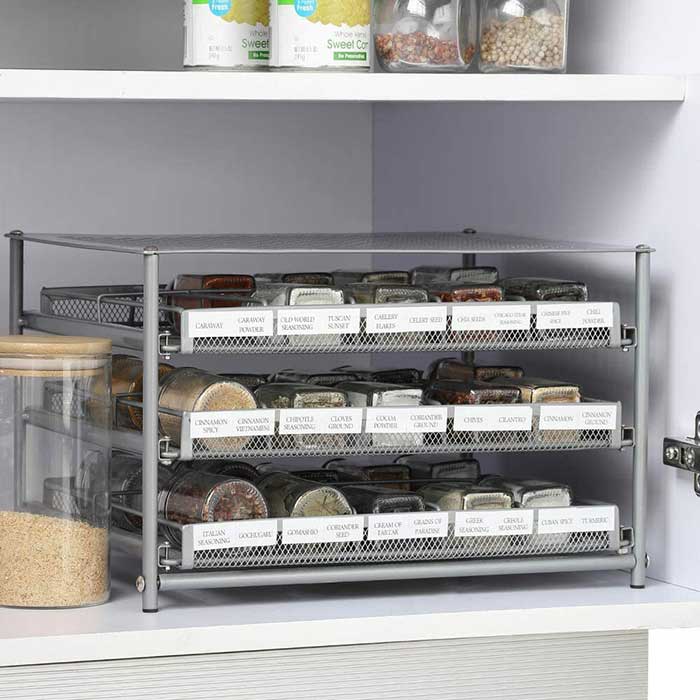 I've seen a lot of people put spices inside of standard drawers or use those cool magnetic spice tins to organize. Personally, I can't use either of those solutions in my kitchen, so I started hunting for a new way to stash my spices. Those stadium racks are a cool way to be able to see all of your spices, but I was frustrated at the amount of unused space it creates.
This three-tier organizer has drawers that pull out and space for 30 spice containers. I slid it inside of a cabinet, but you can also leave it out on the counter and use the top as a storage shelf as well. I sometimes buy spices in bulk, so I also purchased a set of glass spice jars that fit perfectly.
A Narrow Utensil Organizer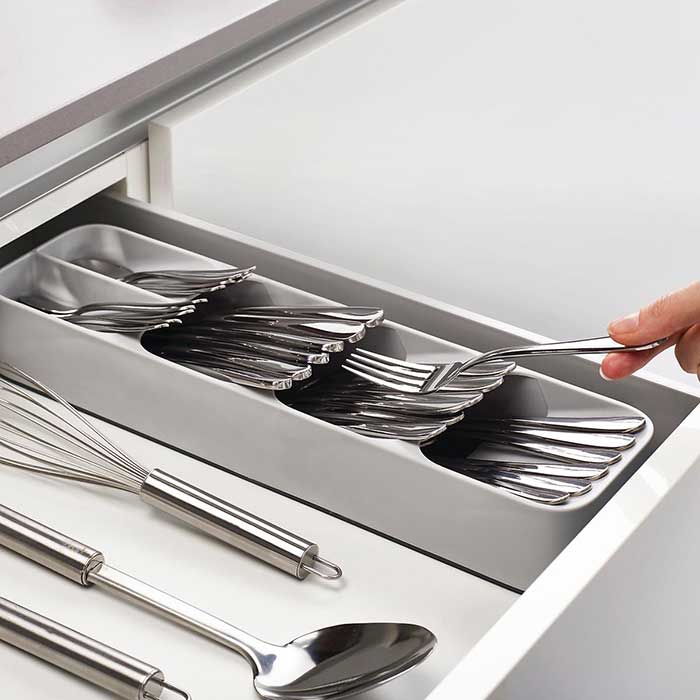 I've always had one of those drawer-sized utensil trays, so you could say I was a little skeptical of this redesigned narrow version. These classic organizers have been doing the job just fine for years. But my mom couldn't stop talking about this one and eventually came over one day with one in hand. Y'all, it cleared up a whole drawer. If drawer space is tight in your kitchen, you need to make the switch.
I have since bought a second one to use for disposables. When we get plastic cutlery for birthday parties, or if the takeout restaurant throws them in the bag, I now have somewhere to put it all.
Add Extra Shelves
Everywhere I go, I purchase a coffee mug as a souvenir. It's really cool… until you have more mugs than cabinet space. I started trying to figure out how to maximize the storage inside the cabinet and found myself frustrated at all the wasted space above the mugs, so I solved that with an extra shelf.
You can find all kinds of free-standing shelves out there, but I needed something strong enough to hold an army of heavy mugs, so I opted for an inexpensive metal shelf from Target. If you're using it to hold something lighter, like say, bread, you can definitely get away with plastic options.
Adjustable Wrap Box Organizer
Nothing clutters up a drawer quite like all those boxes of aluminum foil, plastic wrap, and sandwich bags. Free up that drawer space and consolidate all the boxes by storing them vertically instead.
This handy little organizer from YouCopia has adjustable wire holders, letting you store all of your boxes in one handy place. Plus, the top acts like a handle, so you can easily grab it out of the cabinet while you're using the tin foil, and then stick it back in the pantry when you're done.