Whenever I'm having a bad day or need a little cheering up, I always go out and buy myself a bouquet of flowers. There's just something about fresh flowers that instantly improves my mood.
Flowers always brighten up a room, too, and make any space feel more put together. I'm telling you, if you put a nice bouquet of flowers in any room (even a gross dorm room), it'll instantly look 10 times better.
However, flowers can be pricey, especially if they're coming from a florist. And, while grocery store flowers are often inexpensive, they just don't look as nice.
The good news is there are ways to create beautiful and inexpensive bouquets that won't break the bank!
Go For Complementary Tones or Stay Neutral
If you want an expensive-looking bouquet without paying a lot of money, try to find flowers in complementary tones. For example, stick to shades of red, shades of blue, etc. Don't try to mix too many contrasting colors, as it'll look messy.
But, if you really want your bouquet to look high-end, stick to very neutral-colored flowers. White flowers always brighten up a room and often look more pricey than they actually are.
Quality Over Quantity
A big mistake people often make is selecting flowers that don't last very long. You don't want your bouquet to fall apart just a couple of days after you put it together.

Long-lasting flowers include roses, orchids, lilies, and carnations. Also, thick-stemmed flowers tend to last longer than thin-stemmed flowers. Buy flowers that are in season whenever possible.
Mix in Greenery
Mix in simple greenery, such as long grass or eucalyptus, to take your bouquet up to the next level. It gives bouquets more texture without being very expensive. In fact, you can find simple greenery for less than $10 at your local grocery store.
Prep Your Flowers Properly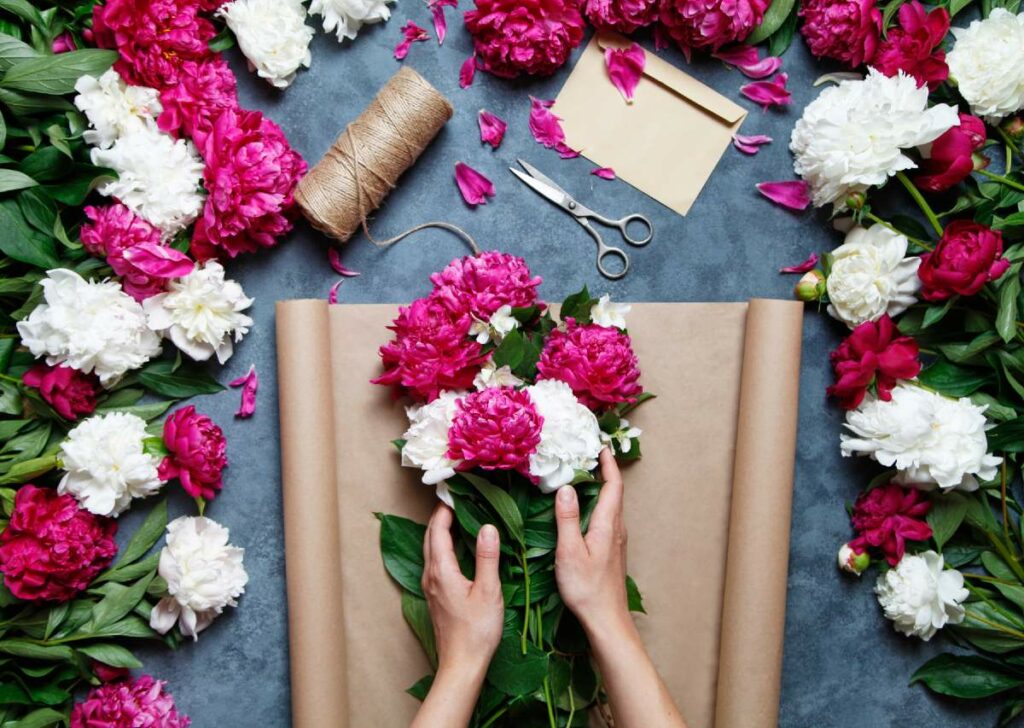 Don't — I repeat, do not — just throw your flowers into a vase and call it good. You should first strip the leaves off the bottom half of each flower stem (which will prevent bacteria from developing inside the vase). Next, trim the bottom half of each flower stem. This will ensure each flower is getting enough water.
Pick the Right Vase
It is very important to pick the right vase when putting your flowers together. You don't want a vase that is too big, too small, too short, or too tall.
Play around with your bouquet and try to find a vase that not only shows off your beautiful creation but also fits your flowers well. A vase is like a piece of art, so don't be afraid to invest in one you really like.
Get Creative
Whether you're making a bouquet for a wedding or a casual flower arrangement for your table, it should be a reflection of your style. Don't be afraid to have fun and add unusual filler, like twigs or wheat. Once you get the hang of arranging fresh flowers, try creating a beautiful, durable dried floral centerpiece like the one pictured above.