For a long time, I lived in a townhouse, with almost no outdoor area. I couldn't grow any produce, or even flowers, and I thought if I wanted anything fresh or fun, I needed to buy it at the store.
Now, living in a single family home with a (way too big) yard, I can grow all sorts of veggies and herbs just outside. But a coworker recently introduced me to a whole new way of growing – indoors, just on your kitchen counter.
It's mushrooms, you guys, and if you love a good mushroom you absolutely need to be growing them in your home right now.
DIY kits available
Megan, said coworker, used a North Spore kit – specifically, this one, to grow lion's mane mushrooms in her home. They also have a kit for blue oyster mushrooms, pink oyster mushrooms, and golden oyster mushrooms.
This isn't a plug, or a sponsor – there are plenty of other mushroom growing kits out there depending on what type of mushroom you're looking to eat. Just search "indoors mushroom growing kit" on Amazon and you'll get hundreds of products, for any type of mushroom you could possibly want to grow.
The biggest benefit of growing your mushrooms at home is that mushrooms are expensive. Seriously, if you want to buy a pound of lion's mane mushrooms online, it's anywhere from $18 to $30. For $25, my coworker got a kit to grow her own, and it can be reused several times. She has weeks and weeks of mushrooms, right at her fingertips.
Mushrooms are often hard to find as well, especially if you live in a smaller town or don't have access to quality grocery stores. When I lived in the DC suburbs, I had dozens of grocery stores within a reasonable driving distance, including two amazing Asian markets that were stocked with fresh, affordable produce.
Now? I have access to a few, but the produce isn't as exotic, and usually, if I want a mushroom it's going to be button unless the farmer's market is open. Last year, most markets weren't even open, so I didn't have the chance to buy anything fun.
Growing your own mushrooms can be as simple as growing your own herbs in the window, and you get so much return on your (small) investment.
Did it work?!
My first response to the kit was, did it even work? But apparently, it did!
Megan's first harvest of mushrooms produced hearty, large lion's mane, which apparently has a seafood-like quality to them similar to shrimp or crab.
I've never had a lion's mane mushroom, but the description makes me think that I could absolutely get down with them – and it also made me really want a kit of my own.
Megan also pointed out it's almost creepy, growing something like that in your home. She often felt she wasn't alone in the kitchen, and it had nothing to do with her numerous dogs hanging out with her.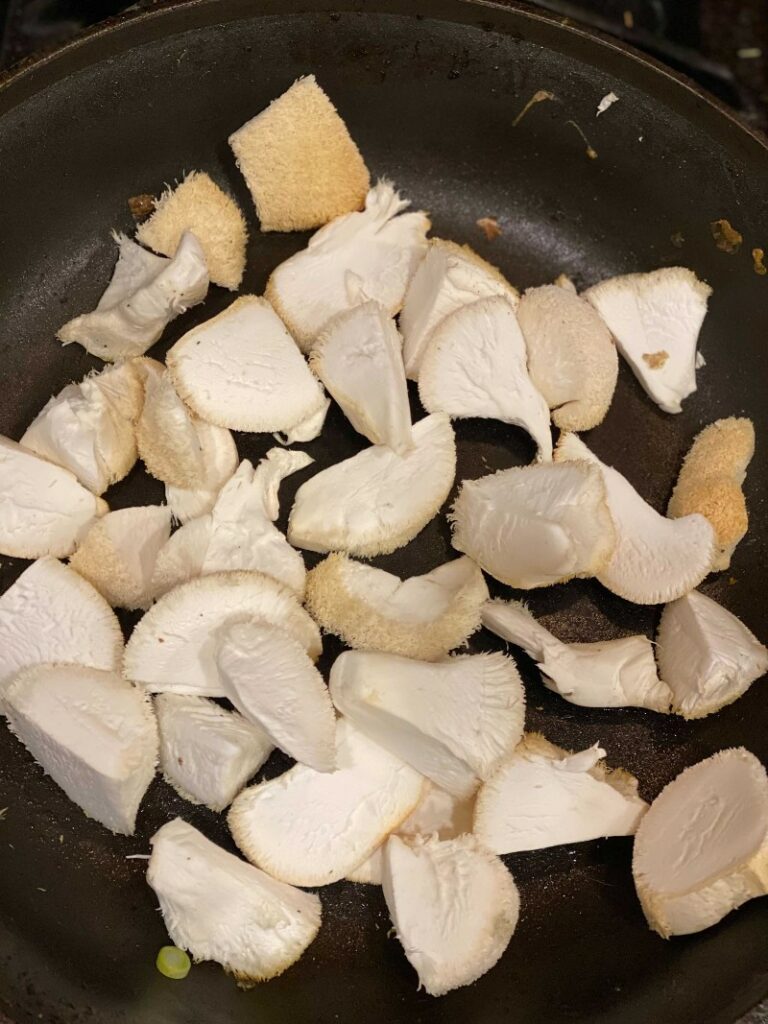 Megan ended up browning her mushrooms in a hot pan:
And then she added them to a broth, for a filling, seafood-adjacent vegetarian soup.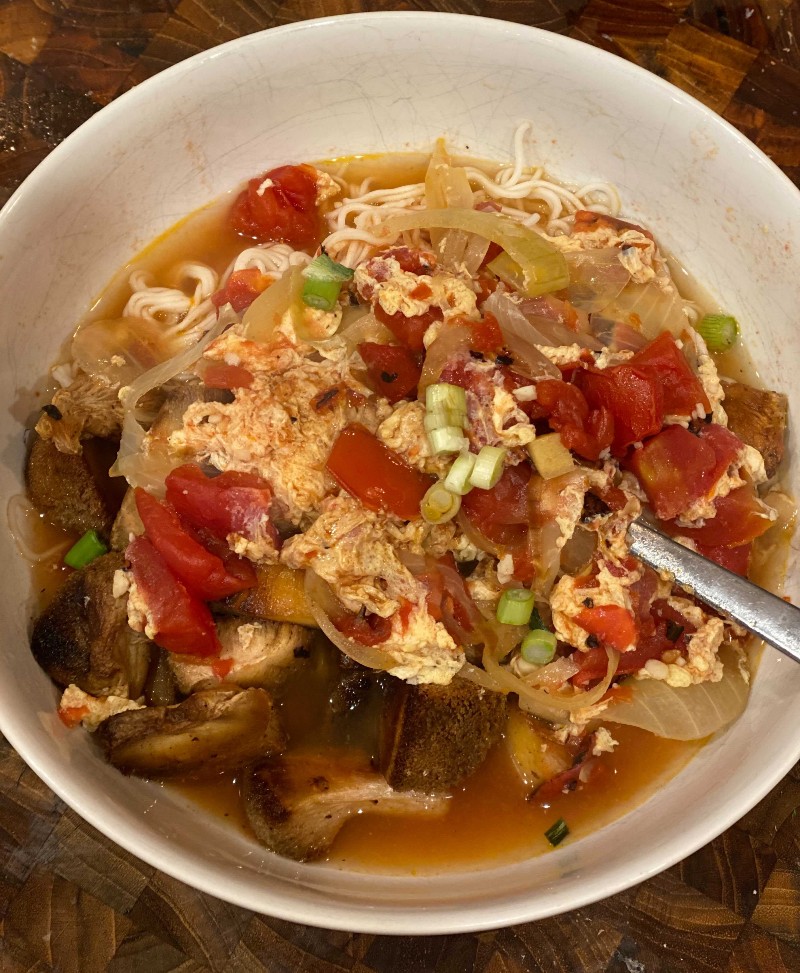 Even if you're not a vegetarian, you can't tell me those don't look fantastic. Megan warned me before she took the pictures that she "wasn't a food blogger" so I couldn't expect great pictures, but that looks good enough to eat right now.
Mushrooms are a fantastic meat replacement, even if you're a vegetarian or a vegan. They grow in small places, often in the dark, and they have a lot less environmental impact than many alternatives.
The short of it? You should be growing mushrooms at home. It's a fun experience, it will save you money, and then you get dinner out of the deal!