As the weather continues to warm up, it can only mean one thing: it's time to break out the grill!
Grilling is definitely a summer favorite at my house. There's nothing like moving the usual kitchen ritual to the great outdoors. Not only does it mean getting some fresh air, but the food just tastes so much better! Besides, it means not heating up the kitchen, during a time when it feels too hot to turn on the oven. Let's keep the heat outside where it belongs.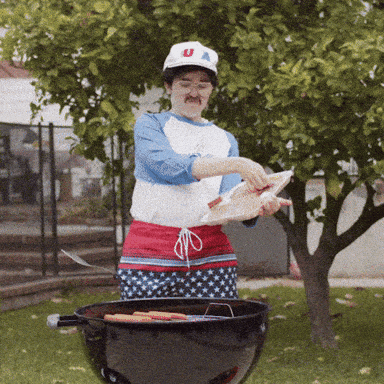 However, if you're doing a lot of grilling during the warmer months, you might start feeling like you're stuck in a rut. After making burgers countless times, the occasional steak, and maybe some peppers and onions on skewers… maybe it's time to grill some new foods.
Let's get the most out of that seasonal appliance.
There are so many more foods besides burgers that can go on the grill. And no, I'm not just talking about hot dogs! Here, you'll find a wide variety of foods, perhaps some that are unexpected, that is even more delicious when cooked on a grill. In fact, there might be enough variety here to have you lighting up the grill every weekend – and maybe a few weeknights, too.
Look, I'm not telling you to ditch the burgers. They are a grilling classic for a reason. But go ahead and give grilled pizza a chance, too!
Related: Bring the Flavor With These Labor Day Cookout Classics
Zucchini and Other Summer Squash Varieties
Zucchini and other kinds of summer squash are perfect for the grill. These veggies are abundant in the summer months (hence the name) and you can usually find them relatively cheap all summer long. And if you have your own garden, you might even grow plenty of it. Might as well put that ample bounty to use, and throw it on the grill!
All summer squash, zucchini included, are mild in flavor. They can range from nutty to sweet, and each variety is subtly different. Whichever you choose to throw on the grill will be up to your own personal preference.
To grill them, slice your squash lengthwise in pieces that are around 1 /4 inches thick, and coat them with olive oil, desired seasoning, and some salt. Place the slices on the grill, and then cook them for around 3 to 5 minutes on each side.
Bread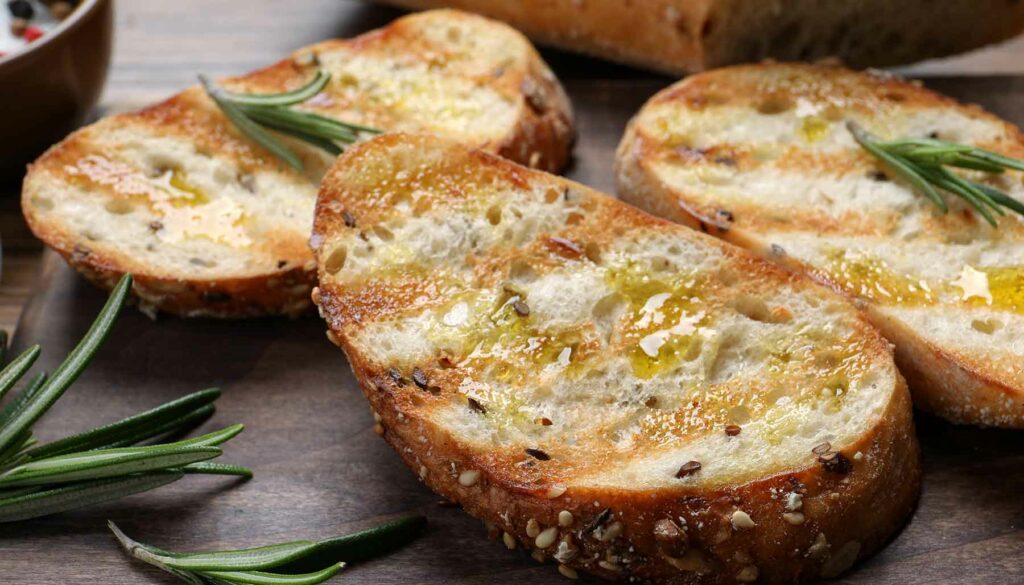 It doesn't seem far-fetched to grill bread, but it's one of those food items that doesn't really come to mind when you think about grilling. I have watched Bobby Flay, aka the self-proclaimed grill master, throw all kinds of bread onto the grill over the years. He even grills his burger buns before putting them together.
You can obviously brush a little oil or butter on the inside of your buns and toss them on the grill. It's also really tasty to brush some thick slices of French or Italian bread with butter and garlic before grilling on both sides. But if you really want to kick it up a notch, whip up some bruschetta on the grill!
Tofu
Tofu isn't just for vegetarians, and it's definitely not just for traditional indoor cooking, either! Once you try tofu on the grill, you will wonder why it took you so long to do it. It can be a little difficult to grill tofu directly on the grill without it sticking, but I promise it is entirely possible – and completely delicious. Olive oil and patience are key.
In order for it to turn out right, you'll have to start with firm or extra-firm tofu. Leave the soft tofu slab for soups, because it won't hold up on the grill. Cut it lengthwise into two thick slabs, and press to remove the excess liquid. This versatile plant-based source of protein isn't very flavorful on its own, so brush the slabs with a mixture of olive oil, soy sauce, desired seasonings, and maybe a little vinegar. Place the tofu slabs directly on the grill grates, and let it cook for a few minutes on each side – until the slab has grill marks and releases easily from the grates.
Pizza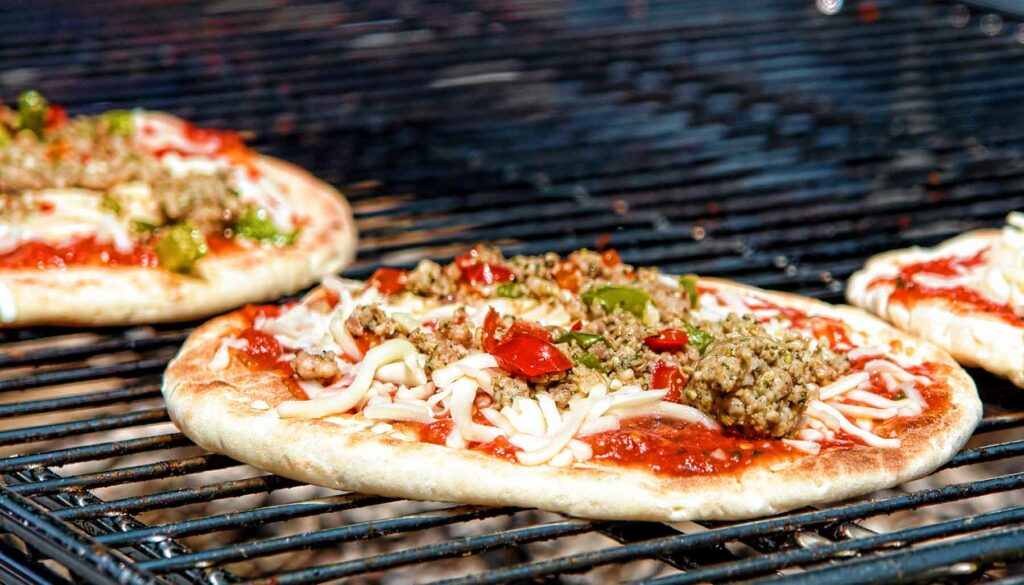 Can you grill pizza? Of course you can grill pizza! It is actually the next best thing if you aren't lucky enough to have a wood-fired oven at home (which most of us don't). The grill will give your pizza a great flavor that you just can't get from the conventional oven in the kitchen.
The trick to grilled pizza is grilling the dough first. Provided the grill has been properly heated, the dough will get a lovely, lightly browned color to it. Use olive oil to grease the grates, and then place your stretched pizza dough onto the grates. After a few minutes, once it starts bubbling with air pockets, use a sheet pan and tongs to flip the pizza dough over. Brush the crust with olive oil, and top it with sauce, cheese, and anything else you like. In just a few more minutes, you'll have the best-grilled pizza you've ever had!
Seafood
Mix it up a bit for your next cookout. Instead of the traditional burgers, hot dogs, or steaks, opt for some summer-worthy seafood. From shrimp and scallops to salmon, lobster, and everything in between, there are plenty of options when it comes to grilling seafood. By putting seafood on the grill, you will enhance the delicate, slightly sweet flavor.
How you cook it will depend on what you choose. Shrimp are an obvious choice for skewers, but these and other smaller items are also great in foil packs packed with veggies. Cedar planks can be great for delicate fish that you're worried might stick to the grates, plus it will impart great flavor. You can even grill whole fish directly on the grill!
Eggplant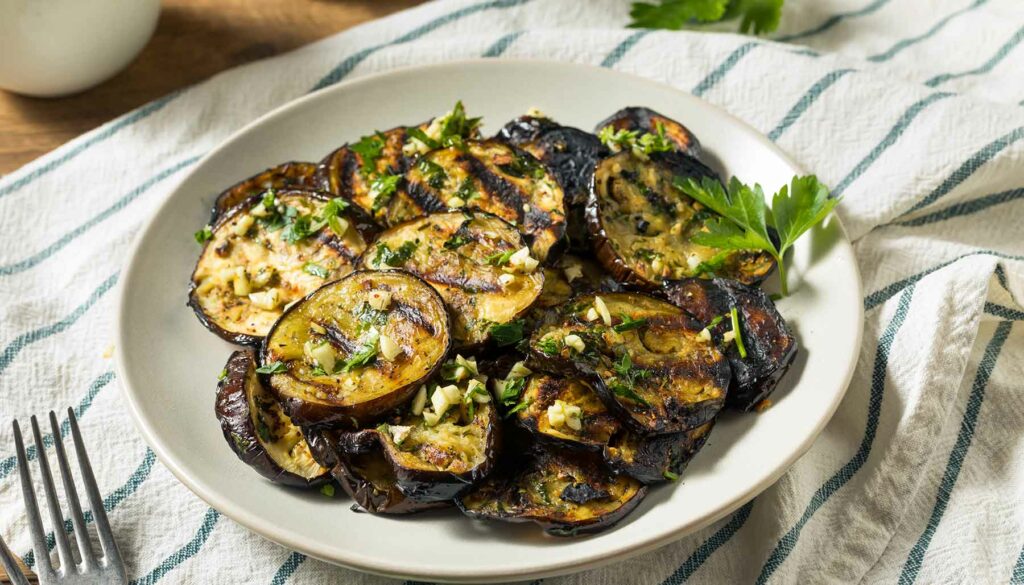 Eggplant is one of those foods that has to be cooked just right for me to enjoy it, but the grill certainly nails it. Grilled eggplant gets so soft and tender in the middle, with slightly charred edges. They are great for making sandwiches, pureeing into a dip, a chopped salad topping, or even just eating on their own as a cookout side.
You'll want to slice the eggplant into 1 / 4 inch thick slices, then salt them and let them sit for around 15 minutes. This will help draw out extra moisture or bitterness. From there, you just coat the slices in oil and seasoning, and grill away! They likely only need around 10 minutes, flipping halfway through.
Romaine Lettuce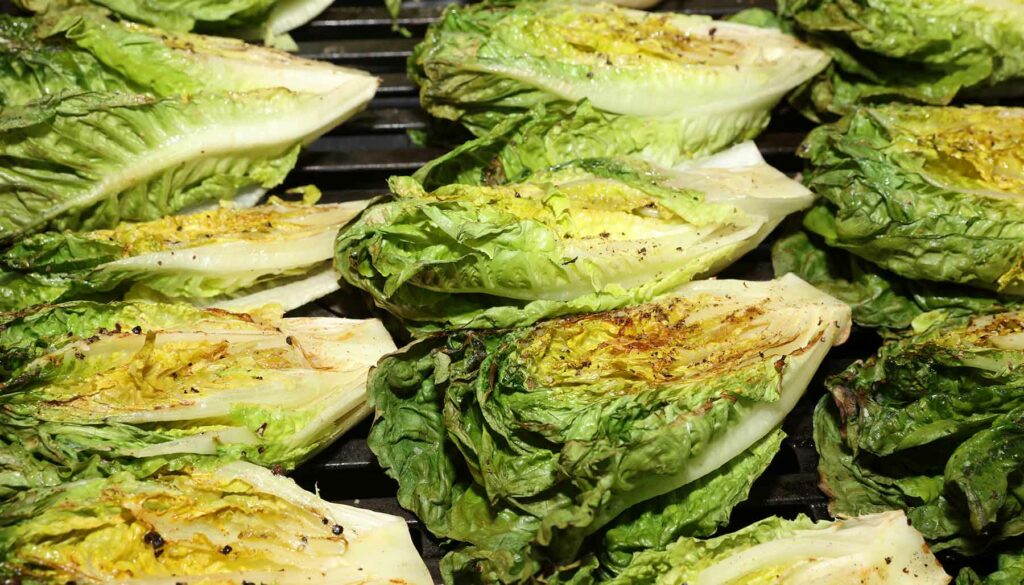 I know it sounds wild to grill lettuce because leafy greens seem too delicate to throw on a grill. Just trust me and give it a go before you write it off. Grilled romaine lettuce will add some extra oomph and sophistication to your summertime salads. It's also an easy way to work some extra greens and lighter side dishes to otherwise heavy meals. You don't even have to leave the grill to do it.
Cut romaine hearts in half lengthwise, so your lettuce won't fall between the grates. Brush the cut sides with oil, and place them cut side down onto the grill. Cook until grill marks start to form and the leaves get slightly charred, which should only take a couple of minutes. You can eat these grilled romaine hearts straight off the grill and drizzled with oil and seasoning, or chop them up for an interesting take on a favorite salad.
Fruits
When we think about grilling food, we almost always think of hearty, savory, and sometimes even indulgent foods. Burgers and steaks, maybe corn on the cob or a couple of other veggies. Especially if you cook on a charcoal grill, all those foods get even tastier from that signature smoky flavor.
But hear me out: what if we cooked sweet things on the grill, too? Once you try it, you'll never go back.
Surely you've heard good things about grilled pineapple, but we're not going to stop there. Grilled peaches are an amazing, juicy delight. The fruit's natural sugars caramelize on the grates, making it even more intense. And if you're using charcoal, the smoky flavor complements and helps balance the sweetness for a complex treat. All you need to do is cut the peaches in half and remove the pits, brush the cut sides with oil, and place them cut-side down on the grates until lightly charred.
Grilled watermelon is having a moment right now, too. Similar to peaches, the natural sugars will caramelize and concentrate all those flavors, and the smoky flavor pairs wonderfully with it. Cut the watermelon into wedges that are at least 1 inch thick, sprinkle it with a little salt or lime juice if you want, and grill it for a few minutes on each side.