The summer is a time to get outdoors! The sun sets later, the kids are out of school, the pools are open, and the grill is calling my name. Yep, it's definitely the season for fun in the sun.
Of course, what's all that time in the great outdoors, without a few great outdoor games, too? They really amp up the fun at holiday get-togethers, birthday parties, and even just a good ol' cookout. Sometimes, we even take our games along for a fun day at the beach.
Related: Dogs want to come hang outdoors, too! Here's how to make your yard more dog-friendly.
There are so many lawn games to choose from out there. From the timeless classics like croquet to new games like Kan Jam, there's a little something for everyone. Even classic games like lawn darts have been getting modern-day makeovers.
To help you wade through all the options, I've compiled a list of the best, most fun lawn games. Whether you're heading on a camping trip, planning a party, taking the fam to the beach, or just hanging out in the backyard, these games will make everything more fun.
Jumbo Connect Four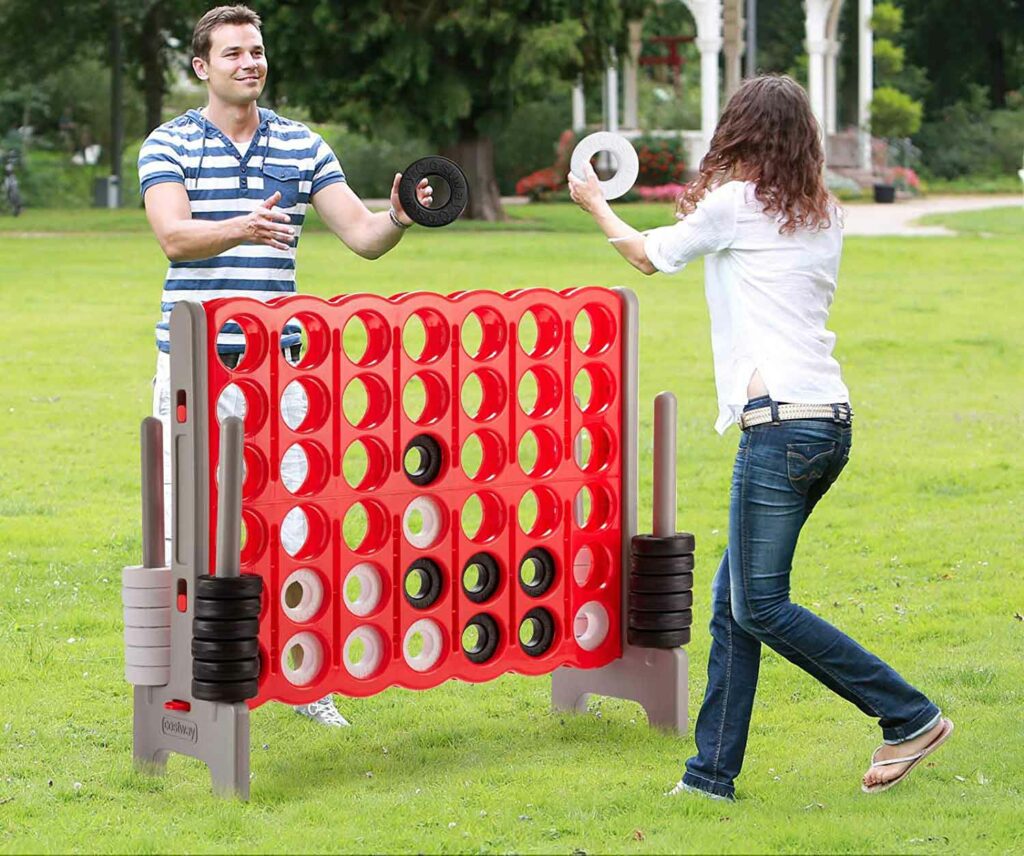 Everything is more fun when it's oversized, and Connect Four is no different! Just one glance, and I'm sure you can imagine that this outdoor version will liven up any outdoor gathering. Plus, it comes in a few different colorways.
Just like its smaller tabletop counterpart, this jumbo version of Connect Four challenges players to get four in a row, by taking turns dropping the colored discs into the columns. The first player to line up four of their discs vertically, horizontally, or diagonally wins. You can play one-on-one or assemble a team to take on the jumbo game.
The Jumbo 4-to-Score Giant Game Set is super lightweight and easy to assemble. You'll be able to easily set it up in the backyard, at the park, or even on the beach. And because it's plastic, it's simple to clean, too. In all honesty, I just hose it down if it gets dirty!
BULZiBUCKET Bucket Toss Game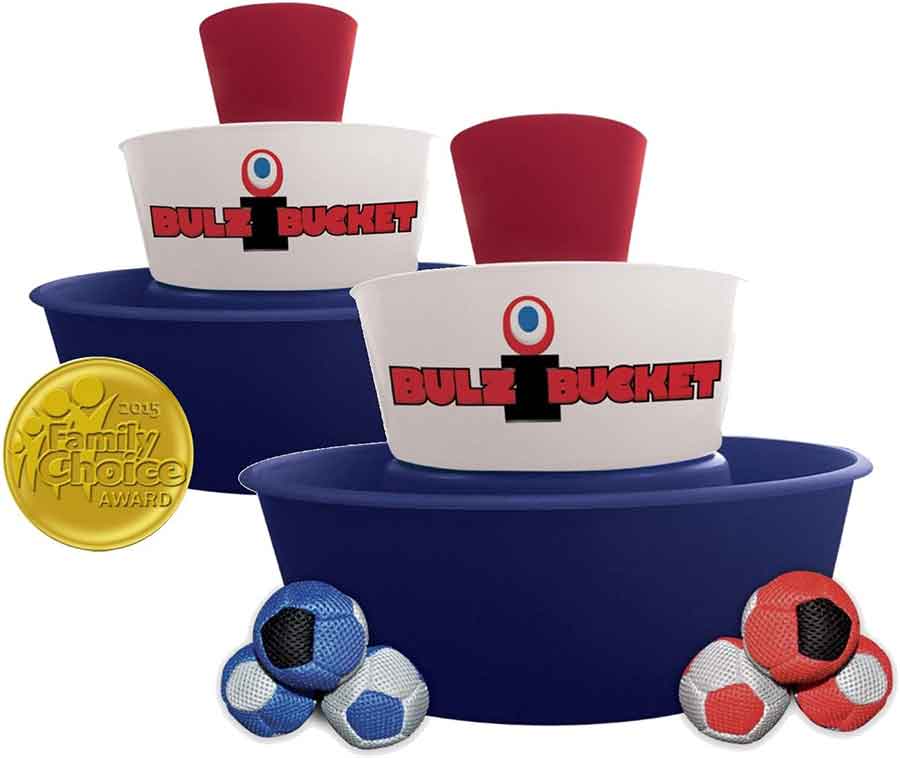 Dubbed the "next generation cornhole," BULZiBUCKET (pronounced like "bullseye bucket") is a straightforward yet versatile game that will keep you entertained for hours. It comes with two collapsible three-tier bucket targets and six hacky sack balls, in a carrying bag.
To play, you set up the targets 12 to 15 feet apart, and each team takes turns trying to get the hacky sacks into the targets. How you get them into the targets is part of the fun. You can play three different styles: Throw It, Assist It, or Hack It.
The buckets are collapsible and much lighter than traditional cornhole boards, making it easier to bring the game along to the park or beach. But the BULZiBUCKET game can even be played in the pool. Both the targets and the hacky sacks float, making for a cooler way to play. It's also more challenging when the targets are floating around!
Croquet Set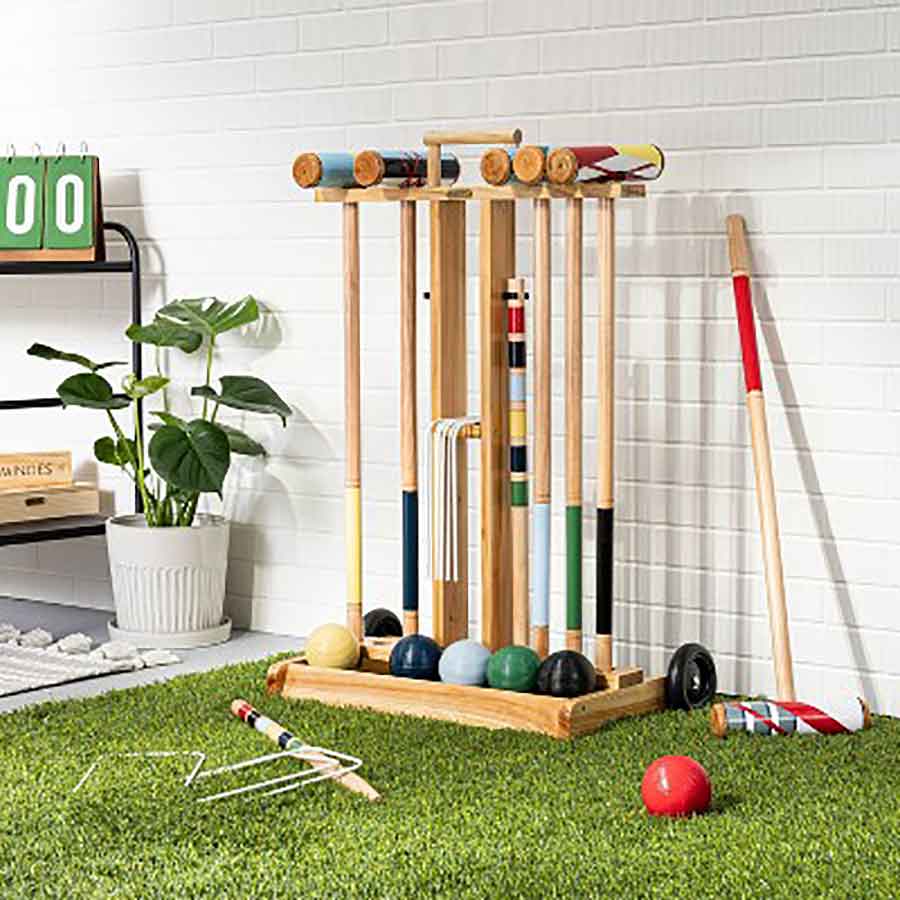 Sometimes, you just can't beat the classics. I love a good game of croquet. There is a reason that this traditional lawn game has stuck around for so long. It's easy to set up, but challenging enough to keep the game enjoyable – and competitive! You can reconfigure the wickets (the little hoops you stick in the ground) each time you play, creating a new playing court every time.
While this one isn't suited for the beach, it is perfect for the backyard, or even a nearby park. Anywhere with grass and enough space!
Related: Fun Labor Day Activities That Don't Involve Travel
I particularly love this croquet set from Hearth & Hand with Magnolia. In it, you'll find six mallets with their color-coordinated croquet balls, two pegs, and nine wickets. Not only does it come with everything you need to play the classic lawn game, but it all fits in a wooden rack with wheels that comes with it, too. This means you can easily roll the game out wherever you're ready to set up. And when you're done, it all packs up neatly on the wooden rack.
Franklin Kick Croquet Game Set
For something a little different than the traditional game of croquet, this Kick Croquet Set combines croquet with soccer. While you're still trying to get your ball through each wicket in the least amount of shots, it's clearly done a little differently, here. Instead of a mallet, you're kicking giant balls through! And instead of playing individually, it's played as a team sport.
This is a good option for anyone that enjoys putting footwork skills to the test and playing as part of a team. It's also a good option for kids, who will likely enjoy the fast-paced action more than a traditional game of croquet. They likely will find it easier to kick the balls than handling mallets, too.
Kan Jam Portable Disc Toss Game
When talking about outdoor games, Kan Jam is one that keeps coming up. It's a high-energy and competitive team game that's fun for just about any age group.
Sure, it seems simple enough. Players from each team take turns throwing a frisbee at a can. The objective is to get the frisbee inside the can, or at least near it. Similar to horseshoes or cornhole, you get a certain amount of points for getting the frisbee inside the can or hitting it. The first team to reach 21 points wins.
Okay, but it gets way more interesting when you realize that the other team can deflect the disc! It turns into a fast-paced, competitive outdoor game that will keep you entertained for a long time.
Setup takes seconds, and it's lightweight and easy to bring anywhere. That means you can take Kan Jam Original Disc Toss Game just about anywhere. Play it in the yard, at the park, on the beach, or even take it to your next tailgating event. There is also a light-up set for playing at night. It comes with an LED disc and multi-color light-up goals.
Franklin Sports Fun 5 Combo Set
For your next outdoor get-together, this set is essentially a party in a bag. With just this one set, you'll have five different games to keep everyone entertained. The Franklin Sports Fun 5 Combo Set comes with a volleyball, two badminton rackets, a frisbee, a ball and two catch scoops, four rings, and a ring toss target. It also includes a pump for the volleyball and a 5-foot tall net including poles. It's everything you need to play ring toss, flip toss, frisbee, volleyball, and badminton.
Related: Fun Fireworks Alternatives to Light Up Your Fourth of July
You can't really go wrong with this set. It contains enough classic outdoor games to please just about anyone. It's good for cookouts, birthday parties, and holiday get-togethers. It's easy enough to set up at home in the yard or take it with you to the park or the beach.
Glow in the Dark Lawn Darts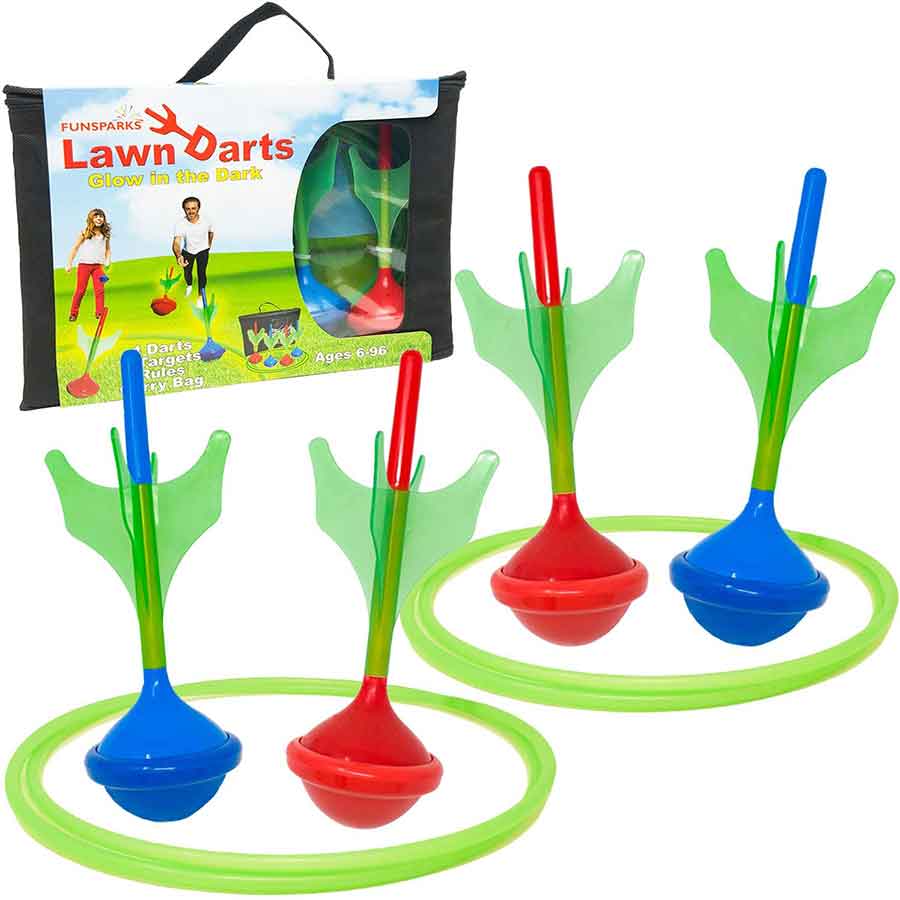 Some games have gotten a modern-day makeover, like these lawn darts. Instead of the spiked edges of yesterday, these soft, durable lawn darts are much safer than their classic counterparts. That makes them perfect for adults and kids alike. And these lawn darts have weighted bottoms, so they still stand up after every toss.
Although these aren't ideal for hard surfaces like concrete because they will bounce when they hit the ground, they are great for just about anywhere else. Use this Lawn Darts Game Set at the park, in the backyard, or take them to play on the beach.
The set comes with two blue darts, two red darts, and two target rings in a carrying bag. The rings can be adjusted to create larger or smaller targets. Plus, they glow in the dark for extra nighttime fun! Just charge them up with a flashlight and play.
Ladder Ball Toss
Don't be fooled by how simple ladder ball looks. This is another classic lawn game that has stood the test of time. It's easy to set up and easy to understand, but it is a challenging game that will have everyone feeling competitive!
The balls that you toss are called bolas, and they are made of a softer rubber material in this set. Players take turns tossing the bolas at the target's rungs to score points. You can also knock the other team's off. Points are determined by which rung your bolas land on and where your opponent's bolas are, too.
This Ladder Ball Toss Set consists of two regulation-size targets with score trackers, six rubber bola balls, and a convenient carrying case. The frame is made of a thick PVC, making it sturdy while also being lightweight. It's easy to pack it up in its convenient carrying bag, so you can take it wherever you like. I've played it at the park and at backyard cookouts, but you can also bring it along to the beach.