Butterfly gardens aren't just a thing of beauty in the spring and summer. Until the final frost kills off every last flower, butterflies will come looking for them. And if you've thinking of building a nectar-rich garden for these winged wonders, don't lettuce season stop you. Just know what to plant.
Obviously, fall butterflies have a tougher time finding flower-filled gardens. But they're on the hunt. As the cooler months roll in, countless butterflies start preparing for winter. That can mean something very different from one butterfly species to the next.
"Butterflies spend the winter in a variety of ways. Some overwinter as adults, tucked into rock crevices or tree bark. Others survive as eggs, larvae, or pupa by hiding away in leaf litter or soil. And some undertake migratory journeys to avoid the cold altogether. These essential fall butterfly garden tips will help ensure your garden keeps butterflies safe in the months ahead," per Birds & Blooms.
With the best late-blooming varieties, you can attract fall butterflies (and some very grateful bees and hummingbirds) through more of autumn than you might think.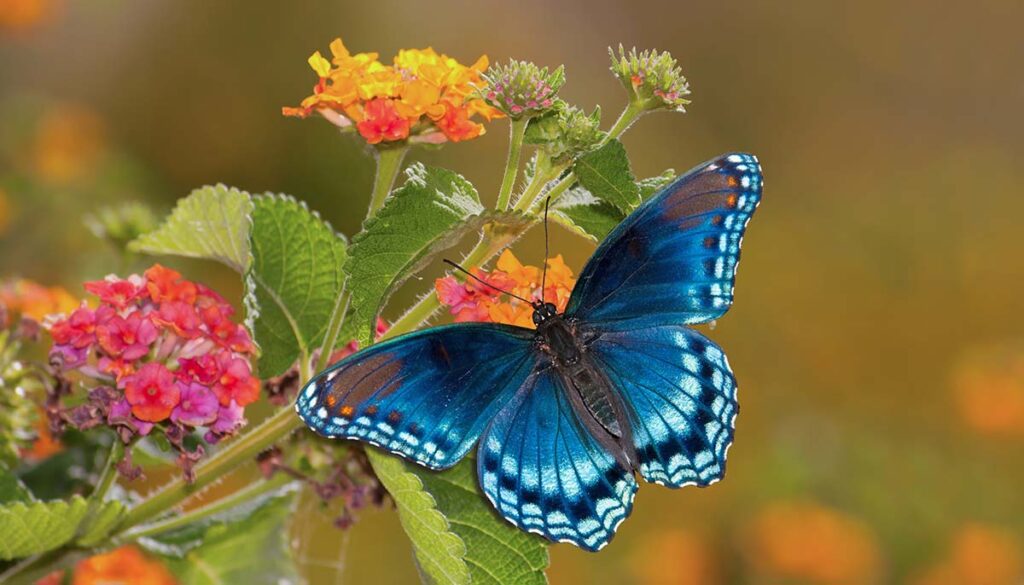 With a flowering fall garden, you'll be doing your part to help these nectar-loving insects store up for their winter migration. After all, fall is a critical food gathering time for so, so many butterflies, including monarchs.
Choose an area you can attract all kinds of butterflies throughout the year. If you already have a summer butterfly garden, you're one gardening step ahead. No matter where you build your fall butterfly garden, if you want them to return season after season, take extra special care of their designated area. Even if there are no signs of life, butterflies may be much closer than you think and in various life stages.
Even in winter, there could be larvae or soon-to-be-butterflies safely tucked into or dangling from spots you don't notice. With this reality in mind, be careful when you're cleaning. The goal is to give your fluttering friends a flower-filled safe space to enjoy seasonally. By doing so, butterflies could potentially come back for generations.
Without further ado, here are some of the most butterfly-friendly flowers to fill your late-blooming garden, this fall or the next.
Verbena
Blooming from late spring to first frost, verbenas aren't just vibrant and fragrant. These lovely little flower clusters are also drought-tolerant and deer-resistant. Cold-hardy and eye-catching from afar, butterflies will see these particularly late bloomers as a last meal before the bitter winter.
If you're starting with seeds, pro gardeners say to plant this tender perennial inside if you want them to bloom a little sooner. Once you finally plant them outside, be sure to place them close together. This way, the tiny rose-violet flowers at the ends of the long and slender stems can make a big impression on some of the prettiest insects around.
Lantana
Growing up in the south, I saw lantana everywhere. From the summer through fall and even in the winter, these small but strong flowers know how to make their presence known. I knew these multi-colored clusters of small tubular flowers as "butterfly bushes." As it turns out, "butterfly bush" is actually another shrub, but it's not hard to see how lantana earned the nectar-friendly nickname.
In colder regions, lantanas are grown as annuals. They'll start blooming in summer and make it all the way up until a killing frost. No matter where you choose to grow them, these late and long-blooming flowers are rarely fussy. Lantana is easy to grow and requires very little to thrive, which is great news for beginning gardeners.
Sheffield Garden Mum
While you might be drawn to the petal-heavy varieties, butterflies are said to prefer the single flowers of this perennial much more. For one thing, the sheffield garden mum is a better source of sustenance for hungry butterflies right before winter, making them a perfect addition to any late-blooming garden.
Grow tip: If you want to plant your gorgeous garden mums in the spring, go ahead. They'll have a strong root system by fall, and a better chance of surviving the cold. "They're one of the last blooms in the garden attracting butterflies in the fall," per Birds and Blooms.
Read More: Raised Garden Mistakes You Might Be Making
Joe Pye Weed
Some gardeners refer to Joe-Pye weed as "the gateway to butterflies." Once you get your fall garden going, you'll quickly see why this mildly fragrant flower is so celebrated and underrated. While a definite butterfly magnet, if you don't contain this sturdy plant's grow space, it may just keep growing and growing. But that's not necessarily a bad thing.
Famed for attracting large butterflies in large numbers, this plant's leaves can grow up to 12 inches long. On top of that, this unique and attractive weed can become tall and towering, which is great news for fall butterflies. All in all, it's strong, striking, and loved by all sorts of nectar lovers, including hummingbirds, monarchs, tiger swallowtails, and red spotted purples.
Aster
Aster is one of autumn's most beloved butterfly-friendly flowers. When planted in late-blooming gardens, these pastel perennials can often thrive, outlasting many other varieties. Aster can also cover large areas, drawing butterflies and caterpillars from all over the place.
Asters are daisy-like and bloom in a broad spectrum of colors. Naturally, this makes them a seasonal magnet for fall nectar-seekers. And don't be fooled: they're not as delicate as they look. Ideal for late summer and fall gardens in various climates, these moisture-loving plants are favored for being easy to grow and disease resistant. While they require minimal care, make sure you tend to aster consistently.
Sedum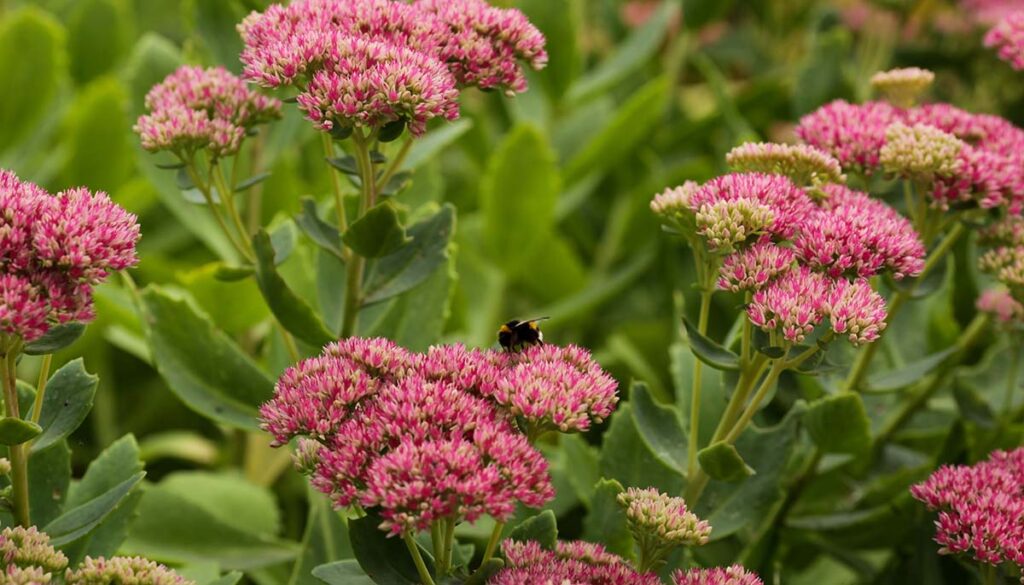 This easy-to-please perennial is known for being low maintenance, hardy, and popular with butterflies and moths on the verge of hibernation. Tall sedum can tolerate extreme conditions, so it holds onto its blooms longer than most. For the most blooms during the coolest months, "Autumn Joys" are the most sought-after variety.
As a succulent, it can store all the water it needs to tolerate drought while overwatering can cause root rot. Also, since sedum doesn't require tons of soil, this flowering fall foliage is ideal for those looking to liven up a rock garden.
"Sedums attract a variety of butterflies: American painted ladies, buckeyes, gray hairstreaks, monarchs, painted ladies, pearl crescents, pepper & salt skippers, silver-spotted skippers, and fritillaries," per Thoughtco.
Read More: Gardening 101: Basics of Pruning Your Plants
Goldenrod
It's no secret that butterflies love goldenrods. But these lovely, elongated flowers can take up a lot of space. If you're working with a limited area, grow pros say to try 'Fireworks' in the fall.
"Marking the end of summer with its sprays of bright yellow flowers, Solidago rugosa 'Fireworks' (Rough Goldenrod) is a clump-forming perennial that provides a bold splash of color in the late season garden," per Gardenia.net.
Typically, they'll start blooming by late September. Easy-to-care-for and drought-resistant, these flowers thrive when you cut back the stems in the spring and they'll keep bringing the butterflies back for seasons to come.
According to the National Wildlife Federation, "goldenrods provide food and shelter for 115 butterfly and moth species in the U.S. Mid-Atlantic alone while more than 11 native bee species feed specifically on the plants," and in fall, "monarch butterflies depend on them for nectar to fuel their long migrations."
Salvia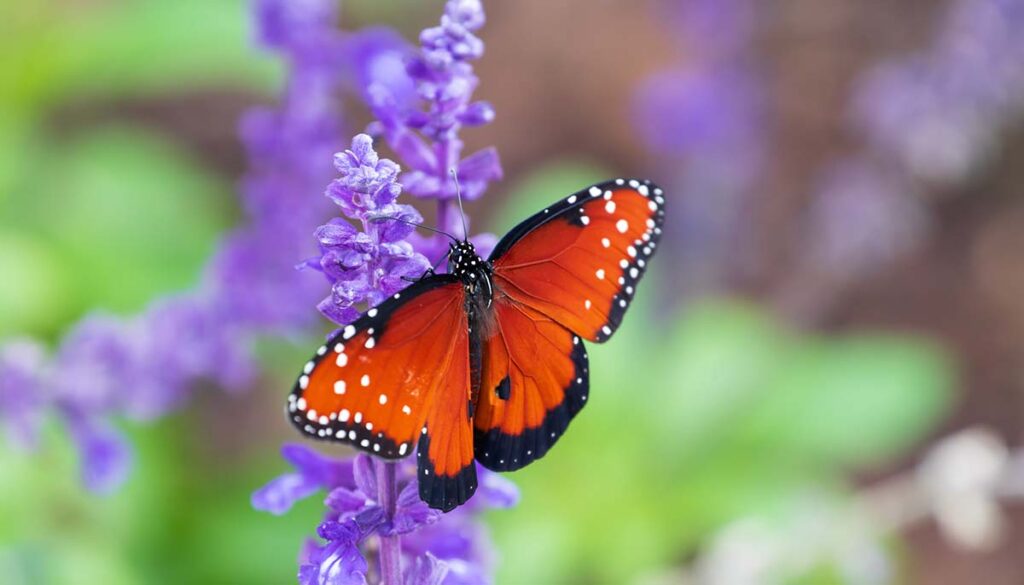 Commonly called sage, salvia boasts tiny and brightly colored flowers in the summer and fall. The spiraling blooms of this beautiful plant attract swallowtails, fritillaries, and tons of other butterflies until the first hard frost finally hits. They're also popular with hummingbirds and bees.
Butterflies need fall nectar to survive and fall flowers can sometimes be scarce. Thankfully, this vibrant pollinator plant is an easy-to-care-for, nectar-rich variety that will keep butterflies (like monarchs) coming back for a much-needed meal.
And while you might be tempted to prune salvia in autumn, try not to. Instead, "wait until late spring, as the foliage gives a degree of protection from winter frosts. In late spring, cut the plant back to quite low down on the plant, above the fresh shoots that are appearing at the base," per Gardeners World.
Beyond Midnight Bluebeard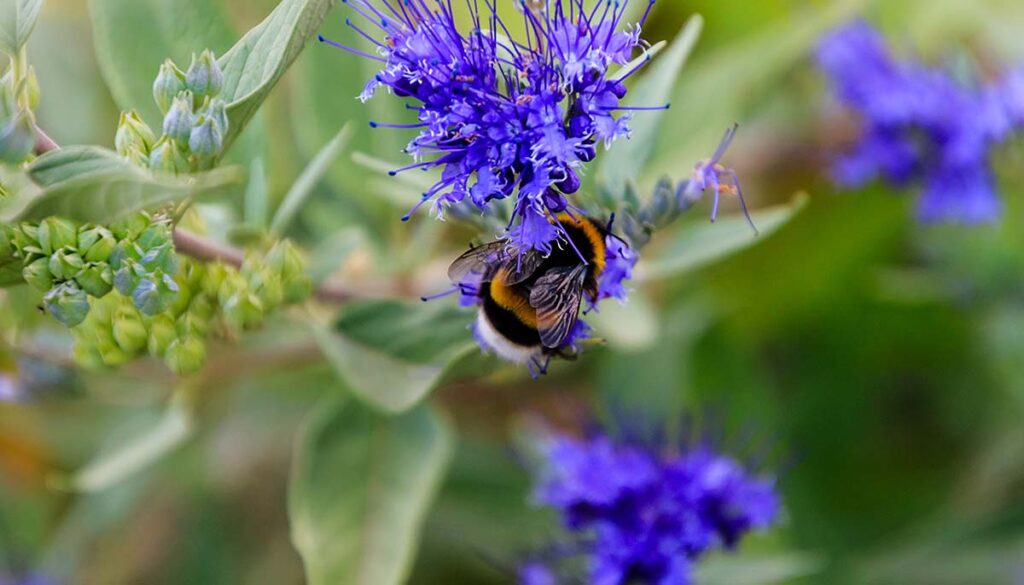 Beginning in early fall, this perennial shrub produces deep-blue flowers that butterflies and bees love to frequent. It also grows 2 to 3 feet tall. Lantana and salvia are known to be great butterfly garden companions.
Beyond Midnight Bluebeard isn't a particularly fragrant flower, but its deep green leaves have a sage-like scent. Good to grow in Zones 5 to 9, blue beards are drought-tolerant and early frost tolerant. These compact, glossy shrubs are also deer and rabbit-resistant.
Pro gardeners call this one an ideal pick for a butterfly-friendly plant that's easy on the eyes and even easier to care for. Even if they die off during the winter, bluebeards will come back the following spring and bloom through fall. So be patient with your late-blooming garden and the butterflies will keep coming back to thank you.
Read More: How to Create a Bee-Friendly Garden