Not everyone is lucky enough to have a drive-in movie theater near them. It's such a shame, considering the outdoor movie experience is unique. It's definitely not the same as sitting in a regular movie theater. The next best thing, though, is having an outdoor movie experience in your own backyard! Sure, you could just watch movies inside from the couch like a regular person, but where's the fun in that?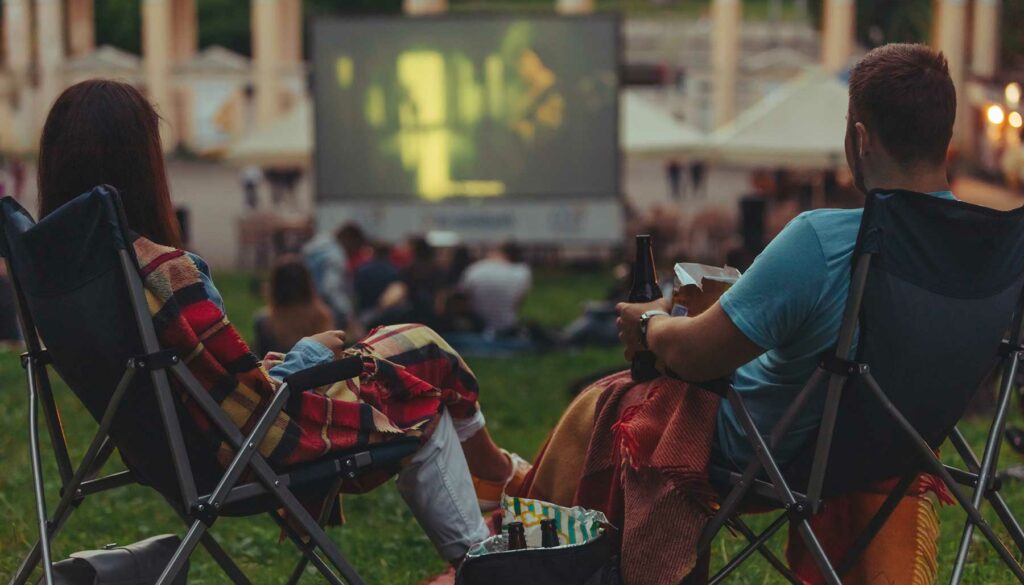 Instead, let's take it outdoors. You can really take advantage of the warm summer nights under the stars. There's something really cool and magical about watching your favorite movies outside, especially when you invite friends.
Related: How to Create a Backyard Oasis This Summer
Plus, the snacks are a lot cheaper than that $9 popcorn and $5 boxes of candy. (Okay, there are a lot of things cheaper than movie theater snacks, but that's a topic for another day.)
While the initial setup for a backyard movie night is a little costly – hey, the good projectors don't come cheap – you'll be set for all the movie nights you want after that, without shelling out anymore cash. In the long run, you'll end up with a fun activity that you can share with friends and family whenever you want, without spending anything else. Well, except for buying more movie snacks!
Here's everything you need for the ultimate outdoor movie night!
The Projector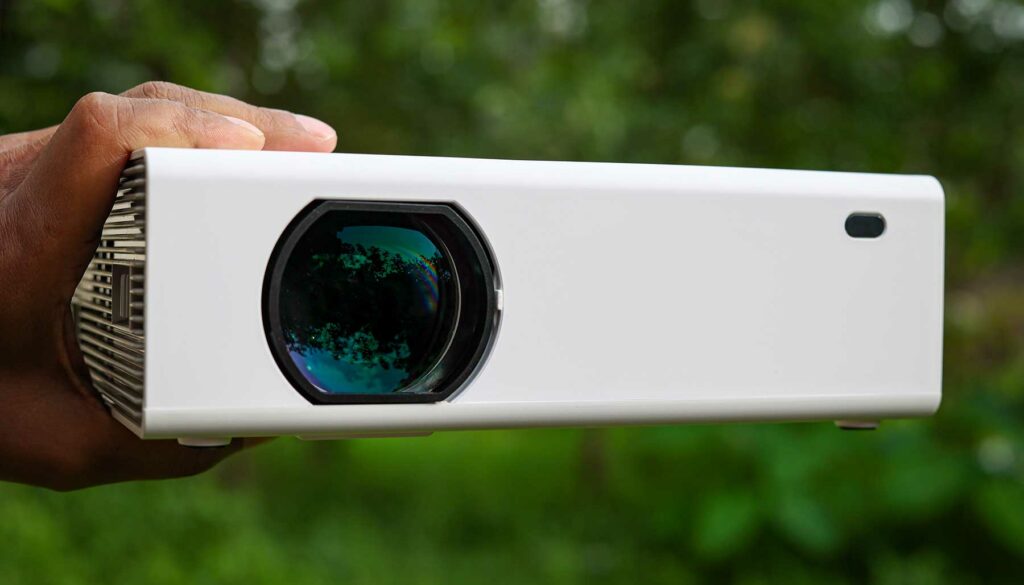 What would a backyard movie night be without the actual movie? That's why first and foremost, you need the projector! There are projectors in a variety of price points. I've seen them for as low as $40, and others for more than $1,000. So where do you even begin picking the best one?
When picking the best projector for your movie night, you need to consider three things:
The size of your screen or whichever surface you will be watching the movie on
The amount of surrounding light where you will be watching the movie
The projector's resolution
The size of your movie screen is important, because you need to know how far away the projector will be from the screen. The larger your screen size, the farther away your projector will need to be. Of course, not all projectors will be able to sit far enough away to fill that 20-foot screen and still be viewable. Pay attention to the throw-distance, which refers to the amount of space between the projector and the screen.
When looking at projectors, the lumens are also important. You will want to think about how much light will be surrounding your movie area. Obviously, you won't be able to set up a projector during the day, and ideally, you're watching movies under the stars. However, there may be a good amount of surrounding light, even at night. Sources of artificial light, such as street lamps, porch lights, or even just light coming from your home's windows, can make the space brighter. When looking at projectors, lumens are the measurement of brightness that a projector gives out. The more lumens you can afford, the better. But ideally, you want 3,000 lumens, which should be enough to see an image before sunset.
Lumens are also important if you have a larger screen. The larger the screen size – also how far away your projector will be from it – the higher the lumens your projector will need.
Just like with regular TVs, projectors also have different resolutions. While 4K is obviously ideal here, 1080p will be just fine for a backyard movie.
Top Picks for Projectors
A projector like the DBPower L23 9000L Native 1080P WiFi Video Projector will certainly do the trick and was rated "Best Bang for the Buck" by Bob Vila. The Epson Home Cinema 3800 4K 3LCD Projector is also listed there. It's not cheap, but it definitely delivers seriously high-quality visuals.
The Movie Screen
What's a projector without a screen? While you can definitely project your movie on any large flat surface, you'll get the best experience using a screen intended for movie projectors. This way, you don't have to worry about the lines of your home's siding breaking up the image. Wrinkly sheets can distort the movie's image, too, and they might move around if a breeze comes through.
There are a ton of options on the market, so it's really going to come down to personal preference. However, there are a few things to pay attention to that apply to a variety of options:
The size of the screen
How easy it is to set up
The screen pulls tight for wrinkle-free viewing
The size of your frame will depend on how large your outdoor area is, and how large your projector can go before the image is no longer in focus. And obviously, you want it to be stable and taught so that there aren't wrinkles to mess up the image.
Some projectors feature a frame that the screen is stretched on. Many of these will have ground stakes to keep them stable if you are setting them up in the grass. If you are looking for one of these, make sure that it is lightweight and easily breaks down for storage.
Recently I went to a friend's house for an outdoor movie, and they actually had an inflatable movie screen. Just like with kids' bouncy castles and those Halloween blow-up yard decorations, it hooks up to an electric blower that keeps it inflated. These are definitely easy to break down, as they just deflate and go back in the bag.
Top Picks for Movie Screens
Again, the size of your screen will depend on your individual needs and wants. This Elite Screens Yard Master 2 Projector Screen is a great option, and comes in a few different size options. It's lightweight, and folds up to fit into its own carrying bag.
I really like the massive inflatable screens, though. This 20 Foot Inflatable Outdoor Movie Projector Screen will definitely do the trick. It's measured like a TV screen (the 20 feet is diagonal), so the screen is 12.75 feet wide by 9.9 feet tall.
The Sound
While tons of projectors feature built-in sound, you might want to pick up something supplemental for the ultimate movie experience. It isn't surprising to find that some of the inexpensive projectors don't have the best sound.
Some projectors' built-in sound might be fine if it's just you and the fam in the backyard. But for movie viewing with larger groups – or if you have kids who like to talk during movies! – outdoor speakers will give you much better sound quality. Before you shell out the cash on wireless speakers, ensure that your projector supports this capability.
Top Picks for Outdoor Movie Speakers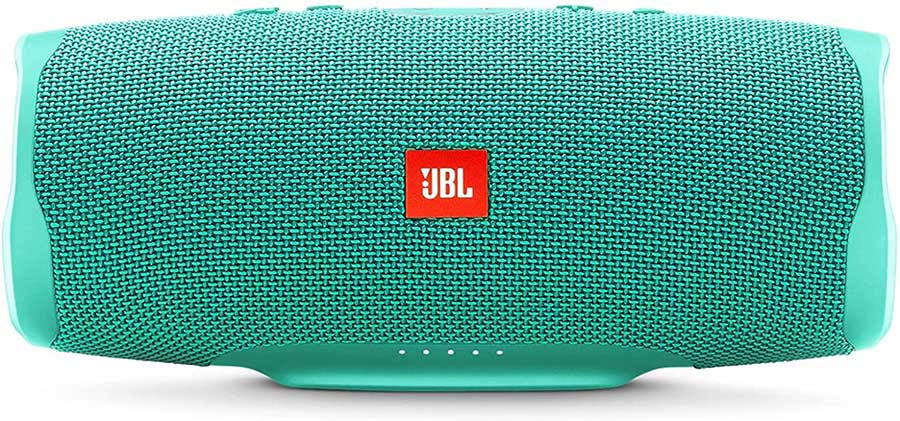 This Waterproof Portable Bluetooth Speaker from JBL is a top pick of mine, outdoor movie or not. It boasts powerful sound quality, while also scoring bonus points for long battery life and portability.
If you're planning on doing plenty of outdoor entertaining, these Polk Audio Atrium 4 Outdoor Speakers are durable through any kind of weather and can be permanently installed.
The Comfy Seating
Having a comfortable seat is essential to your movie experience! You can certainly bring out blankets from indoors if you're hoping not to spend any extra money on this. I particularly like using comforters as opposed to regular sheets or blankets. That extra stuffing in a comforter makes for a cushy seat, while also protecting me from any grass or twigs that might poke through a thinner covering. Just sprawl out and enjoy!
If you have an air mattress, these will take your seating to the next level! Toss some pillows on there, and you'll have the best seat in the yard.
However, if you do want to upgrade your movie seating, particularly if you plan on doing this fairly regularly, you've definitely got options. We're looking for something durable and easy to clean, while being water-resistant is an excellent plus.
Outdoor picnic blankets are excellent choices to spread onto the ground. If you prefer the traditional chair, you can't beat the basic foldable camping chair. But for the ultimate in backyard movie night seating, nothing will beat lounging in an outdoor bean bag chair! Not only are they lightweight and easy to just toss into the shed when not in use, they're also really comfortable
Top Picks for Outdoor Movie Seating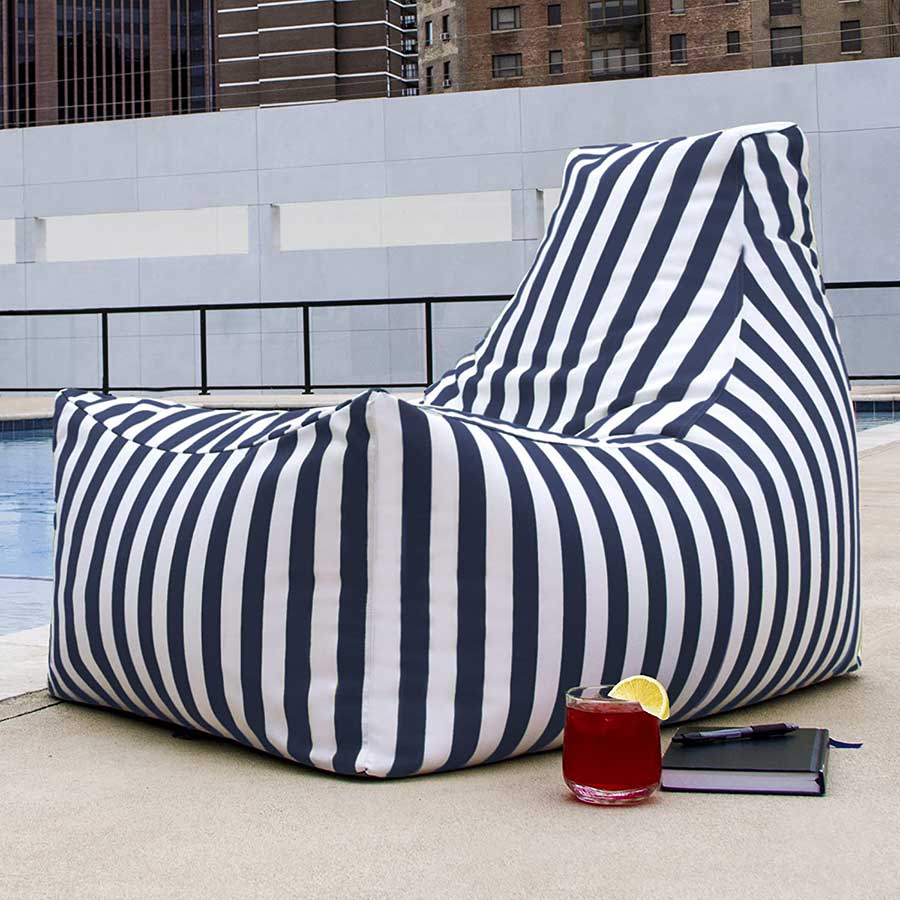 For a budget-friendly foldable camping chair, look no further than this basic Folding Camping Chair with Cup Holder from Ozark Trail. If you're looking for something with a few more bells and whistles, the Coleman Portable Camping Quad Chair with 4-Can Cooler is worth the extra cash.
If you would rather spread out a blanket to share, this Extra Large Waterproof Outdoor Blanket is a best seller on Amazon, and comes in several colors and patterns. It conveniently rolls up with convenient handles. Or, take your backyard lounging to the next level with this Jaxx Juniper Outdoor Bean Bag Patio Chair is both comfortable and stylish.