Whether you're celebrating the holidays by yourself (absolutely no shame in the solo game) or with your quarantine crew, delicious cocktails are always a must.

After you've finished your Christmas shopping, decorated the house, and made enough food to last the whole winter, there's no better feeling than relaxing with a tasty beverage in hand.

Whether you prefer a simple beverage or something with a little bit of a kick, there's a holiday cocktail out there waiting for you. Here are some fantastic recipes you definitely need to try during this holiday season.
Cranberry Mimosa
Instead of enjoying your brunch with a classic mimosa, give this cranberry mimosa a shot during the holidays.
Ingredients:
1 lime, halved
2 tbsp. sugar
1 cup cranberry juice
1 bottle champagne
Fresh cranberries
Make sure to rim the champagne flutes with the lime before dipping them in the sugar. Then, pour ¼ cup of cranberry juice into each glass and top them off with champagne. Add fresh cranberries to the drink as a little garnish.
White Russian
A White Russian is a classic winter drink, but if you haven't given it a chance now's the time to do it. It's the perfect beverage for cozying up by the fire with a great book.
Ingredients:
Ice
2 oz. Kahlua
2 oz. vodka
2 oz. heavy cream
Fill your glass with ice first. Then, pour the Kahlua and the vodka into the glass and mix well. Finally, pour the heavy cream on voila, you have yourself a White Russian.
Moscow Mules
Who doesn't love a Moscow Mule? Some holiday drinks can be heavy and filling, but Moscow Mules are crisp and delicious.
Ingredients:
Ice
2 oz. vodka
1 oz. fresh lime juice
Can of ginger beer
Lime wedges
Fill two copper mugs (copper mugs are a must!) with ice. Pour one ounce of vodka in the mug along with ½ ounce of lime juice and mix the two together. Then, add the ginger beer until the mug is full. Garnish with a lime wedge.
Mulled Wine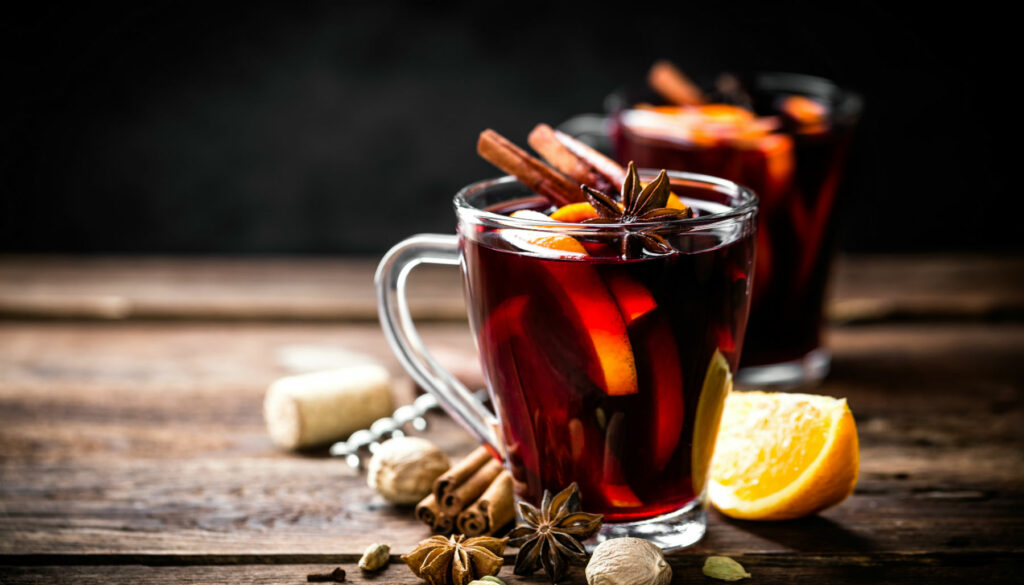 If you're looking for a cocktail to keep you warm and toasty this winter, this is the one for you. Not to mention, it smells amazing.
Ingredients:
1 bottle red wine
1 sliced orange
6 whole cloves
3 cinnamon sticks, plus more for garnish
1/4 cup honey
1/2 cup brandy
In a saucepan over medium heat, combine the wine, oranges, cloves, cinnamon sticks, honey, and brand. Bring the pan to a simmer and then reduce the heat to low. Let the wine sit for about 10 minutes on low heat before serving. Add a fresh cinnamon stick to your drink as a fun garnish.
Hot Toddy
Like the mulled wine above, a Hot Toddy is another fantastic toasty beverage. If you like bourbon, this cocktail might be right up your alley.
Ingredients:
1/2 cup water
1 1/2 oz. bourbon
1 tbsp. Honey
2 tsp. lemon juice
Cinnamon stick
Lemon slice
Add the winter to a saucepan and bring it to a simmer. In a mug, add the bourbon, honey, and lemon juice. Pour the hot water into the mug and stir it all together. Finish the beverage with a cinnamon stick and a lemon slice.