Women are trailblazers, visionaries, and savvy entrepreneurs. Yet too often, their stories never get told. HeyPumpkin was lucky enough to chat with the owner of RusTiqueAge, a silversmith studio based in Iowa with a passion for her craft. She revealed some of her trade secrets–including the advice she wishes someone had told her before launching her own business–so that we could share them with our readers.
HP: Is RusTiqueAge a full-time job for you? Did you work in a different field before deciding to pursue silversmithing and jewelry design?

RTA: I actually finished Design school and went straight into Agriculture and stayed there for several years before actually taking the leap. At one point I was working a full-time and part-time job on top of being self-employed to make it all work. When I finished my B.F.A. and graduated, apprenticeship positions were rare and the programs I had been accepted into for my Masters' studies had waitlists spanning years. There were lots of hurdles and unknowns and the design world was changing very quickly. I opted for steady employment and health insurance while the dust settled.

HP: Could you tell me more about your studio? Do you "go" to work at a set time or follow a more organic schedule?

RTA: I work out of a small home studio where I have several workstations set up with specialized tools that I use during different stages in creating my work. It has slowly evolved over the years as I have invested in more hand tools and raw materials, but it is still very much a completely handmade process. No fancy machines, just a lot of time, patience, labor, and love!

In the past, I had structured studio hours during typical business hours and evening hours were spent on finalizing custom orders, rush orders, and all of the behind-the-scenes tasks. If I'm awake, I'm working! Searching out materials and reliable suppliers is a job in itself and since I work with customers internationally, it's always "business hours" somewhere.

HP: What's one of the most fulfilling aspects of running your own business?

RTA: While I love designing jewelry, creating pieces that customers cherish, and being my own boss, the most rewarding part of my job is actually what comes after all of that. Volunteering has been important to me since I was a little girl. Now, as I work a lot more and have less time for volunteering, I am able to use a portion of the proceeds from each sale to kind of give back and help kids and the community in my own way. I think it feels great to help others and make a positive impact on the world around you however you can and I like that I can do that through my work.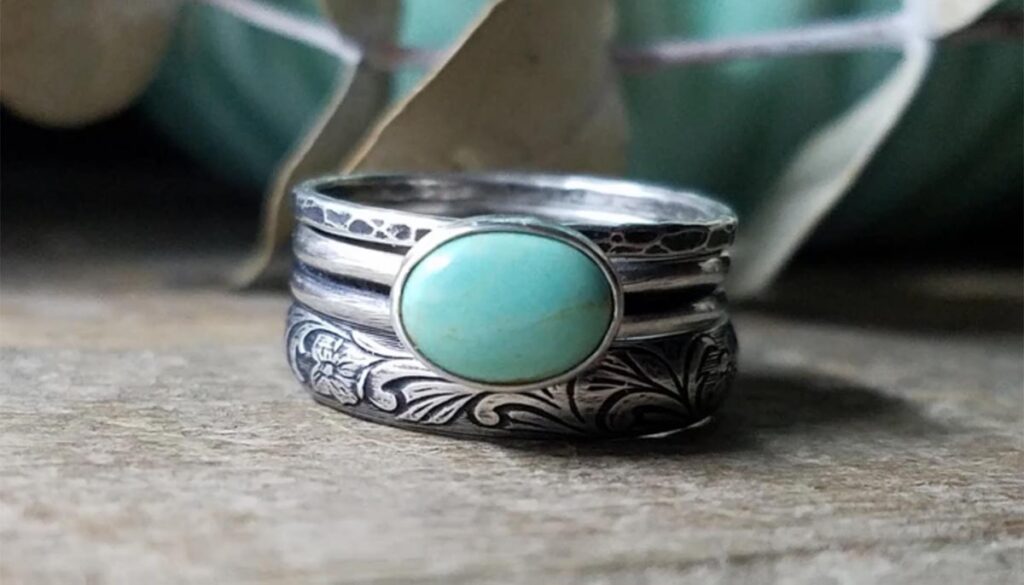 HP: That's really inspiring! What about a challenge you didn't expect?
RTA: In the last year silver prices have skyrocketed and many of the small-scale lapidary artists that I have built relationships with over the years were forced to go out of business. It was like starting over for me and I had to discontinue and abandon a lot of designs I had worked really hard on due to the lack of very specific materials I could not get elsewhere. Silver prices won't likely normalize in the near future, so it is probably the most pressing issue to face going forward.
HP: What inspires your aesthetic?
RTA: I trend towards very rustic style jewelry drawing inspiration from events, nature & symbols as well as tribal, southwest, and bohemian styles. I create a lot of different design patterns and finishes for customers to choose from and then they tailor their favorites to their liking and I create each custom piece individually as they are ordered. Each is very personal and unique.
HP: Did you learn your craft through formal training or another path? Do you work in other types of media as well?
RTA: I was a Design major and a student-athlete in college. I tried to get a well-rounded education by enrolling in every studio course that I could cram into my busy schedule. Just three studio courses a day were a minimum of nine hours in class that had to work around one or two practices, so it was very intense for a while there. I eventually had to fit in a few independent studies and private classes here and there off-campus with working artists to get some extra pointers and learn about the business side of things.
I think a lot of what I learned in school finally had time to really sink in and develop after it was all over. I've done a lot of continuing education classes since then. Beyond the metals studio, I also draw, create textile patterns, fix & refurbish antique furniture, design new build and remodel floorplans, and also do a little bit of my own photography and graphic designing, as needed. I used to dabble in ceramics and sculpture as well.

HP: What's the one piece of advice you wish someone had told you before starting your business?

RTA: I wish someone had told me early on to establish my own website and focus on my own online business before carefully branching out to other platforms. I learned the hard way that while large selling platforms can be used as a tool to drive traffic and gain more exposure, these platforms should never be given prime control over your business's visibility and growth. Instead, it's important to build a following on a website of your own with customers who value you and appreciate your work.
As a small business, every customer matters and it's important for artists to be able to connect with their audience through social media, email lists, and the like.
Want to check out more fabulous jewelry from RusTiqueAge? Find her at https://rustiqueage.com, on Etsy https://www.etsy.com/shop/RusTiqueAge or Instagram https://www.instagram.com/rustiqueage/ .