As we enter the holiday season, you've probably already started receiving invites to all those festive parties. It's the most wonderful time of the year!
But as we get into the swing of things, don't forget to bring a gift for your host or hostess. If you're tired of always bringing the same bottle of wine, it's time to think of something new. That's why I've gathered this list! There is a little something for every kind of host here.
Party Game
Bring your host the gift of laughter! Easy-going games can be a great way to get guests talking and laughing together without any extra effort from the host, who is likely busy keeping the hors d'oeuvres stocked.
Opt for something like Everybody Knows! for fast-paced fun, where the pressure is on to answer fun trivia questions as quickly as possible. Or, bring along the Hygge Game – Cozy Conversation in Pleasant Company. It has more than 300 thoughtful and entertaining questions that will help spark conversation.
Plush Faux Fur Blanket
For a more traditional host/hostess gift, something for their home is usually a good choice. A big plush throw blanket is sure to be appreciated! Not only will it keep party guests cozy while sipping cocktails around the fire pit, but it will also be a welcome treat for the host after guests have left.
Seasonal Wreath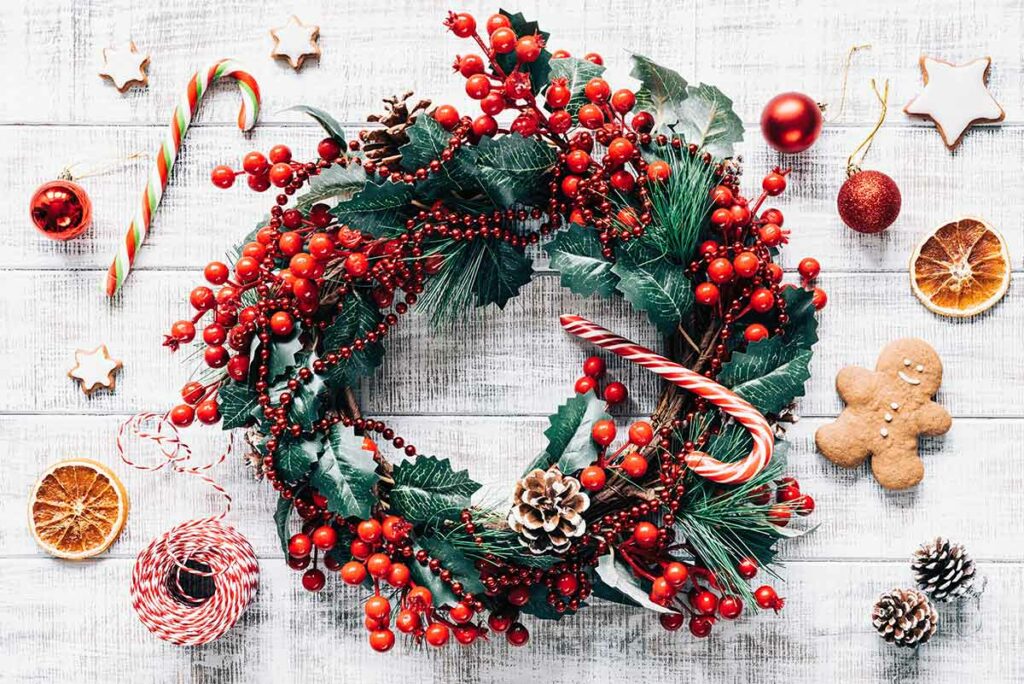 Seasonal wreaths are a great way to add a little extra festive flair to a home, so why not surprise your host with one before the party? It will be one less thing they have to do before guests arrive. Have it delivered — or deliver it yourself — the week ahead of the get-together, and your host can cross it off their to-do list. It will be there to greet guests as they arrive.
Cocktail Shaker Set
A stainless steel cocktail shaker set is a wonderful, thoughtful gift for the host that loves to try out fancy cocktail recipes. You can find plenty of options across every budget.
The Crafthouse by Fortessa Cocktail Shaker Set is a bestseller at Williams-Sonoma, and will help your host craft professional-level cocktails. Or, check out this Stainless Steel Cocktail Shaker Set on Amazon that comes with its own stylish bamboo stand and a booklet of cocktail recipes.
Cake Stand
Pretty desserts deserve a pretty cake stand. If your host or hostess is likely to serve up some delightful treats, gifting them a lovely cake stand or even a 3-tiered stand seems like a logical choice. I really like the simplicity of this Stoneware and Glass Covered Cake Stand from Hearth & Hand. It feels fancy enough for a holiday party, but not too fancy for a low-key get-together.
Cheese or Charcuterie Board
Every good party has cheese, right? If your host or hostess routinely throws parties and get-togethers, chances are they would greatly appreciate a good cheeseboard. I'm not talking about your average one, either. There are plenty of gorgeous handcrafted boards that will make a unique, one-of-a-kind gift.
Personally, I really like the natural character of these handcrafted Customizable Charcuterie Boards that come in different size options. Made out of black walnut, every board features a unique grain pattern and shape of the live edge.
These Serving Boards With Resin Art are also really beautiful. Each one is unique and has a delicate ocean wave-like resin work. Engraving it with your host's name is also an option.
Just make sure you order early, because handmade items take longer to receive!
Personalized Apron
Not all hosts are avid bakers or anything, but if the party thrower in your life enjoys time in the kitchen, consider gifting them a personalized apron. Your host or hostess is bound to be running back and forth between the kitchen and the party, and a fabulous apron is the perfect way to save your host's party outfit from any accidental spills! They won't mind wearing their apron out of the kitchen and in front of guests when it's stylish.
Breakfast
Okay, this gift is a little out of the ordinary, but hear me out. Bring your host breakfast!
After spending so much time planning a party, and then hosting said party, most people are a little tired (to say the least). Get ahead of all that, by bringing decadent breakfast pastries for your host to enjoy the next morning. Pop into a local bakery and pick up a box of croissants, pumpkin bread, donuts, or other baked goods. Including jam, butter, or even fresh fruit can really take it to the next level.
If you think your host might rather step out for brunch, you can always pick up a gift card for a local spot that they enjoy — just make sure you include enough for a round of mimosas!