Spring break is fast approaching – which means literally nothing for anyone no longer in school. I never really thought about it when I was in grade school or college. Spring break was just a yearly thing, right? But no one tells you that it disappears as soon as you're done with all those classes.
It's really unfair, don't you think? I mean, if anyone deserves a spring break, it's the person who's working 40+ hours a week, for pretty much all 52 weeks a year.
Of course, most of us aren't really looking to recreate MTV Spring Break. I would much rather take a nice, relaxing trip to help me forget about all my day-to-day cares and worries. Besides, partying with all those wild college students kind of stresses me out.
We're doing self-care in the Bahamas, baby.
Okay, not just the Bahamas. There are actually plenty of places, Bahamas included, that are perfect for an "adult spring break." It all depends on your personal preferences and what the perfect vacay looks like to you.
Personally, I'm the type that wants to relax in a cabana on the beach all day long without any responsibilities or cares. Hang up that "do not disturb" sign! But, you might be more excited to get a magnificent new perspective after tackling an adventurous hike. Whatever makes you feel rejuvenated and relaxed, I've got plenty of destination inspiration for you!
San Juan, Puerto Rico
Because this tropical destination is an unincorporated US territory, you won't need to snag a passport to visit. Even still, this charming Caribbean island has its own history and rich culture to experience.
San Juan is the capital and largest city, where you'll find plenty to do. Head to El Escambrón, a picturesque beach protected by a coral reef, to relax and get your toes in the sand. Or, get a little further out by catching a short boat ride to the island of Culebra or Vieques. In fact, Culebra is home to Flamenco Beach, which was named the second-best beach in the world by Discovery Channel.
There's a lot more than just beaches here, too. You'll find amazing traditional Puerto Rican food, sweeping ocean views from the fortress of El Moro, nightlife, cobbled streets, and buildings dating back as far as the 16th century.
Crater Lake, Oregon
It's hard to believe your eyes when you arrive here, but Crater Lake, Oregon is real! Crater Lake is actually the deepest lake in the US, giving it that extremely blue, mesmerizing look. Paired with the surrounding cliffs, it's safe to say you'll find some of the most beautiful views you've ever seen. This is the perfect destination for you if you feel most at home in the great outdoors. Head out for a hike along the rim of Pinnacle Valley, take a boat cruise, or bike around this bucket-list attraction for cyclists. When you're done, head back to the century-old Crater Lake Lodge to unwind.
Cabo San Lucas, Mexico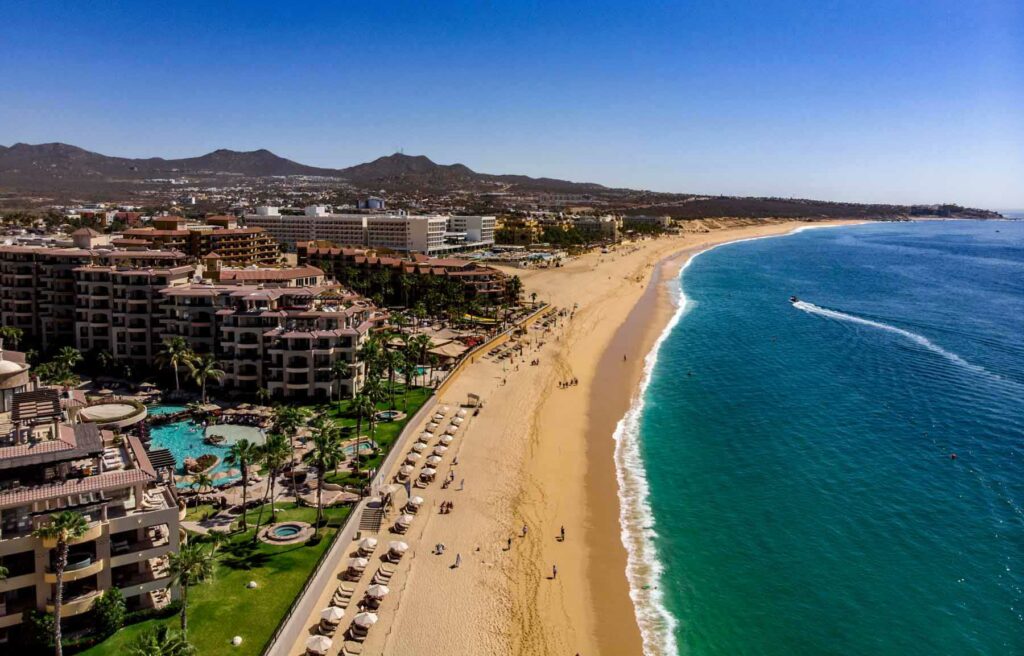 Skip the college crowds in Cancun and head to Cabo San Lucas instead. There are plenty of resorts and hotels here, but you can even find a range of adults-only options for the ultimate relaxing experience. Many of them offer all-inclusive packages that include luxurious amenities, spa treatments, massages, and plenty of tropical cocktails! And if you feel like doing more than just soaking up the sun at the resort's pool or on the beach, you'll also find beachfront horseback riding, snorkeling, hot nightclubs, and more.
White Mountains, New Hampshire
The White Mountains region is New Hampshire's largest ski area. Yes, the ski season for New Hampshire resorts usually runs to mid-April! But even if you have no desire to hit the slopes (or spring break comes after the snow has melted), this is still an overall outdoorsy hotspot with plenty for you to take in on your vacay.
Drive the Kancamagus Highway and check out the scenic overlooks, covered bridge, and waterfalls along the way. Travel to the summit of New England's tallest mountain aboard the Mount Washington Cog Railway for panoramic views. Or, immerse yourself in nature with hiking, biking, and even ziplines.
Sebago Lake, Maine
Sebago lake can feel like a hidden treasure in certain spots, even though it is the second largest lake in Maine. During the summer it becomes a summer playground and boating haven. But visit Migis Lodge during spring break for a dreamy outdoors vacation.
This premiere cabin resort sits along tranquil shores and features a main lodge and 35 separate cottages nestled in the forest of a private island. You'll be able to enjoy a massage at the wellness center, have private access to kayaks and motorboats, or just take in dramatic sunset views over the lake.
Joshua Tree National Park, California
Out in the Mojave Desert, A-list celebrities and outdoorsmen have something in common: they all flock to Joshua Tree to get away from it all. This vast protected area in southern California is full of rugged rock formations, desert landscapes, and the twisted, striking Joshua trees – hence the name. And sure, it looks great on Instagram, but you have to see it in person to really experience the beauty here.
Unplug and relax as you take in miles of open desert, filled with rare plant life and magnificent night skies. Head out on hiking trails that weave through boulders, or meet some quirky locals. As for lodging, the unique Airbnbs here are unrivaled.
Key West, Florida
You don't necessarily have to leave the mainland to experience some seriously tropical vibes, because Florida has plenty to go around. However, Key West comes out on top for an adult-focused spring break trip.
Sitting less than 100 miles north of Cuba, you'll feel like you've left the country for the Caribbean. The famous pastel-hued houses help, too! This island is known for diving and snorkeling, as it is the only living barrier reef in the continental US. Don't forget to visit Ernest Hemingway's house, eat fresh-off-the-boat seafood, and grab a drink at Florida's oldest bar.
The Outer Banks, North Carolina
If you're hoping to hit the beach and get away from it all, the Outer Banks is an excellent choice, You won't find any overrun vacation attractions or crowded cities here – in fact, you won't find any cities at all. It's just charming seaside towns here.
These barrier islands are home to more than 100 miles of shoreline, where you can stick your toes in the sand. There are also plenty of spas and wellness centers to help you relax with massages, body wraps, and scrubs using local sea salt.
And anyone who loves history will love to escape to the Outer Banks. There were several tribes of Native Americans here first, such as the Croatoans and the Roanoaks. The site of the first English colony is here, and so is Kitty Hawk, where the Wright brothers piloted the first flight.
Hot Springs, Arkansas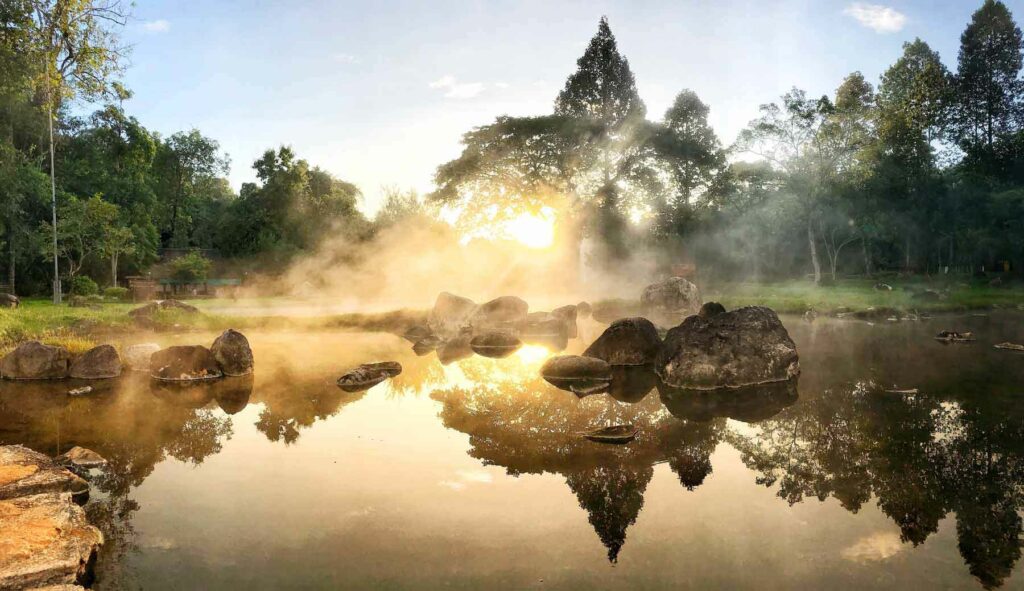 If you are looking for a classic relaxing spa vacay getaway, Hot Springs, Arkansas is the place to go. People have been flocking to the natural hot springs for centuries to bathe in the healing mineral waters, starting with Native Americans and then early European explorers. Today, they still attract visitors from all over, who want to experience the natural spa treatment. Follow the world-famous hot springs bath with a full-body massage, and you may end up feeling like an entirely new person!
Of course, there is more in the area besides the hot springs themselves – although they are the main attraction for anyone looking to relax. There is also plenty of upscale restaurants, historic hotels and bed and breakfasts, and an eclectic shopping scene. And if you're looking to rejuvenate in the great outdoors, you'll find hiking, fishing, biking, and watersports.
Duck Creek Village, Utah
Utah is one of the most beautiful states you can visit, if you ask me. That's probably why the Beehive State is home to the "Mighty Five" – Bryce Canyon, Capitol Reef, Zion, Arches, and Canyonlands. You can head to any of these for an amazing trip, hands down. However, they do tend to be pretty busy.
Instead, check out Duck Creek Village, located on the edge of Cedar Mountain. It sits within the Dixie National Forest, where you'll find a wide range of outdoor activities and scenic views without much of the crowds. Of course, you'll also have easy access to Utah's other magnificent national parks, too. But at the end of the day, you'll be able to escape to your cozy cabin in the peaceful forest.
The Bahamas
If there was ever a single place to visit for an adult spring break, it would be the Bahamas. Panoramic views of calm, blue waters and pristine beaches, warm island breezes, and plenty of adventure — sounds pretty great right?
There's more to this destination than just pina coladas on a beach, too. There are actually 16 major islands, and they're all full of different experiences to be had. Spend a day in the Exumas with the world-famous swimming pigs, see stingrays roaming the waters of Freeport, discover the culture-rich streets of downtown Nassau, or simply enjoy a flavourful Bahamian conch salad.