Looking for the perfect gift to let someone know you're thinking of them? When a simple card just won't do, treat your family and friends to a delivery from one of today's best online bakeries, which offer delectable desserts that your recipient will never forget.
Each bakery on this list has been around for several years, perfecting the art of creating high-quality desserts that can be shipped nationwide, and even stored for future consumption. Many of these shops also offer themed packages for birthdays, holidays, weddings, and thank-you gifts.
These bakeries have developed all kinds of recipes for various desserts, including cakes, pies, puddings, brownies, cookies, and plenty of gluten-free options. Some specialize in one type of treat, while others offer assortment boxes of all their best-sellers.
Treat your loved ones (or yourself!) to a delicious doorstep surprise with these six amazing online bakeries. These companies are some of the highest-rated online dessert shops out there, and they offer surprisingly affordable prices!
Magnolia Bakery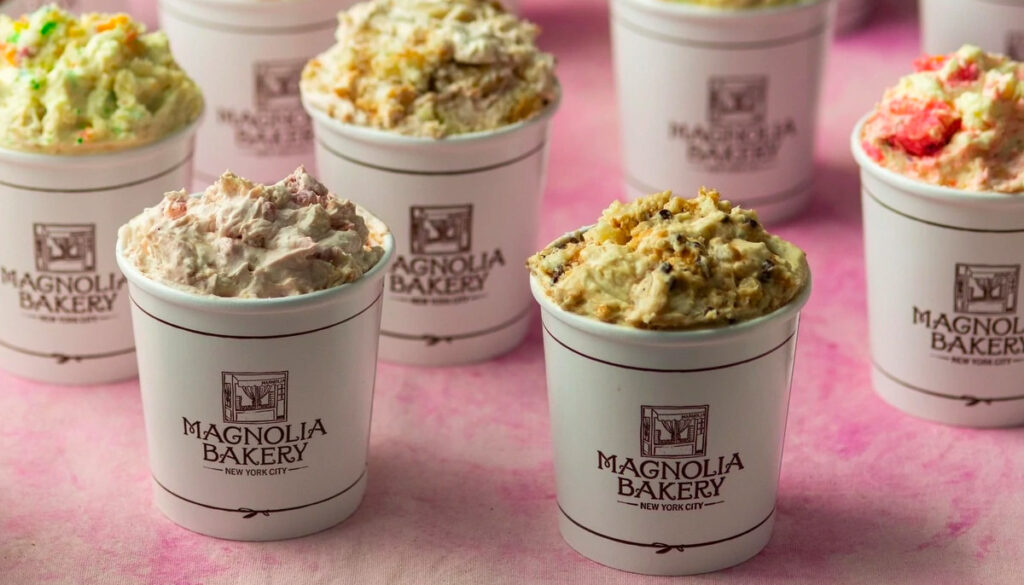 Jennifer Appel and Allysa Torey founded the first Magnolia Bakery in the West Village of Manhattan in 1996. 26 years later, the brand has over 200 shops throughout the United States and dozens more abroad. The bakery has also become a well-known name after being featured on Sex and the City, Veronica Mars, the viral Saturday Night Live short, "Lazy Sunday," and the award-winning 2006 comedy-drama, The Devil Wears Prada.
Magnolia Bakery is especially famous for its banana pudding, which is beloved among customers. They now have several unique flavors of pudding, including red velvet, chocolate hazelnut, and even a gluten-free option. They also offer catering, with pudding multipacks and assortments of all their best-selling treats ready to go whenever you order.
You can ship pudding, cakes, cupcake and mini-cupcake assortments, cookies, brownies, blondies, and even DIY baking kits nationwide through the online shipping service, Goldbelly. The bakery promises prompt deliveries Monday-Friday for about $20 to most locations, but of course, prices vary depending on how far you want to send the treats. If there's a Magnolia Bakery close to your destination, you might even be able to score same-day delivery!
Sugargoat
Chef Stephanie Izard from Chicago is known as the first female to win Bravo's hit cooking competition, Top Chef, in its fourth season. She is now the co-owner and executive chef of three award-winning restaurants: Girl and the Goat, Little Goat, and Duck Duck Goat. All three restaurants are located in Chicago.
Recently, Izard shifted her attention to baked goods through her newest shop, Sugargoat. Their mission is to offer "everything from 'simple to silly' flavors, whether you just want delicious fresh baked chocolate chip cookies, a fun and interesting cake that tastes like fries dipped into a chocolate shake, or want us to take a stab at concocting your dream dessert." Sign me up for that cake that tastes like fries in a chocolate shake, please!
Like Magnolia Bakery, Sugargoat also offers shipping through Goldbelly. Many of their 6" by 4" cakes are on the more expensive side of treats on this list, but most of them come with free shipping. Further, the price is worth it for their unique flavors that you can't find anywhere else. Some of their more intriguing desserts include the Cheez-It Crunch Cake, the Pancake Cake, the All the Citrus cake, and the Breakfast in Lima Cake.
David's Cookies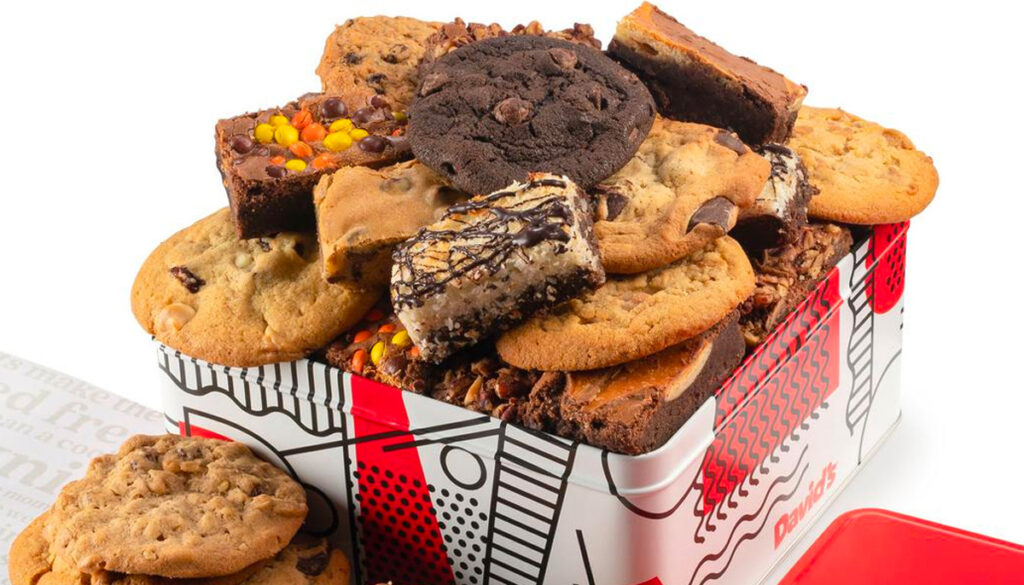 Another Manhattan-based bakery from which you can order incredibly yummy, deliverable treats is David's Cookies, which was founded by David Liederman in 1979. David's is a leader in the deliverable-treats space, as they transitioned from a retail franchise to a mail-order company all the way back in 1987. By the nineties, David's began dabbling in all kinds of baked goods, including crumbcakes, brownies, meltaways, mini-cookies, cheesecakes, cookie cakes, cookie dough, and gluten-free treats.
Today, they're proud of their selection of desserts that are always made with natural ingredients–no preservatives allowed. All their treats are also certified kosher by the Orthodox Union, and they take great care in designing gift packages for every occasion. Birthday treats, holiday-themed sweets, thank-you boxes, and even get-well assortments are some of their specialties.
David's guarantees that their products will taste fresh and delectable upon delivery. However, you can store some of their baked goods for much longer than most–certain items can be stored in the freezer for up to six months! The best part is their shipping fees; standard delivery, which typically takes about two days, starts at only $6.95. This tried-and-true brand is one of the most popular and affordable online bakeries you can find.
Wicked Good Cupcakes
Wicked Good Cupcakes was founded by mother-daughter duo Tracey Noonan and Danielle Descroches. Around ten years ago, these two ladies took a cake decorating class that inspired them to start baking cupcakes in glass jars.
When they started posting photos of their adorable jarred treats online, friends asked them to send samples to them by mail. By 2011, Noonan and Descroches had a thriving business, and they opened their first store in Cohasset, MA.
Wicked Good Cupcakes now sells cupcakes in their signature jars both in-store and online. The founders even received a $75,000 investment from Kevin O'Leary on Season 4 of Shark Tank, which helped their brand gain even more recognition.
The company now offers multiple different gift options that they ship nationwide. These include their original Cupcakes in Jars, which come in packs of six and more. They also offer Wicked Good Birthday Boxes, Thinking of You Boxes, and custom-designed Party Packs. Wicked Good Cupcakes has some of the most affordable delivery prices of all these online bakeries, with flat-rate shipping prices as low as five dollars.
Levain Bakery
New York City is home to yet another wildly popular and growing bakery, Levain. Constance McDonald and Pamela Weekes opened the first Levain Bakery in the Upper West Side in 1995, selling fresh-baked artisanal breads.
Today, the brand is best known for its Six-Oz Chocolate Chip Walnut Cookies, which the two women created as a high-calorie snack to give them energy while training for an Ironman Triathlon. McDonald and Weekes decided to sell their giant cookies at their small bread shop, and instantly, they knew they had a hit on their hands. This is how Levain became a cookie-based bakery.
That wasn't the only pivotal business move the founders of Levain made. In 1998, they expanded the company to offer mail-order treats. The company has been shipping its cookies nationwide for over 24 years now, and customers rave about the service, quality, and prices the brand offers.
Through Levain, you can choose from three different sizes of gift boxes starting at $27. Flavors include their classic Chocolate Chip Walnut, the Two Chip Chocolate Chip, the Dark Chocolate Peanut Butter Chip, and the Oatmeal Raisin. If you know someone who lives in Manhattan or is planning to visit, you can also purchase a gift card for them to use in-store, as most of their locations are in NYC.
Milk Bar
Milk Bar is a New York City sweet shop that was founded by chef Christina Tosi in 2008. Tosi is a winner of the James Beard Foundation Award, a prestigious honor that recognizes exceptional culinary professionals in the United States each year.
When Tosi first opened Milk Bar, she was one of five employees who kept the shop running for 16 hours a day. She has said her goal was to mix the technicality of making pastries with the informal setting of a bakery, which helped them to turn the small shop into a fun, innovation-oriented brand.
Tosi and her team have been developing fresh takes on old recipes for years, and in the decade or so that Milk Bar has been around, some of their specialties have become huge hits among their customers. These include their trademarked Cereal Milk, Compost Cookies, and Milk Bar Pie.
One of the most amazing things about Milk Bar's treats is that you can have them delivered as a gift almost anywhere in the country, and they're absolutely delicious! You wouldn't expect a treat that's been in transit to taste as good as one purchased fresh inside the store, but Milk Bar has pastry storage down to a science.
Milk Bar cookies can be stored in a freezer for up to one month. Their delicious pies and cake truffles can also stay good for a month in the freezer, or seven days in the refrigerator. Their cakes, which are some of their most popular deliverable items, will stay fresh in the freezer for up to two weeks. All you have to do is remove the cake two hours before serving, and it will be ready to eat!
Milk Bar also offers ice cream, snaps, and assorted cookie tins for all occasions. Shipping fees range from $15-$27 depending on the delivery date and destination. Let your loved ones know you're thinking of them with a Milk Bar treat. As they state on their website, "If you're looking for a way to let fam and friends know you're thinking of them, trust us – a sweet treat delivery does the trick 100% of the time."