With summer on its way out and fall creeping in, it's time to start planning what you'll plant with the upcoming season in mind.
Shorter days and cooler temperatures don't necessarily mean you need to do a full garden overhaul. Instead, you should enhance your surroundings with some timely and beautiful buds.
Here are 11 perfect fall flowers you shouldn't do without.
Chrysanthemum
Nothing says "it's fall" like beautiful mums. They come in festive seasonal shades like red, orange, yellow, peach, and white, or romantic purles and pinks.
These popular fall flowers can easily be found in a wide variety of sizes, ranging from dainty mini-mums to giant showstoppers. The shapes can vary greatly too. No matter the variety, be sure to plant your mums in well-draining soil about one month before the first frost for a quick burst of color.
Aster
Asters are a fall go-to for a wide array of reasons. For starters, this fall perennial is a wonderful annual too. On top of their seasonal flexibility, they're hardy flowers that can withstand almost any climate.
Any Aster is a great flower choice for fall, but the New England aster varieties are famous for their vibrant range of colors and their quick adaptability to wet soils.
Flowering Cabbage
Also known as "flowering kale," this is often dubbed the toughest fall plant around. It can withstand frosty temperatures and easily last through the winter in most regions. It also looks beautiful paired with other fall flowers.
But do note, this is no ordinary kale. It's bred for ornamental use only. In other words, no matter how delicious it might look, eating flowering kale is never a good idea.
Coneflowers
Coneflowers are reminiscent of daisies, and a beloved flower of bees and butterflies. In yellow varieties, they're sometimes called Black-Eyed Susans. While equally stunning, the pink and purple varieties are often considered the most popular.
This Echinacea species is a hardy perennial with a surprisingly long blooming season. It's great for cutting and can also be used medicinally. So not only will you have a flourishing garden full of bold fall flowers, you can potentially avoid a cold in the winter, thanks to this flower's power.
Sweet Alyssum
If you're looking for something incredibly fragrant, you should go with Alyssum. These ground-covering flowers spread sweetness over everything they touch. It also does well when potted, cascading down the sides as it grows.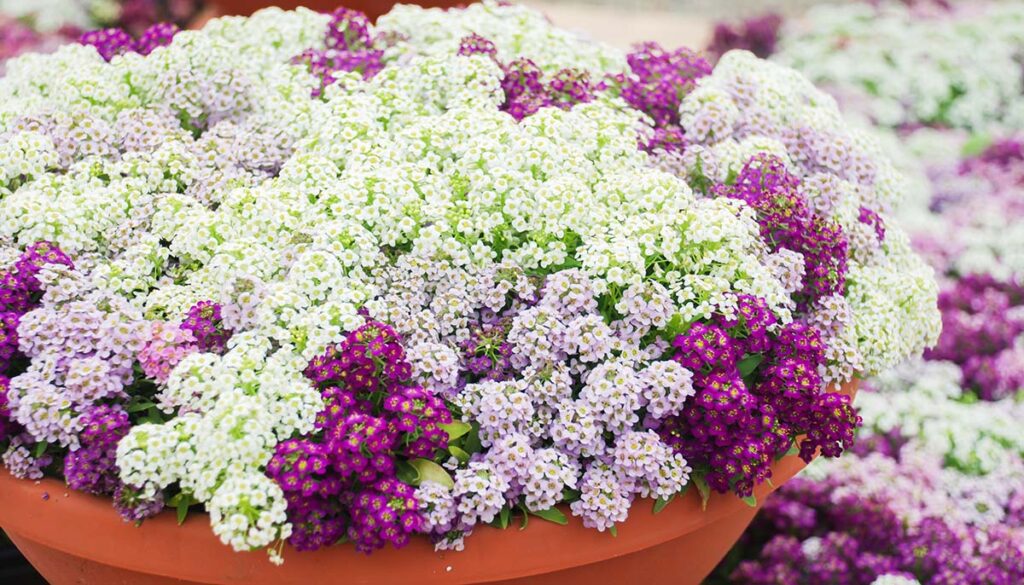 This enchanting flower is pretty sturdy. It does well in cool weather, blooms throughout both fall and winter, and is relatively easy to maintain.
Purple Fountain Grass
Purple Fountain Grass is an underrated fall plant. Even though it's not technically a flower, it can make any garden feel magical.
Its burgundy-purple foliage is the perfect accent plant for surrounding fall flowers. It adds a transitional and playful texture to its surroundings, elevating your mums, croton, or kale.
Coreopsis
Coreopsis can thrive in any soil as long as it's drained well, but they prefer spring and fall to any other season. Sometimes called "tick seed," this easy to tend to plant blooms in yellow, orange, red or purple, and draws an exciting amount of butterflies to virtually any garden.
Once the blooming period passes, its seed will attract a wide variety of birds. This perennial thrives best in temperate conditions but will survive in any timezone. Just make sure you give it full sun.
Pansy
Pansies are by far one of the most popular fall flowers to ever grace a garden. And you'll come across them in every shade the rainbow has to offer.
These heavy blooming flowers are versatile and traditionally grown in lovely mounds. For something different, grow your pansies in a hanging basket this fall. And no matter when or where you plant pansies, you can almost always expect a second bloom come Spring.
Celosia
If you want something durable that's 100% meant for fall, look into Celosias.
Not only do they come in a quintessential fall color palette, they're extremely easy to care for. Try it out at the border of your garden or landscape beds. Their vibrant flame-like plumes blooming straight up will definitely add some fall flair.
Viola
Think of violas as pansies baby cousin. They look a lot a like and bloom just as well in the fall, but offer a charm all their own.
Their dainty blooms are actually more resilient, withstanding winter winds and rain slightly better than pansies. And because they come in just as many colors as their bigger and bolder cousin, Violas are often deemed one of the most versatile flowers of fall.
Dianthus
As soon as the temperature drops, this is one fall flower you should plant right away. Dianthus are both gorgeous and fragrant. Just be sure you put them somewhere you'll be able to catch a whiff when you walk by.
When it comes to colors, they primarily bloom in white, pink, red, and purple, but any color will be wow-worthy with these little numbers. Symbolically, the dianthus is said to represent love, affection, and gratitude, making them all the more perfect for fall.