This summer, visitors to Denmark will have the chance to live inside a fairy tale.
H.C. Andersen's House, a brand-new museum and garden in the author's birthplace of Odense, will open to the public this summer. In the meantime, learn more about this magical new "artistic experience" that combines "architecture, sound, light and images" to "create new encounters between each visitor and Andersen's fairytales."
HCA Hus
Located in Odense, a picturesque city about two hours west of Copenhagen, the H.C. Andersen House–or HCA Hus–claims to be a museum unlike any other. The masterminds behind the project, including museum architect Kengo Kuma are hoping to create a space where visitors can engage with the spirit of Andersen's work in a totally new way.
Kuma said, "The project is our gift to Hans Christian Andersen, to thank him for everything he has taught us." The experiential museum isn't just dusty rooms filled with objects from the author's life and times. Instead, it's a sprawling complex of gardens and light-filled buildings, with exhibits created in partnership with twelve modern artists.
Unlike other museums that display artifacts from Andersen's life or offer cheesy fiberglass statues of characters from his work, the HC Andersen House is different. A spiraling hedge maze will offer unexpected encounters while celebrating the beauty of Denmark's landscape. One of the most ambitious elements is a pond with a glass bottom that allows visitors to look up into the garden or down into the abyss with a dreamlike sense of unreality.
Who Was Hans Christian Andersen?
When you talk about European fairy tales, there are really only three names you need to know: the Brothers Grimm, Charles Perrault, and Hans Christian Andersen. Born in 1805 in Denmark, his early life was shaped by his father's insistence that they were, in fact, descended from nobility. Those delusions of grandeur contrasted with the harsh reality of their lives.
It was Hans Sr. who introduced his son to literature; his mother was a washerwoman who could neither read nor write. When Hans Sr. died, leaving the boy and his mother to struggle with poverty, eleven-year-old Hans had to split his time between studying at a charity school and working in the textile industry.
Like his father, young Hans never stopped dreaming of bigger, better things for himself. He left home at the age of fourteen to pursue a life on the stage. He found a mentor in the director of the Royal Danish Theater, Jonas Collin, who helped Andersen further his education and develop his true talent: writing.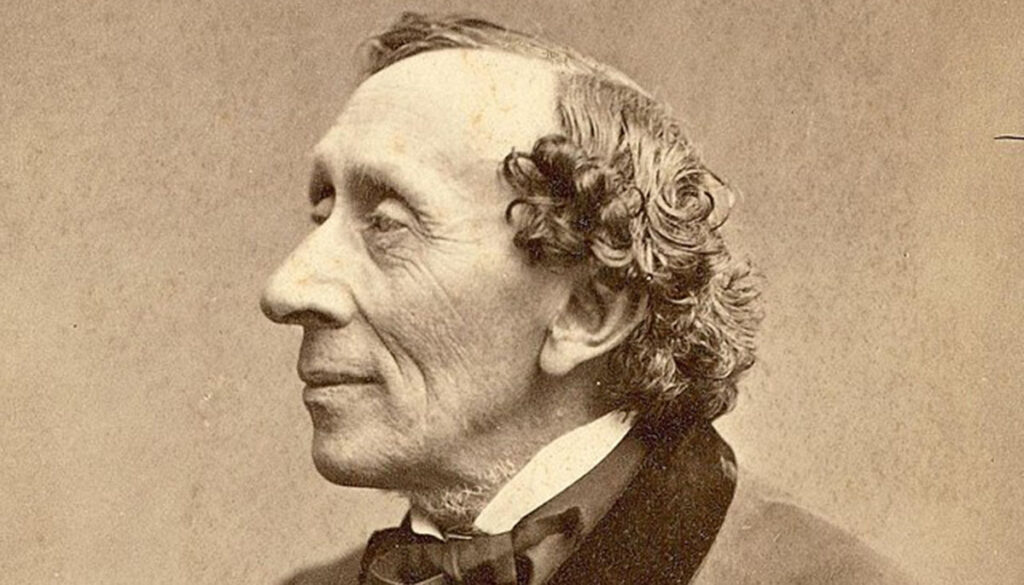 Many literary critics have pointed out that Andersen's legacy as a writer of children's stories does him a disservice. Although he published more than 125 fairy tales and fables, he also wrote plays, poetry, novels, and memoir. However, translations of his popular stories lost a lot of literary nuance of the original Danish. In fact, Andersen's body of work isn't that different from Oscar Wilde, who would also write plays, novels, and fairy tales–but Wilde is taken much more seriously as an author in the Western canon.
Andersen never married, although he did pursue a string of doomed romances. Letters from Andersen show that he fell in love with both the daughter and son of Jonas Collin, his mentor. He also had a one-sided relationship with a younger dancer named Harald Scharff that inspired his story "The Snowman" about a snowman who falls in love with a stove. Guess Olaf had a more tragic backstory than we knew!
His love life inspired other works, too. He wrote "The Nightingale" and two other tales about the Swedish opera singer Jenny Lind, whom he desperately wanted to marry. She didn't love him back–a recurring theme in his life–but they remained friends. "No book or personality whatever has exerted a more ennobling influence on me, as a poet, than Jenny Lind. For me she opened the sanctuary of art," Andersen wrote in a letter.
Despite his humble upbringing and tragic personal life, by the time Andersen passed away in 1875, he was Denmark's most beloved literary figure. One of Copenhagen's busiest streets is named for him, and the iconic statue of the little mermaid overlooking the harbor is a popular tourist attraction. Andersen remains one of the most translated authors in history, and his stories continue to inspire art, dance, and film.
So Much Darker Than Disney
I grew up on Disney movies, and one of my all-time favorites is The Little Mermaid. Imagine my surprise when I tracked down the original fairy tale by Danish author Hans Christian Andersen and discovered that it's much, much darker! Let's just say that instead of giving up her voice, the mermaid has to make a terrible choice between her own existence or the life of her beloved. There was no way it could end happily–and certainly not with a big wedding on a boat.
Fairy tales aren't all sweetness and light. Andersen's work is arguably less gruesome than the Brothers Grimm–seriously, you don't want to know what happened to the stepsisters in the original "Cinderella"–but you'll find plenty of darkness as well as beauty and wonder in his work.
"The Ugly Duckling"? The familiar tale of the ultimate glow-up has a disturbing undertone of desperation and despair. Andersen would later reveal that he felt the story was "a reflection of my own life." He recalled being mocked and bullied as a child because of his beaky nose and high-pitched voice.
"The Little Match Girl" is pure misery from start to finish, and "The Snow Queen"–which would serve as the main inspiration for Frozen–is kind of a bummer, too. It's an allegory for good and evil with strong religious themes, wrapped up in a strange and magical tale of a little girl trying to save her childhood sweetheart from the shards of ice in his heart.
Unlike many classic fairy tales, Andersen wasn't merely recording traditional folk stories but creating his own literary works, drawing on his experiences of hardship, poverty, and social ostracism. Having worked in a factory as a child after his father passed away, Andersen's descriptions of downtrodden characters were grounded in reality.
Even the more fantastical elements served as allegory rather than flights of fancy. Sure, he might be writing about talking tin soldiers or fish-tailed princesses, but the fantasy was a lens through which to view his world. That's something that gets lost with most Disney adaptations.
Ironically, The Emperor's New Groove–which has very little to do with Andersen's story "The Emperor's New Clothes" captures more of the atmosphere of his work than most of Disney's direct adaptations. Kuzco's misery and journey of self-reflection could have been an Andersen tale–although he probably wouldn't have gotten a happy ending. Most of Andersen's stories ended in tragedy or, at best, bittersweet triumph.