Cold nights call for hot meals to warm you up, and delicious, hearty soups should be a staple during the fall and winter months. There are so many recipes out there, and of course, you always have the option of buying canned soup. But making your own soup often offers a better value – you can make it for dinner and then take the leftovers to work for lunch the next day to enjoy a mid-day warm up. On the other hand, canned soup is usually a one-meal deal.
Soups are often so easy to make because all you have to do is combine the ingredients, turn on the heat, and then wait. But that's not always the case – some are easy two-step affairs, and some require a little more effort. We've collected five soup recipes for you to check out, ranging from simple to complex, but they're all delicious ways to warm up on cold evenings.
Spicy White Chili
Do you like a little spice in your life? If the answer is yes, don't scroll past this recipe. Savor the heat of spicy white chili by combining a few traditional ingredients and some spicier additions that may burn the taste buds of less experienced eaters. 
If you don't have time to cook a chicken for this recipe, buy a rotisserie chicken instead. You can also make this vegetarian by leaving out the chicken and substituting the chicken broth for a vegetarian option instead. The recipe calls for cayenne pepper, chili powder, and diced green chiles, so it definitely lives up to its spicy name!
Garden Fresh Tomato Soup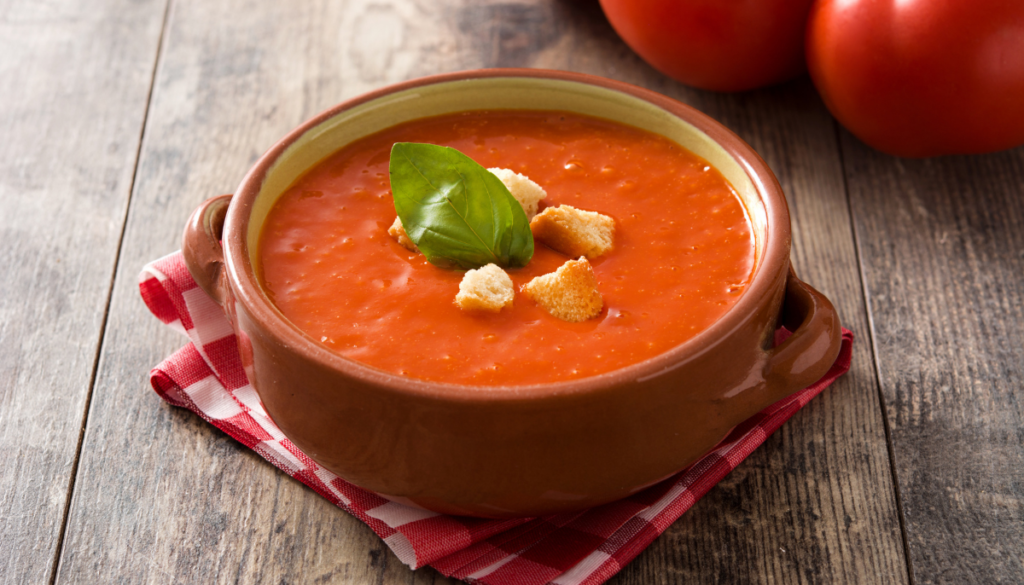 Tomato soup is a classic that'll never go out of fashion. It's delicious and hearty, and in my family it's always best when paired with a grilled cheese sandwich. For classic tomato soup, you'll need tomatoes (preferably fresh, but canned will do), chicken broth, butter, flour, salt, sugar, and cloves. 
Simple and delicious, tomato soup is a recipe you'll want to turn to again and again on cold winter nights. Garnish with basil and serve with a sandwich (try it with a grilled cheese if you never have before!) to complete the meal.
Butternut Squash Bisque
Here's a soup that's a little more complicated, but worth the extra effort. Non-dairy eaters will delight at the fact that you can make a creamy soup without the cream by pureeing butternut squash for this incredible dish. For even more flavor, you can add a pear salsa that complements the butternut well. 
For the bisque, you'll need broth, butternut squash, carrots, and salt. Add in crabmeat if you like, and again, a pear salsa really takes this dish to the next level. Butternut squash is extremely delicious, so no matter what variation of this recipe you try (with pear salsa or without, with crabmeat or without), you'll end up with an amazing meal!
Ham and Bean Soup
Vegetarians should avoid this one, because the chewy ham really is what makes this ham and bean soup so amazing. If you are a meat eater though, you should definitely give this recipe a try!
You'll need a lot of beans (the recipe calls for a whole pound!), as well as ham hock, salt, carrots, celery, garlic, mustard powder, bay leaves, ham, and white pepper. That's a lot of ingredients, but you'll be able to easily use the leftovers in many other recipes as well. Hearty and delicious, this recipe makes enough that you'll be covered for multiple meals.
Roasted Cauliflower Soup
Cauliflower is having a moment because of its versatility. It's a popular option as an alternative for both meat and gluten-containing products. So if you find yourself buying too much cauliflower, set some aside for this tasty, creamy, low-calorie roasted cauliflower soup. 
You'll need 1 large head of cauliflower cut into florets, onion, garlic, olive oil, chicken broth, bay leaf, thyme, half-and-half or cream, salt, and pepper for this recipe. You will need to roast some of the ingredients before combining them, then blend them and put them over the heat once more. Again, this is a healthy, delicious recipe for all cauliflower fans!
The next time you need an idea for what to cook for dinner on a cold fall or winter night, take a look at these five soup recipes. Chances are that there's at least one you've never tried before, and there's probably one classic on here that you love. Warm up and settle in for the night with a good bowl of soup!