If you've navigated into the deep waters of your Instagram explore page in recent months, there's a good chance you've seen a smoothie bowl on your timeline. There's no question smoothie bowls are the next internet craze, but for good reason. These things are delicious.

Now I know what you're thinking… "Isn't this just a smoothie, but served in a bowl instead of a cup?" Sort of. Smoothie bowls are thicker than smoothies, but the real difference-maker is they're topped with yummy ingredients.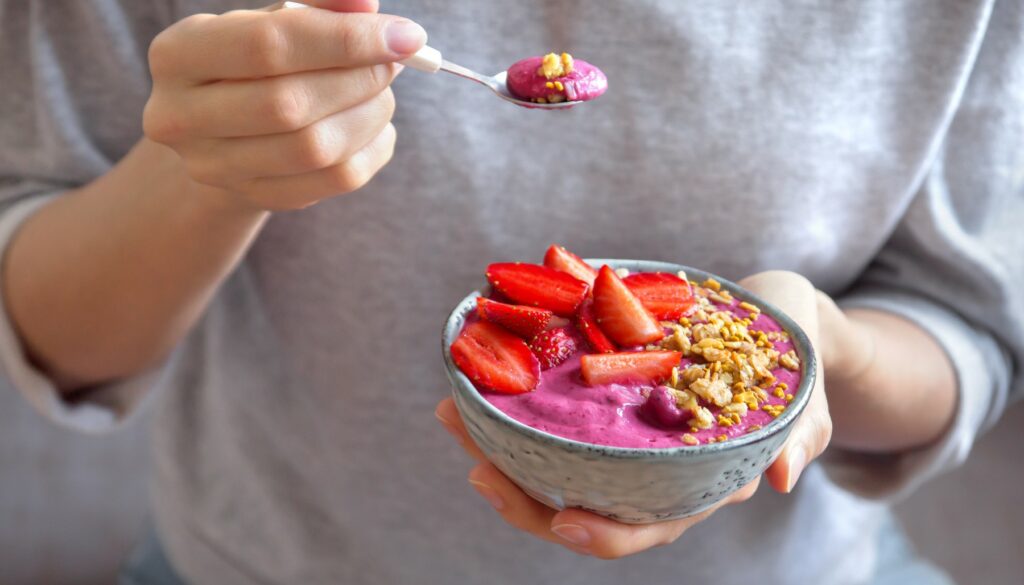 While smoothies are often eaten quickly and on the go, smoothie bowls are meant to be enjoyed. Think of them as a combination of an acai bowl, cereal, and a smoothie.
So, if you're looking to up your breakfast game, here are some simple smoothie bowl recipes to check out. I promise you won't be disappointed!
Related: 4 Healthy Smoothie Recipes You'll Want to Drink Every Day 
Strawberry Banana Smoothie Bowl
All you'll need to make the smoothie is one frozen banana, about a cup of frozen strawberries, and half a cup of almond milk (or any milk of your choosing). Blend all the ingredients together to develop your base. Once the smoothie is done — it should be quite thick, by the way — pour it into a bowl.
Now's the fun part. Here are the ingredients you'll need for your toppings:
½ a banana
Handful of strawberries
Granola
Chia seeds
Cut up the banana and strawberries into slices and place them inside your bowl. Sprinkle a handful of granola in the bowl, as well as your chia seeds. Add any other toppings you may want, such as blueberries, cacao nibs, pumpkin seeds, or even peanut butter. Grab a spoon and enjoy!
Green Smoothie Bowl
If you're looking for a breakfast meal that'll give you a nice serving of vegetables, go with the green smoothie bowl. Add a handful of spinach, half a frozen banana, half a cup of frozen pineapple, half a cup of milk, and a dollop of Greek yogurt (which will make it extra creamy), and blend it all together.

Ingredients for your toppings:
Chia seeds
Half a banana
Sliced almonds
Coconut flakes
Raspberries
Place the toppings in the bowl and enjoy. Always remember, you can put whatever you want on top of your smoothie bowl. In fact, the more toppings the better!
Chocolate Peanut Butter Smoothie Bowl
Who doesn't want to have dessert for breakfast? This chocolate peanut butter smoothie bowl is like a Reese's Peanut Butter Cup, but you're actually allowed to eat it at breakfast!

For the smoothie, add a frozen banana, almond milk, a scoop (or two) of peanut butter, and cacao powder. If you really want to make this taste like dessert, add a dollop of chocolate ice cream or chocolate frozen yogurt. Don't worry, I won't judge you.

Here are the toppings:
Chocolate granola
Sliced bananas
Dark chocolate chips
Chia seeds
A drizzle of peanut butter
Once the smoothie finished, add the above toppings to the bowl and you have yourself a dessert smoothie bowl. Don't feel guilty about eating it in the morning, by the way. You're an adult, you're allowed to do whatever you want.