We all have busy lives, running from one thing to the next with barely a second to sit and relax. But while staying busy can be great, it can also force us into some unhealthy habits. 
Whether it's working a 9 to 5 job, taking care of a family, crossing a thousand things off a to-do list, or a combination of all three, it can be challenging to fit in three well-balanced meals. We end up reaching for what's convenient — the bag of chips, the leftover pizza, the candy sitting in the jar.
I know that the busier I am, the less likely I am to actually cook a nutritious meal, which then leads me down a path of fast food, junk, and diet soda.
Instead of filling up on Halloween candy or running through the McDonald's drive-thru, here are quick, healthy snack ideas that'll taste good and keep you full. What's better than that?!
Avocado Toast With Egg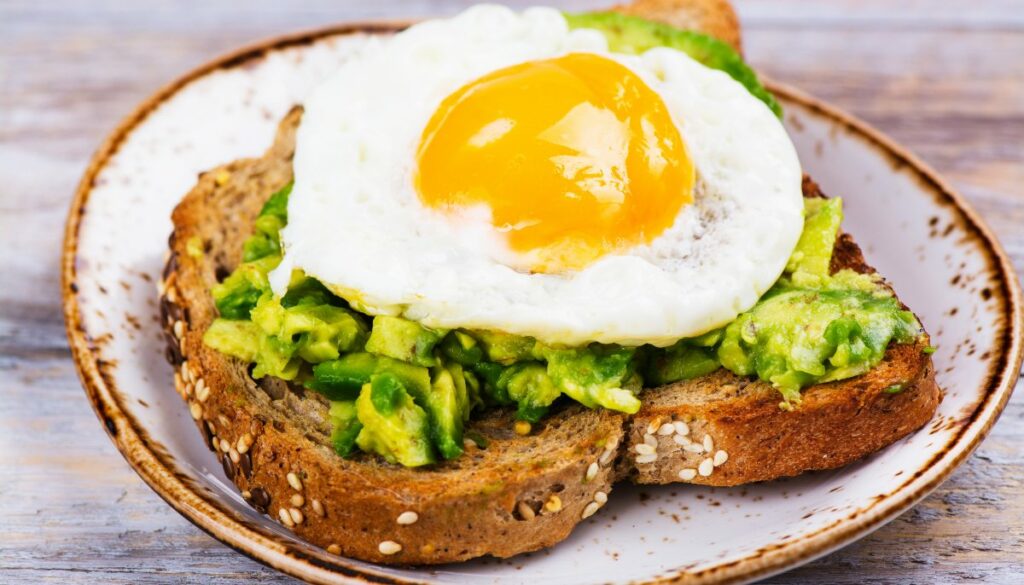 Listen, I know it's basic, but there's a reason why avocado toast is still popular. Not only does it taste good (and it does), but it's one of the easiest things to make. If you're in the mood for something a little savory that's going to fill you up, look no further than avocado toast.
Grab your favorite bread, toast it up, and spread that avocado on top. If you want some extra protein, fry up an egg and throw that on top as well. Finish with a little salt and pepper and bam, you have yourself an A+ snack. Plus, it'll take you about five minutes to make.
Ants on a Log
Who didn't love eating ants on a log in elementary school? I know I did! Take it back to your childhood with this quick and easy snack. Cut up some celery, spread a little peanut butter on each "log," and put a few raisins on top.
If you don't like raisins, put chocolate chips on top instead! This is a great snack to make if you have kids, as you can make a lot very quickly. You can keep the leftovers in the fridge for easy access later in the day. 
Greek Yogurt Parfait
If you're craving something sweet but don't want to inhale 15 fun-sized candy bars (been there, done that), go for a greek yogurt parfait instead. 
Keep your favorite fruit in your fridge ready to go and throw it in a bowl with your greek yogurt. Raspberries, strawberries, blueberries, peaches, pineapples, and cherries are all great options. Drizzle a little bit of honey on top, add some nut butter, granola, and voila, your sweet tooth should be satisfied!
Egg Bites
Do you need more protein in your diet? If the answer is yes, you should make these egg bites in bulk. Take a muffin tin and break one egg into each divider. After adding the egg, put anything else you want in the tin — cheese, turkey, onions, spinach…whatever sounds good.
Essentially, you're making your own mini-omelet. Once you've added what you want, scramble the mix together and put it in the oven at about 350 degrees for roughly 20 minutes. Refrigerate what you're not going to eat right away for later in the week. You can freeze the egg bites if you want them to last even longer!
Mini Charcuterie Board
There are few things more delicious than a charcuterie board, so why not just make your own?! Grab a plate and put anything you can find in your fridge on it — almonds, sandwich meat, cheese, veggies, fruit, crackers, etc.
Make sure that it's a balanced board (aka not just meat and cheese) and that it's a snack-sized portion. You don't need to fill up on your charcuterie board before dinner rolls around!
This is a great snack to have during the workday when you need something quick but aren't sure what you're in the mood for.
Chocolate Peanut Butter Protein Balls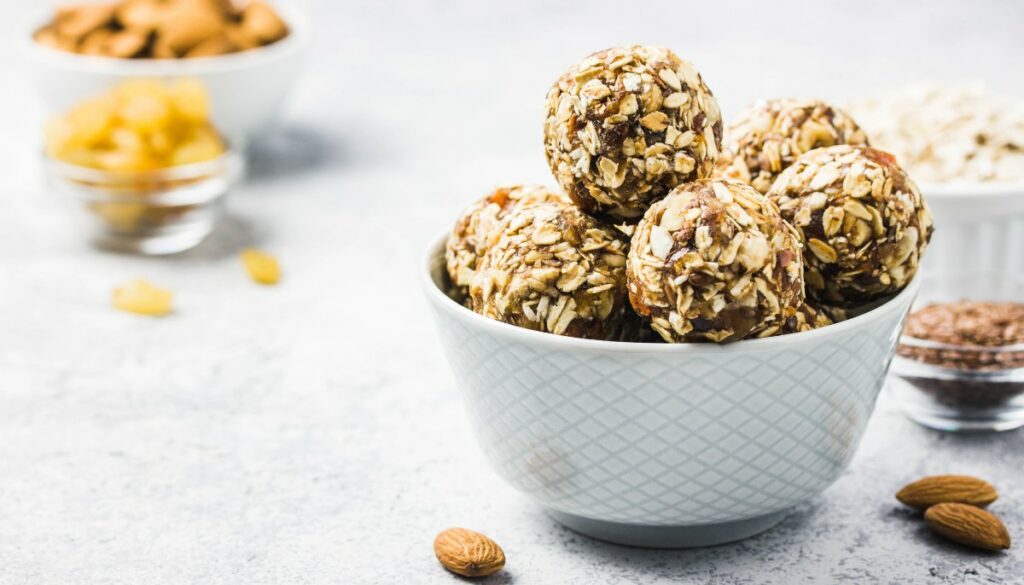 Another great snack to have in your fridge at all times is protein balls. They're easy to make, they require very little prep time, and they taste great, too.
For these chocolate peanut butter protein balls, all you need is about 1 1/2 cups of rolled oats, 1 cup of peanut butter, ¼ cup of honey, about 2 scoops of chocolate protein powder, and chocolate chips.
Mix it all together and then roll the "dough" into little balls. Put them on a baking sheet (if you can fit that inside your fridge) or a serving plate.
Once they're all rolled, put them in the fridge for an hour so they can harden and then enjoy! Eat a handful on the go or pop one in your mouth when you just need a quick bite.