We talked about Gwyneth Paltrow's semi-outrageous Goop gift guide recently (we still love you, Gwyn), but now it's Oprah's time.
We miss the days of Oprah telling her studio audience, "you get a car, and you get a car, EVERYBODY GETS A CAR" during her annual Favorite Things episode, but her Favorite Things gift guide is the next best thing.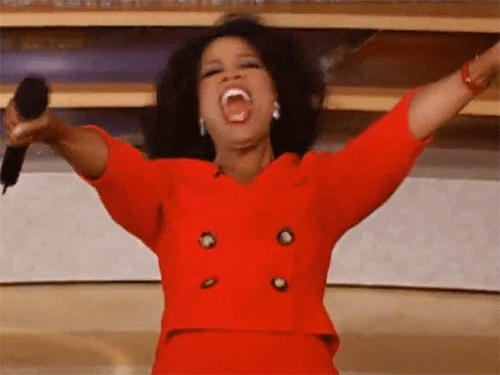 It's safe to say her list is chock full of incredible products, most coming from Black-owned businesses, but we're going to focus on her wellness must-haves.
From the much-talked-about Mirror to plant-based wellness powders, here's everything Oprah recommends.
InBloom Powders: $59
It's hard to get in all the nutrients and vitamins we're supposed to eat every day no matter what, but it's especially difficult during the holidays.
With all the desserts, carbs, and alcohol available, I sometimes forget to eat vegetables all together. According to Oprah, who was introduced to InBloom Powders through Kate Hudson, this stuff will give you your nutrients and help your immune system.
"Each plant-based blend (dissolve a scoop in water or add to a smoothie) is packed with a garden's worth of ingredients and made to help boost everything from your immune system to your brainpower," she said about the product.
Zach & Zoë Sweet Bee Farm, $50
We're all trying to stay safe and healthy this holiday season, so it's important to make sure we're putting necessary nutrients into our bodies. This Zach & Zoë honey is "sustainably farmed, and packed with enough anti-inflammatories, antioxidants, and essential nutrients" which will fight to keep your immunity strong.
Cup of Té Lux Organic Tea Set, $95.99
Instead of constantly turning to the sodas and the cocktails (though you're allowed one every once and a while), try tea instead! Created by former gymnast Taylor Lindsay-Noel, this Cup of Té is a "collection of six ethically sourced teas in a luxurious mix of flavors."
And, not only is it good for you, but a portion of the proceeds go to mental health organizations.
Coco and Seed Hydroponic Mason Jar Garden Set Trios, $49.50
We'd all probably eat more greens if we had them growing right inside our homes, right? Well, with this Coco and Seed Hydroponic Garden Set, you can grow a number of greens in these adorable mason jars.
From microgreens to mint, you'll never have to go to the store for these items ever again!
The Mirror, $1,963.00
Many of us have had to figure out ways to work out at home due to COVID-19, so it's no surprise The Mirror has had a recent bump in popularity.
"We've all had to up our at-home workouts, and this sleek fitness studio, which doubles as a regular full-length mirror, kicks things up a few dozen notches," Oprah says about the product. "Turn on the high-tech gym buddy to access thousands of yoga, boxing, barre, and cardio classes led by pro trainers."
While The Mirror itself is $1,495, it also requires a monthly subscription of $39 a month. However, you can get three months of the subscription for free and free white-glove delivery and installation if you use the code OPRAH at checkout.