I feel like hummus is sometimes a little underrated.
I'm sure you have seen it on a table at a party, surrounded by baby carrots and cherry tomatoes. Maybe you have ordered it with pita bread as an appetizer at a restaurant. But have you really paid attention to just how much of a star this stuff is?
Aside from the fact that it's really tasty, hummus is also really nutritious. And it's incredibly versatile! In fact, you can use it for a lot more than just a dip at your next get-together!
If you can't tell, I'm a big fan of hummus.
So, read on to learn more about hummus. You're about to find out just how easy it is to make from scratch, and a few new ways to eat it.
Let's Talk About Hummus
Hummus is a smooth and creamy Middle Eastern dip and spread. It's made from cooked chickpeas, olive oil, tahini sesame paste, garlic, and lemon juice. All that goodness is pureed together in a food processor or blender to make that velvety and delicious dip. It really is as simple as that!
Obviously, there are plenty of other ingredients that can be included to add extra flavor. I'm a big fan of roasted red pepper, but sun-dried tomato and basil might be a close second. You can amp up the garlic flavor with extra roasted garlic added in, or add some spice with jalapenos or chipotle peppers. Hummus is really versatile, and the ingredients play well with a lot of different flavors. These days, you'll even find "dessert hummus," which includes flavors like chocolate and snickerdoodle.
Some believe that hummus originated in ancient Egypt. That's where we find the earliest recorded mention of the stuff, appearing in cookbooks written in Cairo during the 13th century. It makes sense, because chickpeas were (and still are) abundant in the Middle East. Of course, we don't know for sure, especially because it became a common dish among so many different cultures.
So while no one has ever pinpointed the exact birthplace of hummus, we do know that it's from the Middle East. You will find that every country, region, and neighborhood has its own variation of this ancient food.
Hummus Is Pretty Good for You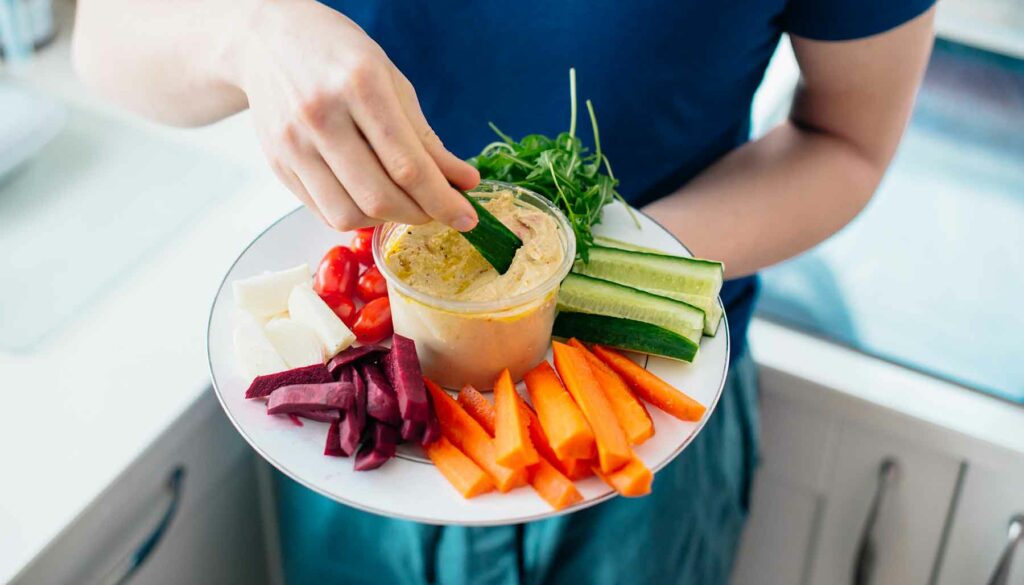 Hummus is more than just delicious. It's actually a pretty healthy food, too. It is higher in fat than some other snacks, but it's primarily healthy fat. Hummus is a good source of heart-healthy unsaturated fats. Most of it comes from the tahini and olive oil.
It is also packed with vitamins and minerals. This super nutritious food is an excellent source of nutrients that our bodies need, including iron, folate, phosphorus, potassium, and B vitamins. You'll also find that hummus provides nearly 8 grams of protein per serving, making it an excellent plant-based protein source.
And if we're being honest, who really only eats a single serving of hummus? It's just too delicious.
Related: Be a Protein Queen: Plant-Based Ingredients You Should Start Buying
Thanks to the olive oil and tahini – which is made from sesame seeds – hummus may also help fight inflammation. Both of these ingredients have powerful antioxidants that boast anti-inflammatory benefits.
But wait, there's more! On top of all that, hummus is also high in fiber, which can improve your digestive health. Just a few ounces of hummus will provide a quarter of your recommended daily fiber intake.
If none of that is enough for you, hummus is fine for those with certain common food allergies and intolerances. While varieties with added ingredients might differ, good ol' original hummus is naturally gluten free, nut free, and dairy free.
It's important to note that while all hummus has vitamins, fiber, and protein, some of those store-bought varieties might not be as healthy. I'm looking at you, dessert hummus! The idea of chocolate hummus is that it is healthier than, say, buttercream frosting. And while that is true, it isn't as healthy as regular hummus. Varieties of dessert hummus products still feature added sugar. It is a dessert item, after all.
Making Your Own Basic Hummus
If you have only ever had store-bought hummus, you owe it to yourself to make it from scratch at least once. Nothing compares to freshly made hummus!
Luckily, whipping up hummus is extremely easy. It only requires a handful of ingredients that are easy to acquire. Plus, the entire process only involves putting stuff into a food processor, and will take you less than ten minutes.
Related: Small Kitchen Appliances That Are a Must — Plus 4 That Aren't
Don't believe me? Check out this basic recipe for hummus:
How to Make Classic Hummus
Ingredients
2 15-ounce cans of chickpeas, drained with liquid reserved
¼ cup of freshly squeezed lemon juice (1 lemon should do the trick)
¼ cup of tahini
2 cloves of garlic, smashed and peel removed
¼ cup of light olive oil
1 teaspoon of salt
Smoked paprika for garnish, optional
Sesame seeds for garnish, optional
Extra virgin olive oil for drizzling on top, optional
Instructions:
Combine the chickpeas, lemon juice, tahini, garlic, and salt in a food processor until smooth, about 1 minute.
With the motor running, slowly stream in the oil. Continue to process the mixture until it is very light and creamy, probably about another 1 minute. If the mixture seems too thick, add reserved chickpea liquid 1 tablespoon at a time until you get the desired consistency.
To serve, transfer the hummus to a shallow bowl. Drizzle some extra virgin olive oil on top. Garnish with a sprinkling of smoked paprika and/or sesame seeds. Serve with vegetables, pita chips, or anything else you like.
If you have any leftover hummus, store it in an airtight container in the refrigerator. It should last for up to 5 days.
See what I mean? Creating your own fresh hummus takes practically no time at all. Once you have made it once, you may never go back to store-bought tubs ever again.
Tips for Making The Best Hummus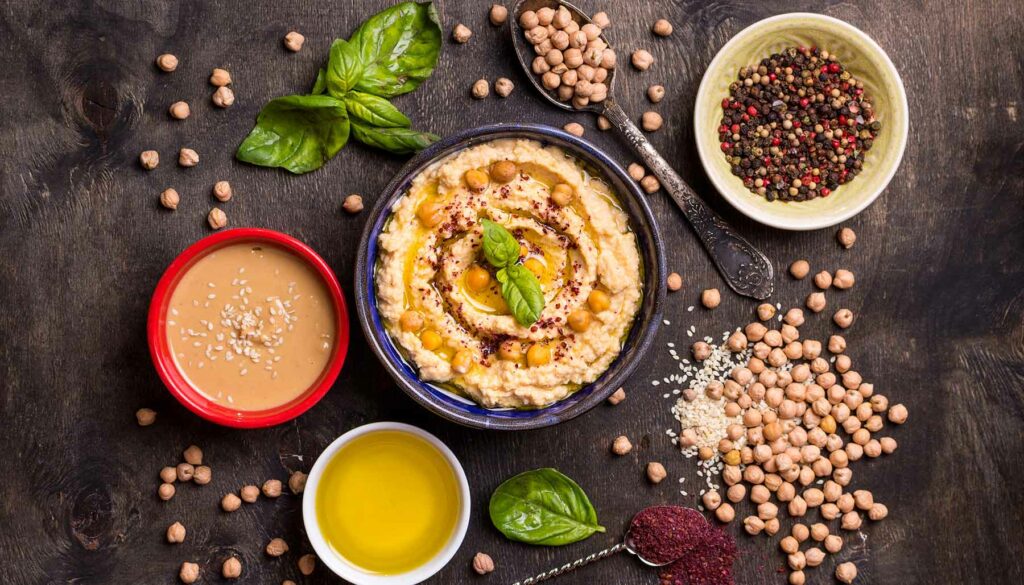 If you want your hummus extra smooth, try creating it with a high-powered blender instead of a food processor.
To avoid a grainy texture, peel the skins from the chickpeas before using them. You can also cook your chickpeas in water with ½ teaspoon of baking soda for about 20 minutes, which will leave them much softer.
You don't need to use extra virgin olive oil in the recipe. Use a lighter olive oil for blending into the hummus, and save the more expensive EVOO for the drizzle on top.
Remove tahini from the fridge and let it sit for a bit before using it. This way you can stir it well to mix in the oil.
Use high quality ingredients. Because hummus only calls for a handful of them, you want all of them to boast the best flavor you can get.
Now for the Fun Part: Eating Hummus!
Now that you have whipped up the perfect batch of homemade hummus, let's talk about what to do with it! The obvious solution is to just eat it. Just simply dipping pita and veggies in hummus is quick, easy, and delicious. But hummus can be used in so many different ways, and since you just figured out how easy it is to make, you're going to want more ways to eat it!
Simple Hummus Toast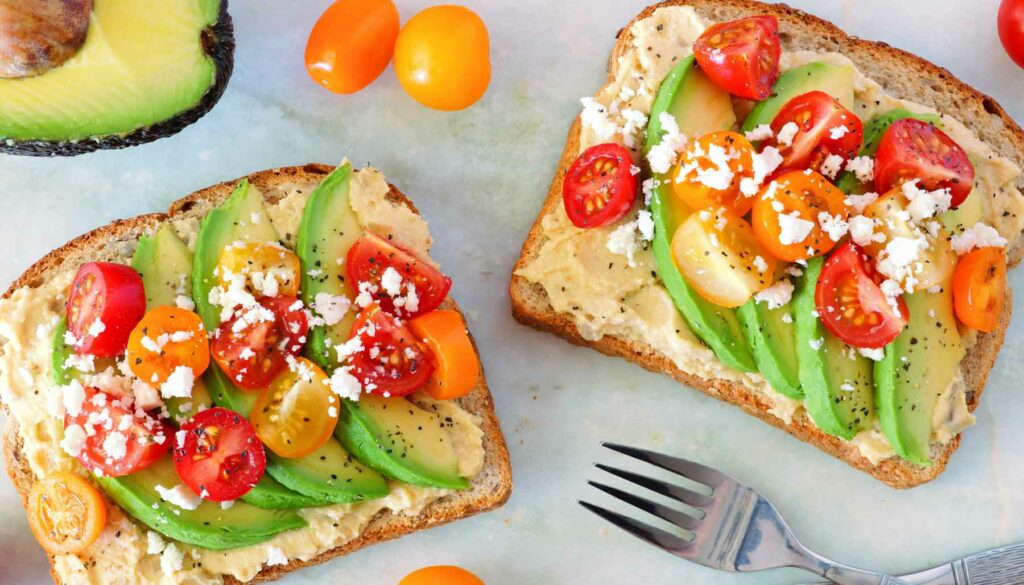 Americans don't usually eat hummus at the breakfast table, but it is commonly eaten for breakfast in the Middle East. So go ahead and start your day with hummus! All you have to do is smear a heap of hummus on some toast, and then you can get creative with toppings. It's kind of like avocado toast, but with way more flavor. The recipe includes eight different variations for you to try, plus you can branch out and try any toppings you like.
Check out the recipe here: Hummus Toast With Eight Variations
Hummus Pasta With Sun Dried Tomatoes and Fresh Basil
Pasta dishes probably aren't the first thing you think of when trying to use up all that hummus, but this recipe will definitely change your mind. Hummus plays so well with sun dried tomatoes and fresh basil, so why not smother pasta in it? Besides, it comes together so quickly, making it the perfect dish for busy weeknights. Considering it takes 10 minutes or less to whip up some fresh hummus, this dish will be done by the time the pasta is cooked.
Check out the recipe here: Hummus Pasta
Falafel and Hummus Wraps
In the Middle East, vendors often serve falafel plates, which include falafel with hummus and tahini sauce. We're going to take that classic pairing and make it a little more handheld with some falafel and hummus wraps. It's a great option for anyone who likes to meal-prep lunches for the week. Plus, it's packed full of veggies and plant-based protein, so you know it'll be a really healthy option that keeps you feeling full.
Check out the recipe here: Crispy Falafel Hummus Wrap