Let's face it, making dinner every night is not all it's cracked up to be. I often watch Chrissy Teigen's cooking Instagram Stories and get inspired to make some elaborate meal… that is, until 6 p.m. rolls around and all I want to do is lay on my couch and order takeout.

Cooking takes energy, the energy I don't often have after a long day of work. But, while ordering takeout is quick and requires me to do as little work as possible, I know it's not the best option for my health or my wallet.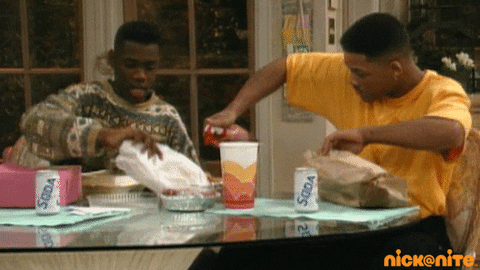 And, while it may seem like ordering Chinese food is the easiest option, there are plenty of meals you can make at home that'll take less time than it takes for your takeout order to arrive.

From a vegetarian option to a one-pan dish, here are a few healthy weeknight meals that'll not only taste delicious but also save you a chunk of change. Happy cooking!
Vegetarian Taco Bowls
Sometimes there's nothing better than throwing a bunch of yummy foods into a bowl and calling it quits. For an easy vegetarian taco bowl, here are the ingredients you'll need:
Extra-firm tofu
¼ cup extra-virgin olive oil
Kosher Salt
2 garlic cloves, smashed
Cooked white rice
Sliced avocado
Shredded cabbage
Lime wedges
Preferred spices (paprika, cumin, etc.)
Hot sauce optional
Tear the tofu apart into one or two-inch pieces and place them in a skillet with olive oil. Add the salt and let the tofu cook until it is brown and crispy. After it has cooked for roughly five minutes, break the tofu into even smaller pieces and also add in the garlic.
Once the tofu has all but cooked, add in your preferred spices and hot sauce. Bring the heat to a simmer and let the tofu sit until everything is mixed together. Place the white rice into a bowl along with the cabbage and avocado, and put the tofu on top. Finish the dish off with a couple of lime wedges and there you have it, delicious vegetarian taco bowls!
Chicken Lettuce Wraps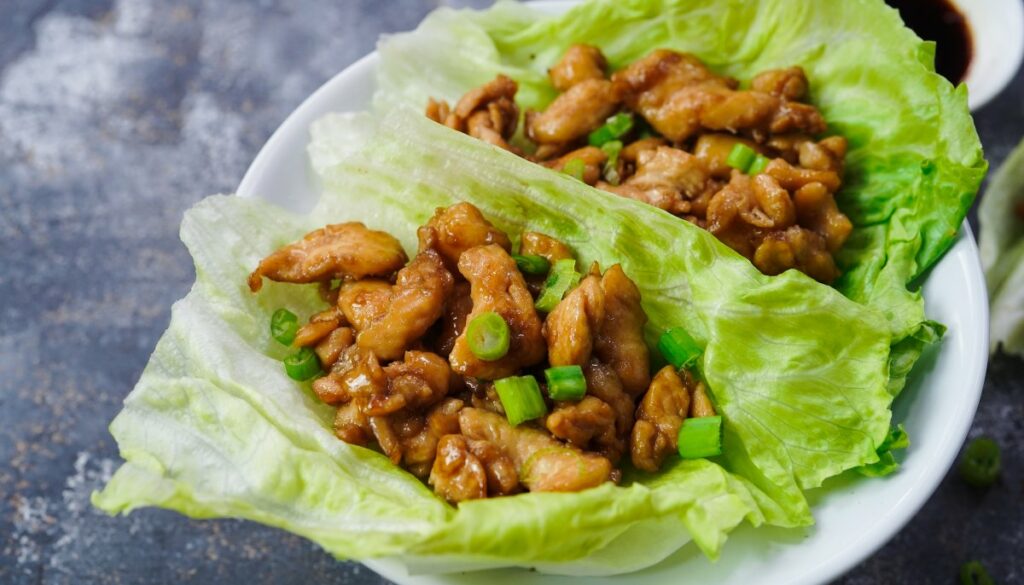 If you're in a time crunch, these chicken lettuce wraps are the way to go. They'll only take you 10 minutes to make!

Here are the ingredients you'll need:
2 tbsp. Soy sauce
1 tbsp. Dark brown sugar
1 tbsp. Sriracha (optional)
Vegetable oil
Scallions
Finely chopping garlic
1 lb. of chicken
Salt
Lettuce leaves
Mix your soy sauce, brown sugar, and sriracha into a bowl. Heat the vegetable oil in a skillet and add your scallions and garlic. Add the chicken and break it up with a wooden spoon or spatula as it's cooking.
Toss in the salt and let the chicken cook for about five to seven minutes. Once the chicken is cooked, add the soy sauce mixture into the pan and stir. Place the chicken into the lettuce leaves and enjoy!
Sheet-Pan Salmon
Sheet-pan dinners are quick, easy, and delicious. For a yummy salmon dinner that only takes 15 minutes to make, here are the ingredients you'll need:
Salmon fillets (as many as you need)
Asparagus with the ends trimmed
2 pounds of red potatoes (but any potatoes will work)
Olive oil
Salt and pepper
Garlic powder
2 tbsp melted butter
2 tbsp honey
1 tsp mustard
Preheat the oven to 400 degrees. While that's heating up, toss your potatoes in a bowl with a dash of olive oil, salt, pepper, and garlic powder. Take out a large sheet pan, place parchment paper on top, and lay your potatoes on the pan.
Place the salmon and the asparagus on the pan and mix together the butter, honey, and mustard. Spread this sauce on top of the salmon and drizzle a bit of olive oil onto the asparagus.
Throw a dash of salt onto the salmon and the asparagus, as well as a bit of pepper. Let the pan cook for about 15 minutes (check on it halfway through) and there you have it, a simple and quick dinner.
Crispy Chicken Sandwich
Health and nutrition expert Joy Bauer shared this crispy chicken sandwich recipe on Today, and not only does it look delicious but it's healthy too!
Here's what you need to make these easy sandwiches:
2 skinless chicken breasts
1 cup pickle juice
1 egg
2 tbsp light mayonnaise
1 cup breadcrumbs
1 tsp onion powder
1 tsp garlic powder
1 tsp paprika
Kosher salt
½ tsp black pepper
4 whole-grain buns
Lettuce, sliced tomatoes, and pickles
For the sauce:
¼ cup light mayo
2 tbsp barbecue sauce
1 tbsp mustard
1 tsp lemon juice
1 tsp honey
Put the chicken breasts on a cutting board between sheets of parchment paper and use a meat tenderizer to pound each piece until it's no more than ½ inch thick. Cut each piece into two, so you have a total of four pieces, and place them in a bowl with pickle juice for at least 30 minutes, though overnight is preferred.
Preheat the oven to 450 degrees and set up your food assembly line. In one bowl, add your egg and mayo and in another, add the breadcrumbs and seasonings.
Then, take your piece of chicken and coat it in the egg mixture. Once it's completely covered, place it in the breadcrumbs bowl and lay it on a baking sheet. Do this for all four pieces of chicken. Bake them in the oven for about 20 minutes.
While the chicken is cooking, make your sauce by simply mixing all the ingredients together. Once the chicken is finished you can build your sandwich to your liking. You could even add a little bacon if you're feeling fancy!
Simple Ceasar Salad
I know what you're thinking… "a salad? For dinner?" The truth is, salads get a bad wrap and they don't deserve it. There are plenty of ways to make salads not just a nutritious option, but a delicious option too. Here is a simple caesar salad recipe that'll make you come back for seconds, I promise.

Here are the ingredients you'll need:
Bag of romaine lettuce
Bag of greens of your choosing (spinach, kale, arugula, etc.)
Brussel sprouts
Olive oil
Parmesan cheese
Salt and pepper
Cherry tomatoes
Bag of frozen chicken tenders
Caesar dressing
Before you make your salad, cut up your Brussel sprouts into relatively small pieces and sautee them in a pan with vegetable oil until they get nice and crispy. While they're cooking, pour your bag of romaine lettuce into a bowl, along with a handful or two of your other greens of choice.
Sprinkle in your parmesan cheese and salt and pepper, and feel free to add in your cherry tomatoes too. Once the Brussel sprouts are done, throw those into the salad as well. Top it off with diced chicken tenders (or another protein of your choice) and a little caesar dressing.
Pesto Pasta
Pasta has to be one of the easiest things to cook for dinner, but it's not always the healthiest option. Well, that's all about to change thanks to this pesto pasta recipe.

Here's what you need:
2 cups of any pasta
Minced garlic cloves
Olive oil
¼ cup pesto
Grape tomatoes and sun-dried tomatoes
4 cups of chopped broccoli
½ cup Parmesan cheese
Salt, pepper, and red pepper flakes
Cook your pasta following the instructions on the box, but make sure to save about one cup of the pasta water. While the pasta is cooking, saute your garlic in olive oil before adding about a tablespoon of pesto and the cherry tomatoes.
Add as many tomatoes as you want, but just make sure to mix the sauce continuously. Once the tomatoes have cooked for about two minutes, add in another tablespoon of pesto and your broccoli.
Stir for another four minutes or so, remove your pan from the heat, and then add the rest of the pesto, the sun-dried tomatoes, salt, pepper, red pepper flakes, pasta, and the pasta water. Let the pasta marinate for a few minutes before adding the parmesan cheese and it's ready to serve.