Updated on August 2, 2021
I never seem to make healthy decisions when lunchtime rolls around. Unless I have leftovers from the night before ready to be heated up, I usually pick something up from a nearby restaurant. 
While this certainly saves me time, eating takeout every day is not a particularly healthy habit. Not to mention, I end up spending hundreds — yes, hundreds — of dollars a month on takeout food when I really should be saving for more important things (you know, like bills).

In an effort to be more money conscious and to be healthier, I've started making lunches at home. Though it's required me to plan ahead and go to the grocery store routinely, it has saved me a lot of money. Oh, and who knew cooking your own food could actually taste good?
Whether you're looking for something to cook up while you work from home or you need an easy recipe that'll satisfy everyone in your family, here are a few easy lunch ideas that'll take no time at all.
Chicken Salad Sandwich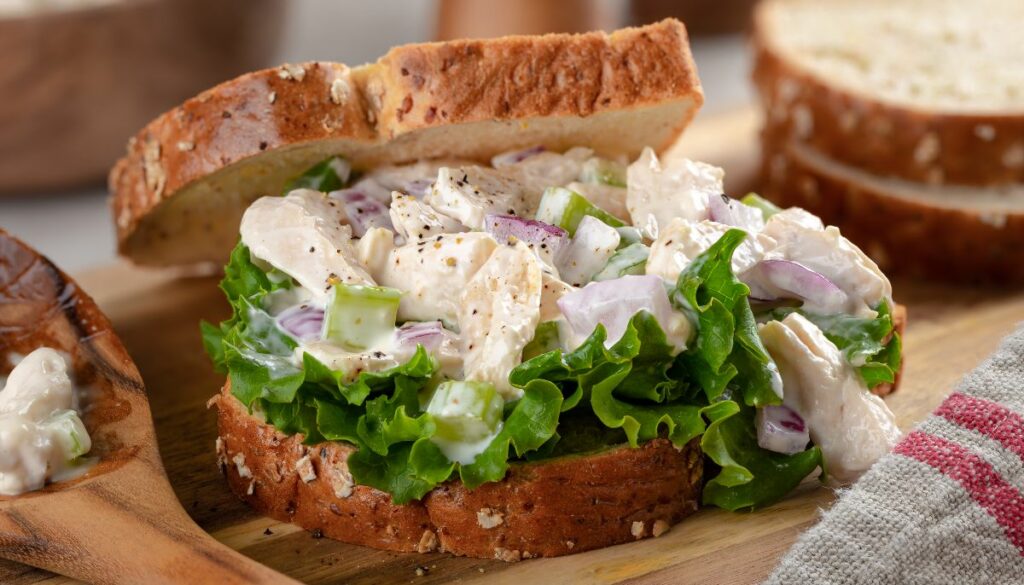 There's really nothing better than a chicken salad sandwich, let me tell ya. When you don't have very much time or are feeling a little lazy, this is the perfect lunch option.

Here are the ingredients you'll need:
Shredded chicken — you can either grab a rotisserie chicken and shred it up yourself or you can buy canned chicken.
Diced celery
Diced onion
Grapes or cranberries (optional)
Mayonnaise
Keep your chicken in the fridge overnight so it's cooled and put it in a bowl along with your celery, onions, and other mix-ins. There's no specific ratio you need to follow, just eyeball it and add more if you want to.
Add in your mayo, mix it all together, and voila, you've got yourself a chicken salad! You can either eat it as a sandwich with chips or veggies on the side or you can put them on lettuce boats and go carb-free. Or just eat it with a fork, I won't judge. The options are endless!
See how easy this one is to make!
Vegetarian Chili
Regardless of if the weather is hot or cold, sometimes chili is the way to go. Prepare this easy Delish recipe on a Sunday afternoon and you'll have enough chili to get you through the week!

Here are the ingredients:
1 tbsp. extra-virgin olive oil
1 onion, chopped
1 red bell pepper, chopped
2 carrots, peeled and finely chopped
3 cloves garlic, minced
1 jalapeño, finely chopped
1 tbsp. tomato paste
1 (15.5-oz.) can pinto beans
1 (15.5-oz.) can black beans
1 (15.5-oz.) can kidney beans
1 (28-oz.) can fire-roasted tomatoes
3 c. vegetable broth
2 tbsp. chili powder
1 tbsp. Cumin
2 tsp. Oregano
kosher salt
freshly ground black pepper
Heat up your olive oil in a large pot and then add the onion, bell pepper, and carrots. Sauté the veggies for about five minutes and then throw in your garlic, jalapeno.
Once all the vegetables are soft, add in the tomato paste, tomatoes, beans, broth, and all the seasonings. Bring the chili to a boil and then reduce the heat to low. Let it simmer for about 30 minutes and it'll be ready to serve!
Cobb Salad
Salads get a bad rap, but let me tell you, they can be delicious. If done the right way with the right ingredients, I promise you'll be looking forward to your salad when lunchtime rolls around.

Here are the ingredients for a cobb salad:
Romaine lettuce
Sliced bacon
Hard boil eggs
Avocado
Diced Chicken and/or turkey
Cherry tomatoes
Cheese of your choice (blue cheese or goat cheese works best)
Salt and pepper
For the dressing:
The beautiful thing about a cobb salad is there is no right way to make it. Simply chop up the lettuce, place it in a bowl, and throw in your ingredients.
Do you want a lot of bacon but only one hard boil egg? Go for it! You'd rather have cheddar cheese than blue cheese? That works too! Mix up the balsamic and mustard (add as much or as little of each as you like) and add that on top of the ingredients.
The "Throw Everything in Your Fridge" Bowl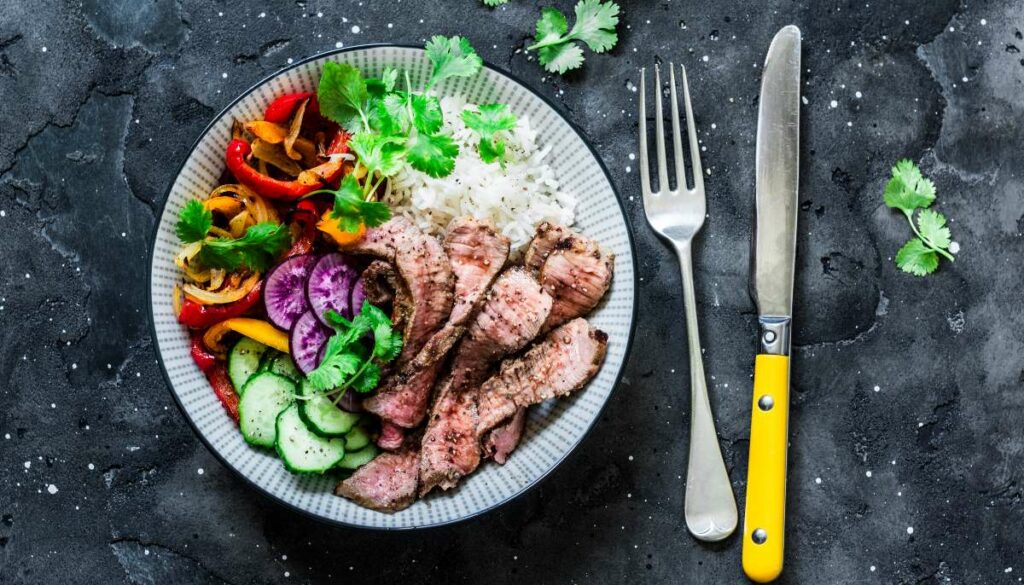 This is my favorite lunch because it is so dang easy. Here's what you need to do — go into your fridge and take out any vegetable, cheese, meat, etc. that is near its expiration date. Maybe you have an onion that only has one day left, chicken that needs to be eaten, or one slice of cheese remaining in its container.
Depending on what you have available (and what sounds good), create a simple base of either rice or greens in a bowl. Usually, if the only things I have available are veggies and meat, I'll do a rice bowl. But, if I feel I don't have very many vegetables, I'll do a base of greens instead.
Once you have your base, throw all your ingredients into a bowl. Add salt, pepper, olive oil, balsamic vinegar, hot sauce… anything you feel will make it taste better. Not only will you be surprised at how great this meal is, but it'll help prevent you from having to throw away expired food!
Do this about once a week or so (right before you go grocery shopping) and see what you can come up with. Who knows, you may create your next favorite meal!