Are you getting enough broccoli in your diet?
I'm sure if everyone knows that broccoli is good for us. It is likely one of the first vegetables that comes to mind when thinking about healthy eating.
It's no coincidence. Broccoli is one of the most nutritious vegetables that you can put on your plate. If there was a nutrient-dense superstar award, broccoli would get it.
Look, I know that lots of people aren't exactly broccoli's biggest fans. Perhaps it's because you've never had anything except ill-prepared, mushy, unseasoned broccoli. But it's time to give broccoli the spotlight it deserves!
Read More: How to Cook Veggies That You'll Actually Eat
First, we are going to look at exactly why broccoli is a nutrient-dense superstar. And then, we are going to look at tasty ways to eat more of it.
Broccoli's Bounty of Nutrients
Let's look at the nutrient content in one cup of raw broccoli:
Calories: 30
Protein: 2.6 grams
Carbohydrates: 6 grams
Fiber: 2.4 grams
Vitamin A: 11% DV
Vitamin C: 135% DV
Vitamin K: 116% DV
Vitamin B9: 14% DV
Iron: 4% DV
Calcium: 4% DV
Magnesium: 5% DV
Potassium: 8% DV
Phosphorus: 6% DV
Selenium: 3% DV
Manganese: 10% DV
Zinc: 5% DV
That's a whole lot of goodness in one little veggie!
Broccoli actually boasts more protein than most other vegetables. And as you can see, it's an excellent source for many other important nutrients that we need, too. A lot of other vegetables are getting tons of praise as superfoods, but broccoli is sometimes overlooked as a star superfood!
Let's take a closer look at all of the health benefits that this nutrient-dense food brings to the table.
Broccoli Boosts Heart Health
Heart disease is a leading cause of death for both men and women in the United States, so this is an important one. Foods high in fiber are associated with a reduced risk of heart disease, and broccoli is packed with the stuff. Just one cup of raw broccoli can contain as much as 10% of your recommended daily intake.
Broccoli's heart benefits don't stop there. This veggie also has antioxidants that are linked to heart health. They can reduce the fatty deposits that become plaque and block arteries over time.
Broccoli Can Boost Your Mood, Too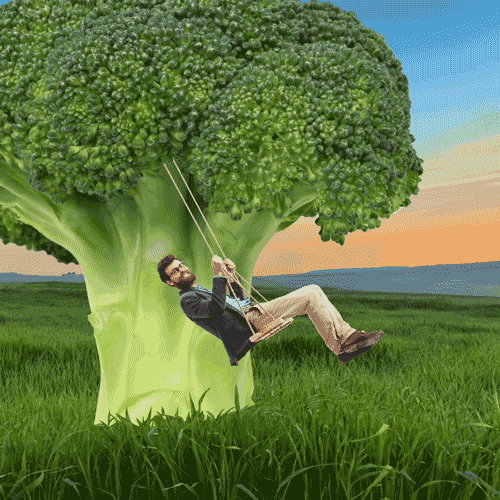 I love broccoli, so eating it always boosts my mood!
…Okay, so broccoli can actually boost your mood, whether you love it or not. Certain foods can trigger your brain to release hormones to influence your mood, and broccoli is no different. Broccoli is a member of the cruciferous family, alongside cauliflower, kale, bok choy, cabbage, Brussels sprouts, and collards. These cruciferous veggies contain high amounts of chromium, which increases your levels of mood-boosters like serotonin, norepinephrine, and melatonin.
Broccoli Can Support a Healthy Immune System
While broccoli certainly won't cure the common cold, it can help boost your immune system's defenses, thanks to vitamin C. We normally associate vitamin C with oranges, but broccoli is packed full of it. In fact, one cup of broccoli contains anywhere from 75 to 90% of your required daily intake.
On top of that, broccoli's antioxidants may play a role in the immune system, too. Antioxidants found in broccoli help repair damaged cells so that they can better resist illness.
Broccoli Supports Healthy Digestion
Broccoli is high in fiber and antioxidants, which helps support healthy digestion and bowel regularity. Just one cup of raw broccoli has 2 to 3 grams of fiber! Studies show that eating fiber- and antioxidant-rich foods can maintain healthy gut function and may reduce inflammation in the colon.
Broccoli Can Help Keep Bones Strong
Did you know that this green veggie can help your bones, too? Among all those nutrients found in broccoli, there are some that are essential for bone strength and preventing bone density loss. We're talking about vitamin K, potassium, magnesium, phosphorus, calcium, vitamin A, and more.

Broccoli Fights Inflammation
Anti-inflammatory compounds in broccoli can help reduce inflammation in your body's tissues. This can help reduce the risk of certain chronic diseases and can also help manage existing inflammatory conditions.
Broccoli May Help Prevent Cancer
Some studies point to the possibility of cruciferous vegetables preventing certain cancers. Again, broccoli is a member of the cruciferous family, alongside cauliflower, kale, cabbage, Brussels sprouts, and collards. Cruciferous veggies contain various compounds that may neutralize carcinogens and reduce cell damage caused by certain types of cancer.
Convinced to Eat Your Broccoli Yet?
See, I told you that broccoli is a superfood – perhaps the most overlooked superfood! I know it isn't as trendy as avocado, and it certainly isn't as fancy as acai. But clearly, broccoli is a heavy hitter – and an inexpensive, easily accessible one, too.
Broccoli can do wonders for your health, so it's time to make sure you're getting enough of it in your diet. Incorporating this cruciferous veggie into a balanced diet will help you achieve your own personal health goals a little easier.
Let's take a look at some tasty ways to eat more broccoli!
Basic Roasted Broccoli
Oven roasting broccoli is so easy. You can eat these just as they are, or add them to other dishes. When you roast them in the oven, they get nice and tender on the inside, with delicious golden, crispy edges. It seems simple (and it is!), but it is so tasty. You can always customize this basic recipe to suit your taste, too. Sprinkle a little parmesan cheese on top, add some garlic, or even kick it up a notch with red pepper flakes.
Check out the recipe here: Roasted Broccoli
Broccoli and Cheese Soup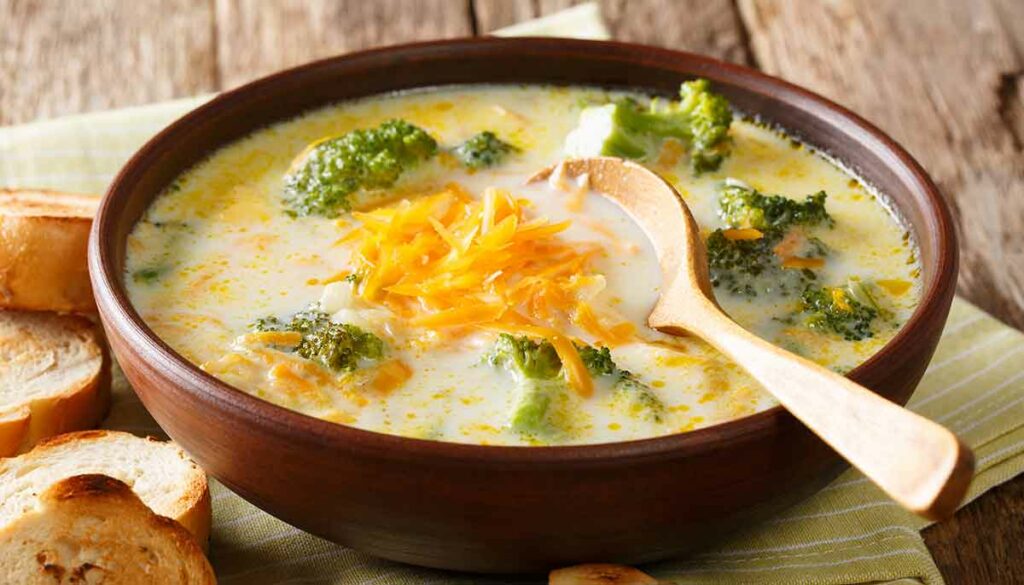 This soup is a classic. Find me someone who doesn't like broccoli and cheese soup! It is warm, comforting, and delicious. You can serve it in a bread bowl à la Panera Bread or just drop it into a regular bowl and chow down. This recipe calls for you to grate your own cheese and don't skip this step. The pre-shredded cheese just doesn't melt the same and won't incorporate into the soup properly.
Check out the recipe here: The Best Broccoli Cheese Soup
Broccoli and Shrimp Fettuccini Alfredo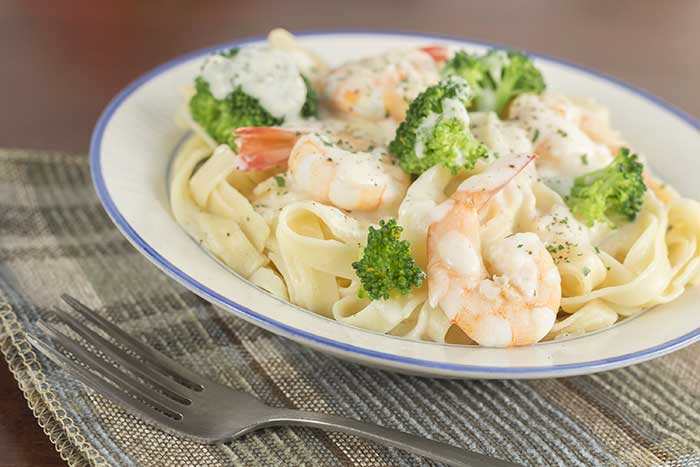 For a seafood twist on alfredo that brings broccoli to the party, try out this broccoli shrimp alfredo recipe. It is creamy and dreamy. Not only that, but this recipe comes together quickly, saving you plenty of time in the kitchen. The recipe has you make your own fresh alfredo sauce, but don't let that fool you into thinking it takes longer than it does! And once you've tasted fresh, homemade alfredo sauce, you'll never buy the jarred stuff ever again! The homemade alfredo sauce and succulent shrimp are perfect complements to the hearty broccoli.
Check out the recipe here: Broccoli Shrimp Alfredo
Broccoli Slaw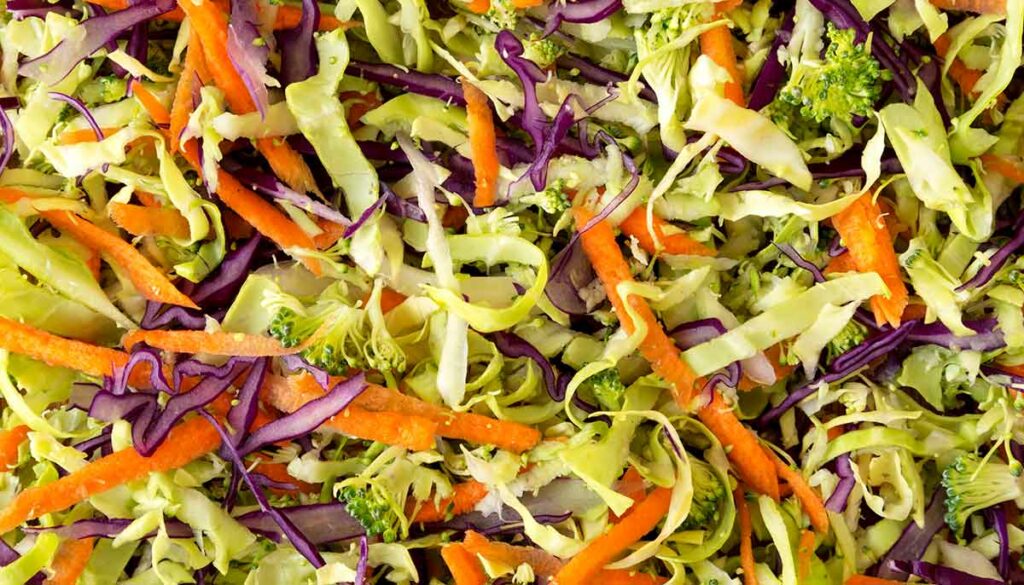 For a light, refreshing side that pairs well with a variety of dishes, check out this broccoli slaw. It's kind of like coleslaw, but with our favorite superstar added to the mix. It's so good that I will even eat a bowl of it on its own! The dressing hits all the right notes: it is creamy, savory, tangy, and sweet. Customize it any way you like. I like to add sunflower seeds, but sliced almonds add a nice crunch, as well.
Check out the recipe here: Broccoli Slaw
Chicken and Broccoli Stir-Fry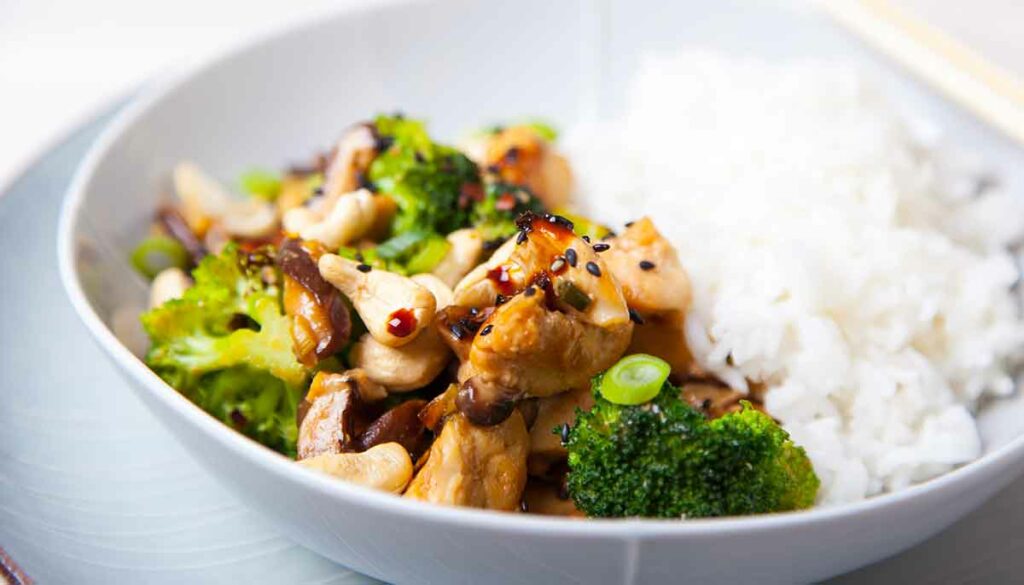 I love a good stir-fry, and the best ones always incorporate broccoli. The florets have a way of soaking up so much of the wonderful sauce. Every time I bite into one, it is like an explosion of flavor! This recipe features a sauce loaded with Asian flavors, such as sesame oil, garlic, and teriyaki. Aside from all the healthy broccoli, you'll also find chicken, mushrooms, carrots, green beans, and bok choy. Serve it with a side of rice, or just eat it by itself!
Check out the recipe here: Tyler Florence's Chicken Stir-Fry
Broccoli, Cheddar, and Spinach Frittata
This nutritious and delicious veggie isn't just limited to dinner. Broccoli makes a great addition to breakfast dishes, too. Case in point: this tasty and hearty frittata filled with broccoli, cheddar, and spinach. You can even whip this one up as a breakfast-for-dinner option (because who doesn't love breakfast for dinner?) or a delightful brunch dish. The broccoli is a nutrition star here, but so is spinach, and the eggs bring plenty of protein.
Check out the recipe here: Broccoli, Cheddar, and Spinach Frittata
Raw Broccoli Florets
Of course, you don't even need to cook broccoli to enjoy it. I am a big fan of simple raw broccoli florets! Drop a few on top of your salads or perhaps on top of a loaded baked potato.
Broccoli is also prime for dipping. All those fluffy florets really hold on to a lot of sauce in there. Try dipping broccoli in creamy hummus, seasoned tahini, or even fresh guacamole. And have you ever tried dipping broccoli florets in queso? It's a match made in heaven. There is always the old standby, too: a big bowl of ranch to dip the florets in. You can't really go wrong, here.