As soon as summer hits, I'm looking for any way to make dinner without turning on the oven.
Look, it's really hot outside. And even though my air conditioning works just fine, I'd like to avoid a sweltering hot kitchen in the middle of a heatwave, thanks.
If you also dread the thought of turning on the oven to get dinner on the table, I've got just the list for you. I've compiled 10 easy-peasy no-sweat recipes that don't require an oven at all. Most of them are ready to hit the table in record time, too.
So, what's for dinner tonight?
Microwave Loaded Baked Potato
I love baked potatoes, but we used to eat considerably fewer of them in the summer — because of how hot the kitchen gets when I bake them in the oven for what seems like an eternity. I say "used to" because I discovered I can still have baked potatoes without turning on the oven!
I know that baked potatoes are often considered a side, but a loaded baked potato becomes an entire meal. This recipe includes bacon, sour cream, and shredded cheese to make this entirely satisfying on its own. I also like to add a few jalapeno slices for an extra kick.
If you're having a craving for a baked potato, you'll be happy to learn you don't need to turn on the oven for it. Instead, use a microwave to "bake" the potato. Not only does it mean no heat from the oven, but these cook in far less time, too. It will be done in 10 minutes or less.
Get the recipe here: Microwave 10-Minute Loaded Potato
Beef and Vegetable Stir Fry With Udon Noodles
This recipe pulls double duty. Not only does it give you a tasty no-oven dinner option, but it also helps you clean out all those leftover veggies hanging around from prepping other dishes. It comes together super quick, and is definitely a crowd-pleaser. Customize it however you like by swapping out veggies, or even the beef itself.
Sometimes our favorite takeout dishes can seem intimidating, but definitely give this one a try. This beef noodle stir fry uses readily available ingredients that you can find at any grocer. Even the udon noodles can be found in the refrigerated section of your grocery store — but in the off chance they don't have them, you can get by swapping them for spaghetti, fettuccine, or linguine noodles.
Get the recipe here: Beef Noodle Stir Fry
Easy Chicken Banh Mi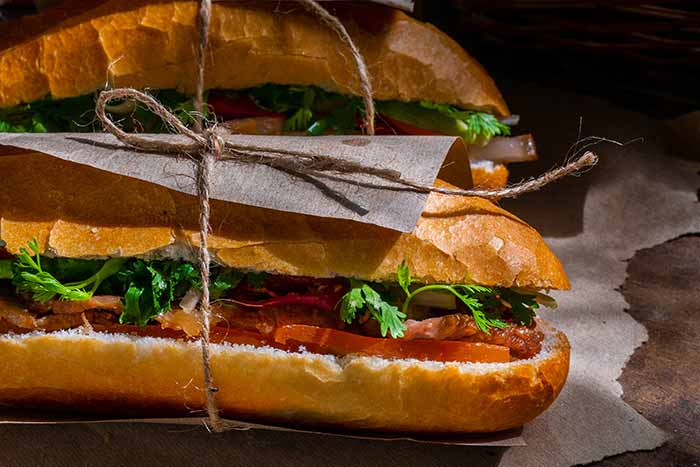 Banh mi sandwiches are having a moment right now, but they are so delicious that it's easy to see why! These split baguettes are filled with meat and pickled vegetables, and then topped with cilantro and fresh cucumbers.
This homemade chicken banh mi will satisfy those cravings without a trip to your local Vietnamese restaurant. Utilizing prepared kimchi will bring pickled flavor without actually having to pickle them yourself, and the pre-cooked rotisserie chicken means no turning on the oven. It's a win-win in record time!
Get the recipe here: Rotisserie Chicken Banh Mi
If you prefer a more traditional banh mi, pickled daikon and carrots and all, here is another easy recipe for the sandwich. This particular recipe calls for cooking the chicken in a skillet instead of relying on rotisserie chicken. But hey, I won't tell anyone if you opt for the pre-cooked chicken here, too.
Get the recipe here: Vietnamese Chicken Sandwich (Banh Mi)
Chopped Greek Chicken Salad With Pita Croutons and Tzatziki Dressing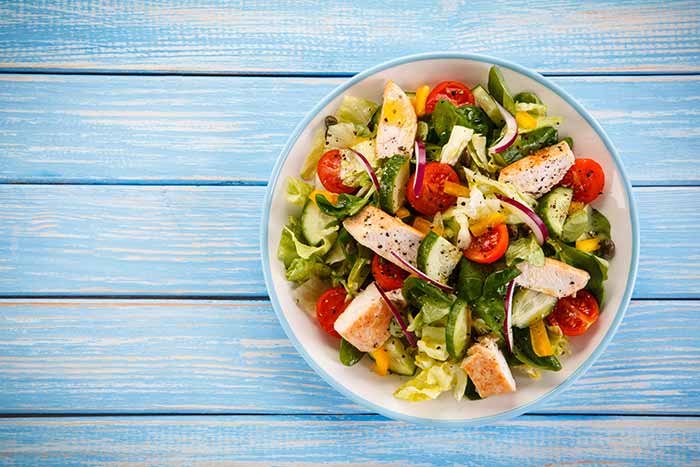 I don't know if I'm in the minority here or not, but I really enjoy a good salad. Especially during hot summer months, nothing beats a cool, crisp salad. And if you pack it full of vegetables and protein, it becomes a whole meal itself!
That is where this Greek salad topped with chicken and tzatziki dressing comes in. This salad has tender, juicy chicken and chopped vegetables piled high, making it a delicious meal that's perfect for hot weather. The recipe does call for an oven to toast the pita croutons, but this is a step you can do ahead of time. Or, simply swap the toasted pita for regular store-bought croutons instead.
Get the recipe here: Chopped Greek Chicken Salad With Pita Croutons and Tzatziki Dressing
Easy Pad Thai With Options for Chicken, Shrimp, or Tofu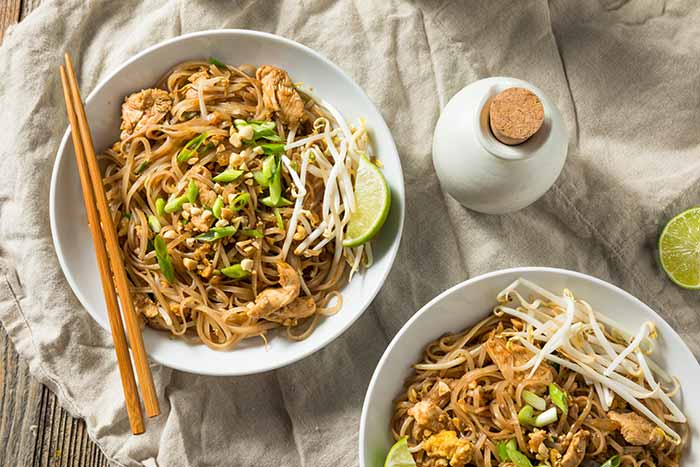 You don't always have to order takeout to get your pad thai fix. In fact, this delicious Thai noodle dish is easier than you might think. Made with simple ingredients, pad thai comes together quickly and only requires the stove top.
I like this particular recipe the best because it goes over a ton of options to satisfy a variety of tastes and dietary restrictions. You'll find instructions to make this stir-fried noodle dish with chicken, tofu, or shrimp. It also includes notes on making the recipe vegan, it's gluten-free adaptable, and there are plenty of cooking tips to help you along.
Get the recipe here: Easy to Make Pad Thai With Chicken, Shrimp, or Tofu
Steak Salad Wraps With a Kick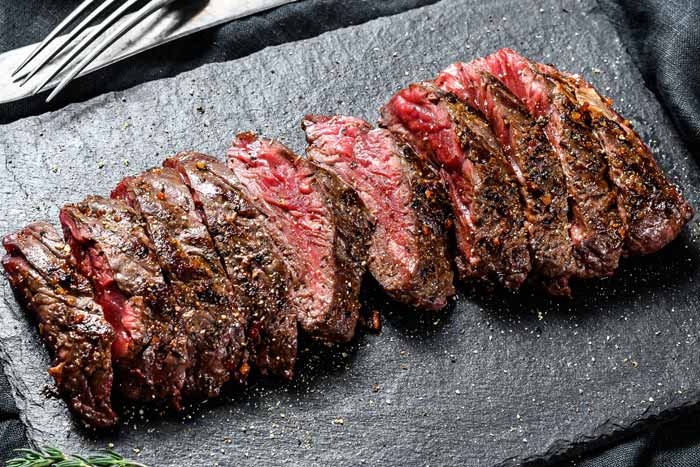 For a dinner that brings everyone around the table, these steak salad wraps will do the trick! After cooking the steak, all of the ingredients are arranged on a platter or several plates. Everyone can easily build their own lettuce wraps while sitting around and catching up.
The adobo-marinated steak adds a little extra kick to the dish, while the yogurt helps to cool it off. The steak is unexpectedly garnished with corn nuts, providing salty, crunchy, sweet toasty flavors to every bite. And everything is piled into cool, crisp lettuce, making this an excellent summer recipe.
Get the recipe here: Spicy Steak Salad Wraps
Easy Homemade Ramen Bowls With Approachable Ingredients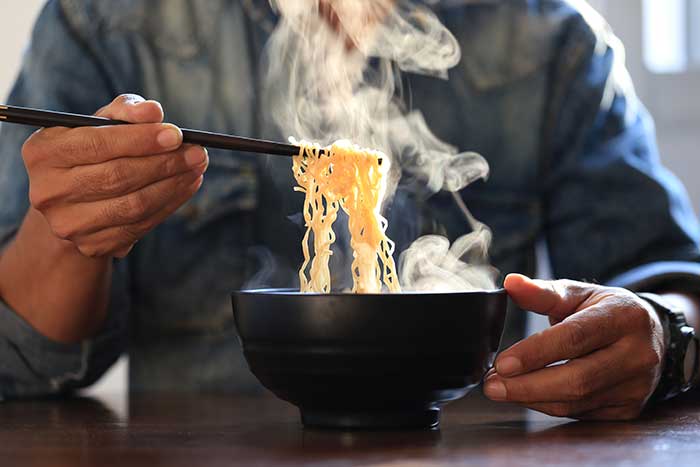 Sometimes you just need a big bowl of ramen to hit the spot, and this comforting, slurp-worthy bowl will do it. I think the best part of ramen is how customizable it is. You can top it with fish cakes, dried seaweed, sliced jalapeno, bean sprouts, a soft-boiled egg, and more. It's hearty and satisfying.
Honestly, I make this recipe once every week or so at my house. It's so easy, and even my kids clean their plates for this one. Ever have a 4-year-old beg for a bowl of ramen? They will with this one.
It is approachable, using ingredients you likely already have or can find at just about any grocery store. It also comes together in less than thirty minutes, and only needs one pot for everything (except the optional soft-boiled egg). Go ahead and get creative with this recipe!
Get the recipe here: Easy Homemade Ramen Bowls
Cod Filet With Lemon Asparagus
When it's so hot outside you can't fathom turning on the oven, this cod and asparagus skillet makes the perfect summer meal. It is healthy and simple, and feels light yet filling. Plus, you'll find that it comes together quickly, so you don't need to spend a lot of time over a hot pan, either.
Don't confuse healthy and simple with a lack of flavor. These cod filets are tossed in a delicious lemon garlic butter sauce that is to die for. It still doesn't feel heavy, though, because fresh lemon juice brightens the whole thing up.
Get the recipe here: Garlic Butter Cod With Lemon Asparagus Skillet
Slow Cooker Ropa Vieja
If you've got a slow cooker, you already know how easy it can be to get dinner on the table without an oven. All you need to do is throw a bunch of stuff in it, and voilà — it does all the work for you! Plus, it doesn't add any extra heat in the kitchen. You don't even have to stand over a hot stove for this one.
Ropa vieja is one of the national dishes of Cuba. It is a stew of shredded flank steak, tomatoes, and olives. This dish is packed with flavor and will make your tastebuds sing with joy! Serve it with maduros (fried sweet plantains), rice, and Cuban-style black beans for a full meal that will leave everyone satisfied. And hey, you might want to make a double batch of this one, because you're going to want leftovers!
Get the recipe here: Slow Cooker Ropa Vieja
Grilled Teriyaki Chicken and Pineapple Skewers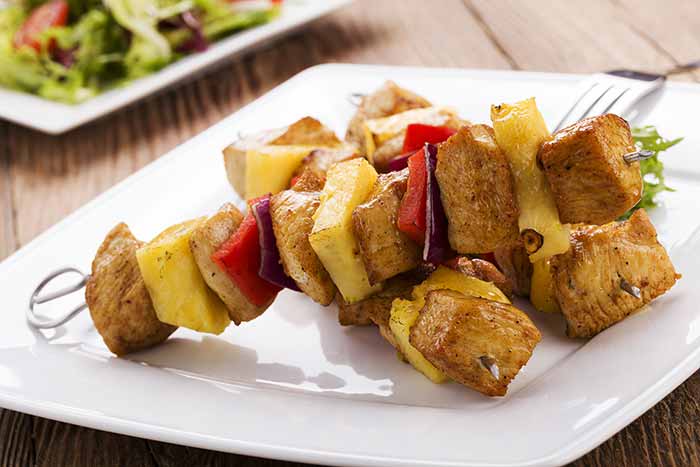 Of course, if you're really trying to avoid turning on the oven, the best thing you can do is take dinner outside! There's nothing quite like that fresh-off-the-grill flavor, and it is guaranteed not to heat up the kitchen. So, break out the charcoal and skewers, because we're doing some summer-time grilling.
These Hawaiian style teriyaki and chicken pineapple skewers are bursting with flavor, thanks to the scratch-made teriyaki sauce (don't worry, it's simple!). It's also just really pretty, with all those vibrant colors from the peppers, onions, and pineapple. The best part, though, is that these come together really quickly, with 30 minutes of marinating and about 10 minutes of cooking.
Get the recipe here: Grilled Hawaiian Teriyaki Chicken Skewers