Welcome to Tarot Tuesday!
Each Tuesday, I will pull a card from my grandmother's tarot deck and write about what the card could mean for the signs, broken up by element. The elements of the zodiac are Fire (Aries, Leo, and Sagittarius), Earth (Taurus, Virgo, and Capricorn), Air (Gemini, Libra, and Aquarius), and Water (Cancer, Scorpio, and Pisces). 
I may pull a card from the major arcana, representing our inner wisdom. Or I may pull a suit card, representing outside influences. I may even pull a court card signifying a specific person in your life. This card can help you set your intention for the rest of the week or it can provide a visualization of your current situation. Don't forget to check your moon and rising signs as well as your sun sign.
The Eight of Pentacles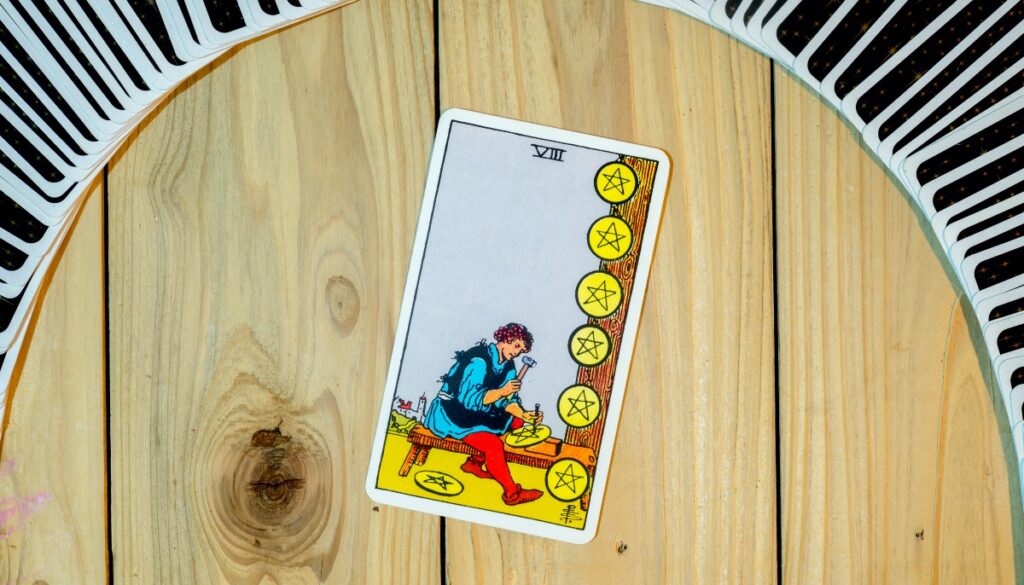 This week I drew the Eight of Pentacles. In tarot, the number eight represents seizing opportunities and overcoming difficult obstacles. It can also represent the ability to learn new things.
Pentacles are the suit of dependability and material comforts. This suit often symbolizes home, family, and ambitious or occupational pursuits. When a Pentacle card pops up, it usually represents the need for common sense and practicality.
In my grandmother's deck, the Eight of Pentacles is depicted as a young androgynous figure dressed in a blue chemise, red leggings, and a black smock. He sits on a workbench, tinkering away on a golden pentacle. Six other pentacles hang on a tree next to him while one pentacle sits on the ground at his feet. There is a church in the background of the image. 
Though the card's image may vary from deck to deck, the meaning is often the same. This card is often called "The Apprentice Card," and for good reason. This card represents the ability to achieve success through your own efforts. When this card pops up in a reading it can symbolize an opportunity, developing a new skill, or utilizing a talent for monetary gain.
This card can also represent home renovation or do-it-yourself projects.
What This Card Means for Fire Signs (Aries, Leo, Sagittarius)
Fire signs are ruled by their passion and drive. The Eight of Pentacles speaks to your desire to turn a passion into a career.
Aries, you are taking steps towards your dreams. They may be small and slow steps, but you are moving in the right direction. Be sure not to sidestep important tasks and milestones.
Leo, you are excelling in your career. You should be proud of yourself. Don't be afraid to make some innovative changes to business, if and when you're ready.
Sagittarius, when learning a new skill, be sure it's a skill you are interested in. This card does not want you to waste time learning something that does not interest you.
What This Card Means for Earth Signs (Taurus, Virgo, Capricorn)
Earth signs are ruled by their dedication and desire. This card may hold more significance for you because the Pentacles are the suit of earth. The Eight of Pentacles speaks to your ambition and willingness to take on new projects.
Taurus, this card wants you to make your house feel more like a home. It is time to renovate and redecorate. Don't be afraid to add a few eclectic touches to your living space.
Virgo, this card thinks you could use a much-needed distraction. Now is a great time to learn a skill or take up a new hobby you have wanted to try.
Capricorn, you have been working hard and cultivating your marketable skills. This card wants you to utilize what you have learned and pursue the career that you have always dreamed of.
What This Card Means for Air Signs (Gemini, Libra, Aquarius)
Air signs are ruled by their compassion and independence. The Eight of Pentacles speaks to their intelligence and willingness to learn a new skill.
Gemini, you may have been struck with a nasty case of writer's block. This card wants you to seek out writing prompts that you may have never considered before.
Libra, it is time to take initiative. If there is an exciting opportunity that you are contemplating, this card wants you to take a chance and go for it.
Aquarius, you are driven by your need to learn and understand. This card wants you to learn something you have never considered studying. This field of study can help you in the future.
What This Card Means for Water Signs (Cancer, Scorpio, Pisces)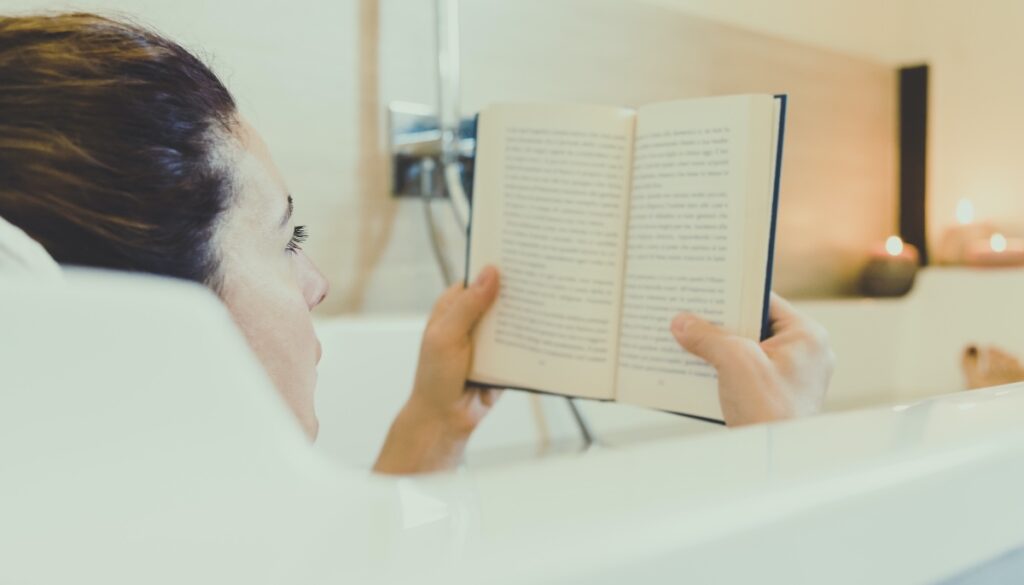 Water signs are ruled by their empathy and imagination. The Eight of Pentacles speaks to their innovation and creativity.
Cancer, now is a great time to tackle any home projects you have been putting off. This card wants you to decorate, renovate, or spruce up your living space in creative ways.
Scorpio, you may be pursuing a new field of study. This card doesn't want you to get discouraged if it doesn't come naturally to you at first. This new skill will lead you to success.
Pisces, anyone that said that you can't pursue a creative career can go kick rocks. Your creative skill set is going to open several doors for you.
Tune in next week for another Tuesday Tarot Pull!
In the meantime, enjoy this classic by the iconic band, Styx!